Trent Dimas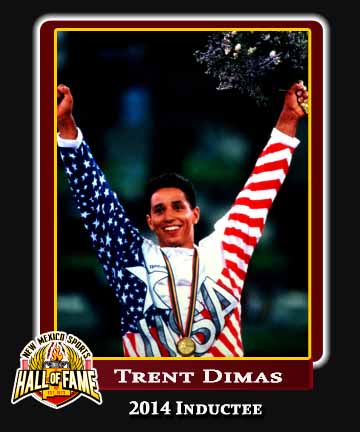 2014

Sports Hall of Fame Inductee
It took Trent Dimas a little over a minute to win an Olympic gold medal at the Summer Games in Barcelona, Spain, in 1992. The groundwork for that magical moment had taken years.
Dimas crowned a lifetime of training with a near-flawless, high bar routine that captivated the audience that late night in Barcelona. During his routine, the Albuquerque gymnast executed several releases above the bar with career-best proficiency, then stuck his triple somersault dismount for a winning score of 9.875. Afterward, Dimas leaped into the arms of his coach, Ed Burch, and into the Olympic record book.
Trent's win was the first gold medal awarded a U.S. Olympic gymnast—male or female—in an Olympics held outside the United States since World War II. His was the only gold medal won by the American team members in Barcelona and he became the first Hispanic American to win a gold medal on the treacherous high bar.
Dimas was a definite long-shot going into the gymnastics competition that summer. His was a breakthrough win in an Olympics dominated by the Soviet Union and his performance on the high bar drew praise from Russian Grigori Misutin, who was favored to win that event.
"Your routine was beautiful,'' Misutin told Dimas. "You're truly the best.''
Trent's gold medal was also a testimonial to his family's dedication to keep him in the sport at any cost.
"His dad helped me build my gym because they couldn't afford to pay me,'' Ed Burch told the Associated Press in Barcelona.
Dimas, who was born on Nov. 10, 1970, began gymnastics at the age of five and  climbed steadily through the ranks and levels of gymnastic competition. By the time he was 13 he was a member of the U.S. junior national team and at age 15 made the U.S. senior national team.
Trent went on to the University of Nebraska, where he was an All American. With Dimas on the team, the Cornhuskers won the NCAA title in 1990. He left Nebraska after his freshman year train fulltime for the Olympics.
In 1991, Dimas competed in the Pan American Games in Havana, Cuba, where he won bronze medals in the high bar and floor exercise. He was on the U.S. team that won the silver medal at the Goodwill Games in Seattle the summer of 1991 and was a member of the U.S. team at the World Championships in France in 1992.
After the 1992 Games, Trent worked as an assistant women's gymnastics coach at Yale. He tried out for the 1996 Olympic team but eventually withdrew from the competition. Dimas went back to school and earned a degree in General Studies from Columbia University.
Trent has returned to his hometown and currently is director of development for the University of New Mexico Foundation.