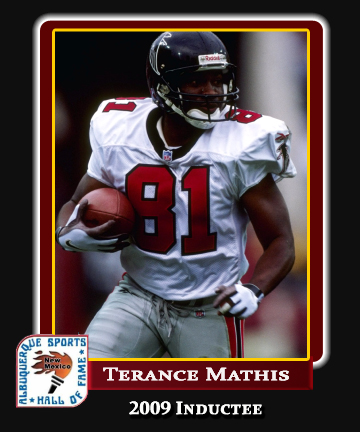 28 Jan

Terance Mathis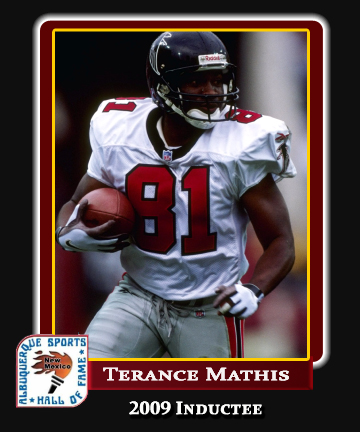 [heading style="dot" heading="2009 Sports Hall of Fame Inductee" firstword="yes" dotted="yes"]
Terance Mathis came to the University of New Mexico unheralded, unrecruited and unsure of what the future would hold. By the time the 5-foot-9 Georgia native left the University of New Mexico, he had set a plethora of records at the split end position.
When he left UNM, he was the NCAA career record holder for receiving yards with 4,254. He also set the NCAA record for career receptions with 263. During his 13-year NFL career, which concluded in 2002, he had 689 receptions, 8,809 yards and 63 TDs. He was an All-Pro in 1994 for the Atlanta Falcons after catching 111 passes, 3rd best in the league and at the time the 4th best in NFL history.
While at the University of New Mexico, Mathis became New Mexico's first ever consensus All-American in 1989. He caught 88 passes for over 1,300 yards, scored 13 TDs; his longest being 73 yards. He also had 31 kickoff returns for 785 yards and 2 touchdown kickoff returns of 96 and 95 yards.
Mathis caught at least one pass in 43 of 44 games during his collegiate career and caught passes in 28 consecutive games. His best day as a college football player came on November 11, 1989 when he caught 16 passes for 252 yards and 3 touchdowns against the University of Utah.