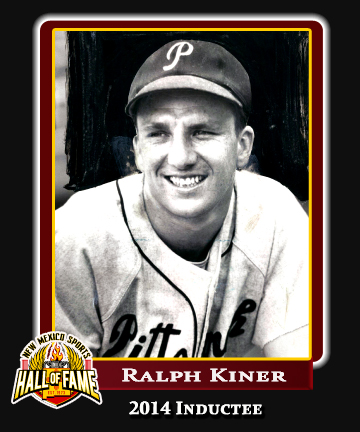 28 Dec

Ralph Kiner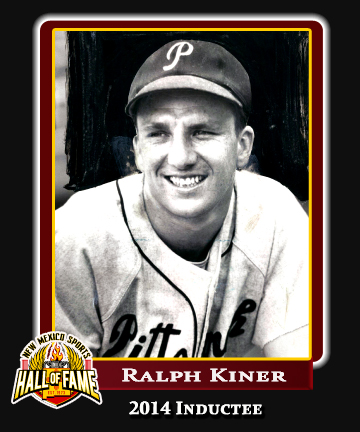 [heading style="dot" heading="2014 Sports Hall of Fame Inductee" firstword="yes" dotted="yes"]
Before he even played a Major League game, Pirates manager Frankie Frisch proclaimed "(Ralph) Kiner looks like he's going to be the best (outfielder) we've ever had."
And he soon was. Kiner made his major league debut in 1946 at the age of 23; he'd lost three prime years to serve his country in World War II. He wasted no time in making his presence felt, as he led the National League in home runs and established a new Pittsburgh Pirates franchise record in the process.
Born Oct. 27, 1922, in the copper mining town of Santa Rita, N.M., Kiner said in his 1987 autobiography ("Kiner's  Korner") that his father, Ralph, had owned a bakery in Farmington before moving to Santa Rita, where he "was a steam- shovel operator at the largest open-pit mine in New Mexico." But Ralph Kiner died when his son was 4 and Ralph's mother, Beatrice, who had served as a nurse in France during WWI, returned to the nursing profession after being widowed, and the two moved into a small house in Alhambra, Calif.
Although his mother thought sports were a waste of time, the Bob Bodkin family, who lived across the street from the Kiners, fostered his love for the game.
For a decade, Kiner was the game's premier power hitter: — the first N.L. player to hit 50 home runs twice, the first major leaguer to hit home runs in four straight at-bats twice, and the first to lead the league in home runs in seven consecutive seasons. Following his stint with the Pirates (1946-53), he also played with the Chicago Cubs (1953-54) and Cleveland Indians (1955).
Back problems forced him off the field for good at age 32. Had he remained healthy, there is no telling what he could have accomplished. Known as a baseball "lifer," Kiner also was well known in Hollywood circles: He dated Elizabeth Taylor and Janet Leigh, played golf with James Garner and Jack Lemon, and developed friendships with Lucille Ball and Desi Arnaz.
Upon retirement, Kiner became the general manager of the Cleveland Indians' Pacific Coast League franchise, the San Diego Padres, where he developed his skills in the broadcast booth.
In 1962, the expansion New York Mets hired Ralph to do their television broadcasts.
"The Mets hired me because they looked at my background with the Pirates and saw that I had losing experience," Kiner joked. He spent more than 40 years in the booth for the Mets and became known to a whole new generation of baseball fans for ditties like "On Father's Day, we again wish you all Happy Birthday," "Solo homers usually come with no one on base" and "Two-thirds of the earth is covered by water. The other third is covered by Garry Maddox."
He was inducted into the Baseball Hall of Fame in 1975. He passed away Feb. 6, 2014, in Rancho Mirage, Cal., and was buried next to his parents in Farmington.