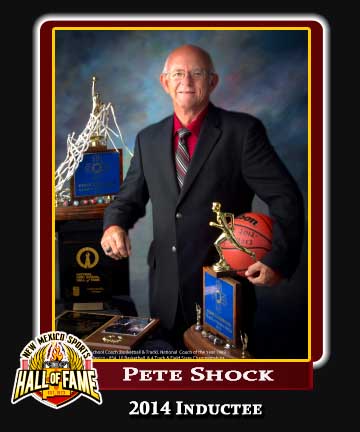 28 Dec

Pete Shock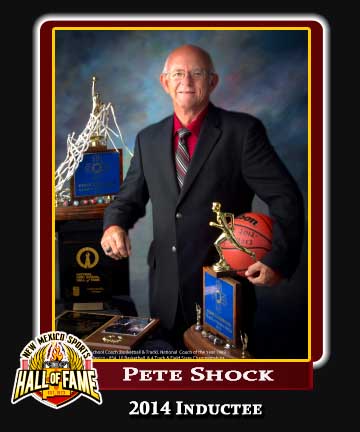 [heading style="dot" heading="2014 Sports Hall of Fame Inductee" firstword="yes" dotted="yes"]
   In a small town like Cliff, you don't always win big with pure talent. Sometimes, you have to tap into tradition, community pride and that old school lifeline called hard work.
Just ask Pete Shock, the hometown kid who was a star basketball player for the Cowboys in the late '60s, then came back home to establish a powerhouse small schools basketball program that continues to produce 20-win-plus seasons year after year.
When Pete retired as the boys basketball coach at Cliff High School in March of 2013, his teams at the little school in southwest New Mexico had won 10 state championships and his coaching career record of 854 wins—including three years at Silver High School—is second only to legendary Hobbs coach Ralph Tasker.
"It became a tradition,'' says the newest inductee into the New Mexico Sports Hall of Fame. "In Cliff, expectations were high, from the players and the community. Parents wanted to see their kids excel.''
Yes, says Pete, there were years when he had size, speed and good shooters. He uses the analogy that if you're a horse trainer, you're not going to win the Kentucky Derby with "donkeys.''
"Not every year, but some years we had good size and athletic ability. I had a bunch of thoroughbreds,'' says Shock.
But when the talent pool is shallow, that's where coaching and commitment come into play. It's a formula that has served the Cliff community well over the years and started with Pete's dad, Dale Shock, who spent 42 years coaching at Cliff High School.
"I've got to give a lot of the credit to my dad,'' says Pete. "He had such a strong program. It was a history of good basketball teams. Early on in my career at Cliff I was coaching second and third generation (kids) from families that had been in town forever. A big part of the battle had been won before I go there. It was a great thing to be a basketball player at Cliff High School.''
Pete Shock graduated from Cliff High School in 1968. He was a star guard on the basketball team and still holds the career scoring record with more than 1,700 points. His senior year he was named to the All-State basketball team and to the South All-Star squad.  He also competed in track (long jump, pole vault and high jump) and played baseball for the Cowboys.
He went on to Western New Mexico University on a basketball scholarship and achieved similar success there. He was named to the All-Conference team in the Rocky Mountain Athletic Conference and to the All-District team.
He graduated from Western New Mexico in 1972 with degrees in business, business education, physical education and economics.
 He did his student teaching at Silver High School and was an assistant there to Marv Sanders for three years. At that point he was ready for a head coaching job of his own and had verbally committed to take such a job. But when the Cliff High coaching job came open, he decided to return to his hometown.
"The idea of coming home peaked my interest,'' says Shock. "It was a labor of love.''
Shock led the Cowboys to the State Tournament in his first year as the head coach and the labor of love turned into a decades-long passion for enduring success.
Today, Pete is still part of the Cliff High community. He serves as the athletic director and oversees a sports program in which his son Brian is now the boys head basketball coach.