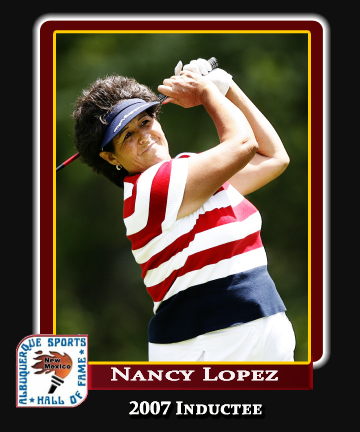 26 Jan

Nancy Lopez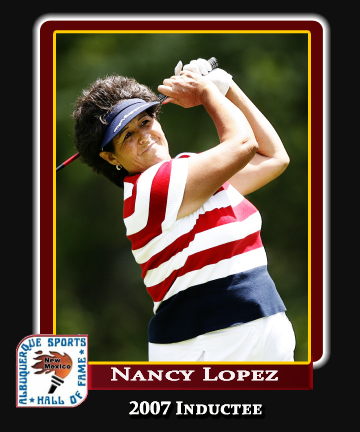 [heading style="dot" heading="2007 Sports Hall of Fame Inductee" firstword="yes" dotted="yes"]
Nancy Lopez is a living legend, a role model for millions, a golfer whose historical importance to the sport will lat long after her gleaming trophies have begun gathering dust.
All that good stuff is fine, says the former Roswell resident. But there is something more important than fame or money or titles.
"all the success you have," she says, he voice cracking, "isn't really success until you have a family to share it with."
Lopez, 51, credits her induction into the Albuquerque/New Mexico Sports Hall of Fame, in large measure, to the family that raised her as a kid in Southeast New Mexico.
Domingo and Marina Lopez's daughter left Roswell in the 1970s to become a champion. But even now, as Nancy raises her own children, she focuses on the parents and the state that ade her what she became.
"This means a lot to me," she says of the induction. "I was born in California and I live in Georgia, but I'm still a New Mexico girl. To be enshrined intoo a hall of fame in a state I love very much means a lot to me. It means that when I die, I'll still be around."
Lopez ripple effect still washes through her home state, where young firls aspire to play like the kid who took the LPGA by storm in 1978 when she was player of the year, rookie of the year, the tours leading money winner. She spurred a growth in the game that gave rise to today's new legend: Annika Sorestam, and Lorena Ochoa.
In all, Lopez (an LPGA hall of famer at the incredible age of 30) won 48 times on the tour, including three majors.
Friendly and courtly, the rare superstar whose private life is as exemplary as her public talent, Lopez still plays competitively. But she;s just as often found away from gold with her husband, former baseball star Ray Knight, and their children: daughters Ashley, Erinn, Torri, and son Brooks.
She says she cannot physically replicate her childhood in Roswell for her children, but tries to impart the lessons she learned from Domingo, the owner of an auto body shop, and Marina, a homemaker. Their message; hard work, an appreciation for people and family, family, still resonates.
"I love people," she says. "I love kids, I love older people. And I think you see a lot of good in people. And if people are nice to each other, then I think you ca get the best of somebody. My dad always told me it's important to treat people a special way, … If you can look at somebody, smile and make eye contact and they can approach you, that's important."
And it's something that lasts.