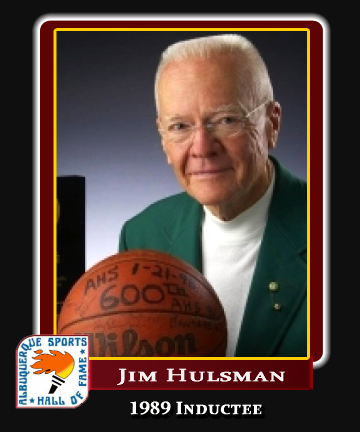 10 Feb

Jim Hulsman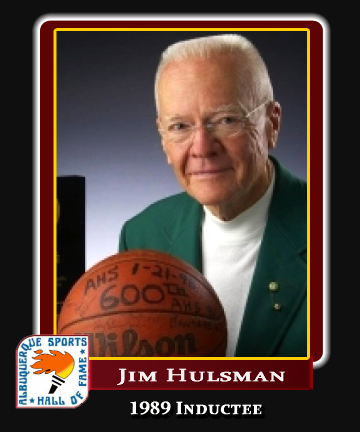 [heading style="dot" heading="1989 Sports Hall of Fame Inductee" firstword="yes" dotted="yes"]
    Jim Hulsman's coaching career at Albuquerque High School began in 1961.  He became the Head Basketball Coach in 1968 and the Director of Athletics in 1972.  Previously, he also served as an Assistant Basketball, Assistant Football, and Head Track and Cross Country Coach.
Coach Hulsman is a 1949 graduate of Albuquerque High School where he was a Letterman athlete during the 1946-49 year.  He participated in basketball at the College of Saint Joseph.
With Hulsman at the helm, Albuquerque High School had 23 consecutive winning seasons.  They appeared in the New Mexico Class AAAA State Basketball Tournament 22 times and won state championships in 1971, 1977, 1984, 1990, 1993, 1995, and 1998.  Under his direction the Bulldogs made 5 consecutive appearances in the state championship game from 1970-1974.  Albuquerque High teams were among the "Final Four" at the state tournament 14 times.  His teams won 660 games and lost 222 for a winning percentage of 75%.  This includes 18 regular season district titles, 13 district tournament championships, and 13 invitational crowns.
Hulsman was selected in 1995 to be the Head West Coach in the Reebok All American Classic.  In 1988 he was selected to coach some of the finest high school players in the nation during the 11th annual McDonalds All-American High School Basketball Game.  Other honors include:
National Federation High Schools Hall of Fame in 2003 and National Coach of the Year in 2001.

National High School Athletic Coaches National Hall of Fame in 1999 and National Basketball Coach of the Year in 2002.

Albuquerque (now New Mexico) Sports Hall of Fame in 1990 and the UNM Hall of Honor in 2008.

UNM Alumni Association Bernard S. Rodey Award.

Albuquerque Tricentennial 1706-2006 Top Twenty Sports Figures.

APS Board of Education named the court at AHS "Jim Hulsman Court".
His wife Mary Lois, has always been deeply involved in the sports programs at AHS and the NMHSCA.  She was the Department Chairperson of the Guidance and Counseling Department at Del Norte High School before her retirement from Albuquerque Public Schools.