Jim Ciccarello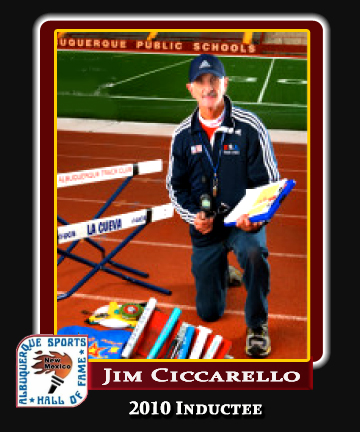 2010

Sports Hall of Fame Inductee
Jim Ciccarello is. in his 42nd year of teaching and coaching for Albuquerque Public Schools. and has estimated to have taught or coached over 60,000 students. A graduate of Valley High School and the University of New Mexico, Jim has spent his entire career as an elementary school PE teacher and high school track and field coach.
Jim's high school track teams have won six state championships and finished as the runner-up five times. His teams have finished state competition in the top four an astounding iO times, with four undefeated seasons (1977, 1978, 2000 and 2007).
Jim has received numerous coaching and teaching honors; he has been named the New Mexico Track and Cross Country Association's Coach of the Year four times; was the New Mexico High School Coaches Association's Coach of the Year in 2007; and was the National Federation of High School Coaches' Ssction 6 Coach of the Year in 2006. He has continually been involved with the track youth in the Albuquerque area, working with the Duke City Dashers and Albuquerque Track Club. He has been instrumental in the coaching and instruction of 20 national age group champions and 150 New Mexico high school individual state champions. Jim has also been the driving force in creatlnu elementary school jumprope teams, including the team he has led at Whittier Elementary for the past 18 years.