Henry O. Sanchez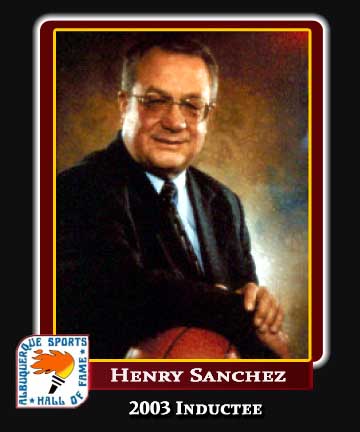 2004

Sports Hall of Fame Inductee
By James Yodice / Journal Staff Writer
PUBLISHED: Tuesday, September 20, 2011 at 12:05 am
'More Than Just a Coach'
A giant of New Mexico basketball is gone.
Henry Sanchez, a beloved coach — and former politician— whose passion for the game sparked a long and glorious career at Bernalillo High School, New Mexico Highlands and Robertson High, died Monday afternoon in Las Vegas., N.M.
Sanchez was 73. He died of an apparent massive heart attack.
The news of Sanchez's passing hit the state's basketball community like a thunderbolt.
"It's like losing a member of your family," said an emotional Jim Hulsman, the former Albuquerque High coach, and a very close friend who knew Sanchez since the mid-1950s.
"What do you say when you've lost one of your closest friends ever?" Hulsman said, choking back tears. "Henry was more than just a coach or opponent for me. He was like family. We did a lot of things together."
Sanchez died at Alta Vista Regional Hospital in Las Vegas, according to Jose Medina, who played for, and coached with, Sanchez at New Mexico Highlands. Sanchez is an Albuquerque native, but longtime resident of Las Vegas.
"He's a big loss to our community, to the people here, to young kids, to the state of New Mexico," said Medina. "It is a major loss."
Sanchez was feeling some chest pains when he drove himself to the hospital early Monday afternoon, Medina said. It was only after he was checked in that he suffered the massive heart attack, Medina added.
Sanchez, who graduated from St. Mary's High School in Albuquerque, was an NAIA All-American at the College of St. Joseph — later renamed the University of Albuquerque — in 1958. Eventually, the coaching bug hit and it was in that arena where Sanchez's legend took root.
After graduating from St. Joe's, his first coaching position was at Our Lady of Sorrows in Bernalillo in 1960. When that school closed in 1965, he was hired by Bernalillo High School and that's where he first came to prominence.
Sanchez led the Spartans to five state championship games, including titles in 1977 and 1979. Bernalillo also made the finals in 1968, 1974 and 1976.
"He was the guy who put Bernalillo on the map," said current Spartans' coach Terry Darnell.
Sanchez left Bernalillo in 1983 to become the men's coach at Highlands, where he spent 13 seasons. He retired in 1995, but came out of retirement to coach the Robertson High boys until 2001. Four times he was named prep coach of the year in New Mexico.
"I was just thinking about Henry yesterday," said former St. Pius coach Lincoln Galassini, a longtime friend and former coaching rival of Sanchez. "We spent so much time together when were coaching. I just saw him recently, and said 'good God, you look good.' "
Basketball was not Sanchez's only vocation. He is also a former mayor of Las Vegas, having been elected in 2002. Las Vegas is his adopted hometown.
But it was on the hardwood where the genteel, outgoing Sanchez became a legend. He was a fixture at local prep games in Las Vegas.
"What a sad day, for New Mexico and especially for Bernalillo," said Darnell, a former Bernalillo standout who later played for Sanchez at Highlands. "You know, he was probably the closest thing I've had to a father figure, outside of my own father."
Bernalillo was planning this coming season to name its court after Sanchez, Darnell said.
Unofficially, Sanchez went 702-448 in his coaching career. Among his many achievements, he is a member of the New Mexico High School Coaches Association Hall of Honor, the Albuquerque Sports Hall of Fame, and also the National High School Athletic Coaches Association Hall of Fame.
Hulsman was a former teammate of Sanchez in the 1950s, as well.
"His first love was basketball," Hulsman said. "Basketball was a fun thing to do for him, and he also felt that every day was a new challenge. That's why people respected him so much."
Sanchez is survived by a son, Darren, and a daughter, Janine.
Just last weekend, Darren Sanchez was inducted into Albuquerque High's Hall of Fame. Henry, Hulsman said, insisted that his son play for AHS.
"I was so happy," Hulsman said, fighting back tears, "that Henry was there, that he could see his son inducted in front of a large crowd of Bulldogs."
Darren Sanchez could not be reached for comment Monday.
"Growing up," Darnell said, "he was one of those guys who helped kids. Everybody wanted to play for coach Sanchez. You wanted to be a Spartan and play for Henry. He had a huge impact on youth, giving them guidance and direction, and he was always there for you. I don't care when you played for him, he was always there for you."
Journal Staff Writer Mark Smith contributed to this story. He and Rick Wright share their own personal memories of Sanchez on their respective blogs.
— This article appeared on page D1 of the Albuquerque Journal