George Young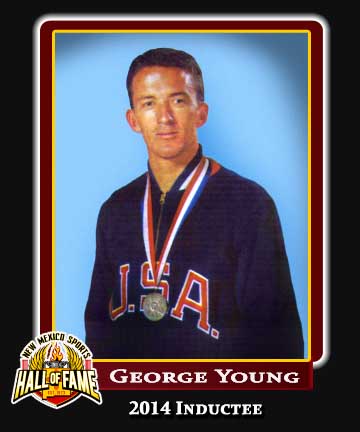 2014

Sports Hall of Fame Inductee
Born in Roswell on July 24, 1937, George Young was the first American runner to compete in four (!!) Olympics: 1960 (Rome), 1964 (Tokyo), 1968 (Mexico City – he trained at altitude in Flagstaff) and 1972 (Munich).
That training in the Grand Canyon State to our west paid off: Young won the bronze medal in the 3,000-meter steeplechase!
Young graduated from Western High School in Silver City in 1955, then attended the University of Arizona, competing in track and field. He began running the 3,000-meter steeplechase in his senior year and finished second in that event at the national AAU championships. He graduated U of A in 1959 with an undergraduate degree and was tabbed as the "outstanding senior athlete" of the year.
Shortly after graduating, Young qualified for the 1960 Summer Olympics in Rome. During the preliminary rounds for the steeplechase, he tripped over a hurdle and thus did not advance to the finals. The next year, he broke the American steeplechase record when he ran the event in 8:31. After a classic battle with University of Oregon All-American Steve Prefontaine at the 1972 U.S. Olympic Trials at Hayward Field in Eugene, Ore., he competed in the 5,000-meter race at the 1972 Summer Olympics.
In addition to his records in the steeplechase, two mile and indoor three mile, he also held American records for the 5000 meter, 3000 meter, steeplechase, and 4×1500 meter relay, as well as twelve age group world records. At the age of 34, he became the oldest person in the world to run a mile in under four minutes (3:59.6).
Young told GaryCohenRunning.com in a telephone interview two years ago about what he remembered from Munich in 1972: "Jim Ryun and I went out to train that morning and the gate was locked to the soccer field where we did our morning runs. So we climbed over the fence. When we came back and started climbing the still locked fence, there was a German with a submachine gun who stopped us. We did have our badges to he checked them and let us in. It was really sad as from our rooms we could see the terrorists taking the Israelis out of the village and on television we saw the events at the airport and the explosion."
Following his running career, he coached seven sports at Central Arizona College, leading his teams to 14 championships, including the 1988 national title in cross country, the same year he was named the National Junior College Athletic Association Coach of the Year.
He was inducted into the National Track & Field Hall of Fame in 1981 and into the National Distance Running Hall of Fame in 2003. He also has been inducted into the University of Arizona HOF, National Track and Field HOF, NJCAA Track and Cross Country HOF and National Distance Running HOF in 2003.
His 1975 biography is "Always Young."
He and his wife Nancy reside in Casa Grande, Ariz