Bill Bridges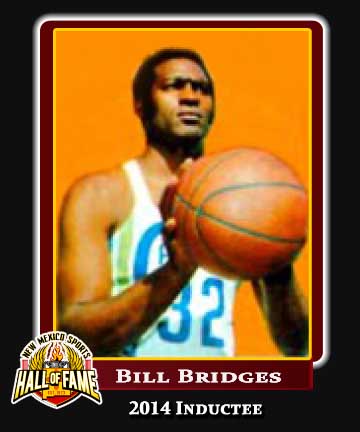 2014

Sports Hall of Fame Inductee
Bill Bridges was born April 4, 1939, in Hobbs, which may have been the best place in New Mexico for a future basketball star to be born.
Ultimately growing to 6 feet, 6 inches tall, along the way to NBA fame he starred first at Hobbs High School – playing on coach Ralph Tasker's championship teams of 1956-58 — before going on to play for the University of Kansas, where he still ranks among the Jayhawks' top-10 players of all time.
With the Jayhawks, he earned All-American honors in 1961. In his three years at Kansas (freshmen didn't play on varsity teams then), he earned three selections to the All-Big Eight Conference. Bridges grabbed 1,000 rebounds in 78 games and averaged an amazing 13.9 rebounds per game as a center at Kansas from 1959-61. KU's postseason rebounding award bears his name, and his jersey (32) was officially retired on Dec. 9, 2004.
He was drafted by the Chicago Packers (whose lineage leads them to today's Washington Wizards of the NBA) in the third round of the 1961 NBA Draft (Walt Bellamy was their first pick, and first overall pick), but Bridges opted to play for the Kansas City Steers of the American Basketball League. Bridges led the ABL in rebounding during the two seasons he played for the Steers, and led the league in scoring during his second season. He set the ABL single-game scoring record with 55 points on December 9, 1962. The Steers went 54-25 in 1961-62 and finished first in the ABL's West Division, with Bridges averaging 21.5 ppg and 13.4 rpg.
The following season, he played in 29 of the team's 31 games (the Steers went 22-9) and again led them in scoring (29.3 ppg) and rebounding (15.1 rpg) before what was by then a six-team league folded on Dec. 31, 1962,
Bridges then signed with the St. Louis Hawks in the NBA and spent 13 seasons (1962-75) as a member of the St. Louis/Atlanta Hawks, Philadelphia 76ers, Los Angeles Lakers and Golden State Warriors. Bridges won an NBA championship with the Warriors in 1975 and appeared in three All-Star Games during the course of his career.
Though somewhat undersized for his position, Bridges, nicknamed "The Train," was knwon as a tough defender and a strong rebounder, averaging a double-double (11.9 points, 11.9 rebounds) over the course of his NBA career. His league-leading 366 personal fouls during the 1967-68 season was, at one time, an NBA record.