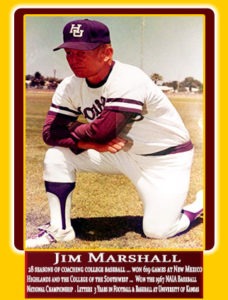 JIM MARSHAL

Born: June 16, 1935 in Venice Beach, California
High School: Warrensburg High School (Missouri) (1953)
College: University of Kansas (1961)
High School:
• Lettered four years in football, three years in baseball and one year in track
• Played American Legion baseball
College:
• Lettered three years in football and baseball
• Member of the Big 8 football championship team that played in the Blue Bonnet Bowl
• Team Captain of the Baseball team in his senior year under Coach Floyd Temple
• Honorable Mention All-Big 8 in baseball in 1961
Military:
• Served in the Navy from 1955-1959 at Kingsville Naval Base
• Coached the Navy station's baseball team for two years
• Honored on the All-Navy baseball team
Professionally- Jim Coached for 42 years – 4 years in high school, 27 years at New Mexico Highlands and 11 years at College of the Southwest; Won 619 college baseball games at NMHU and CSW
• Coached as assistant coach in football and baseball at Liberty High School (Mo)
• New Mexico Highlands (Las Vegas, New Mexico)
o Head Baseball Coach from 1965 to 1991
o National NAIA Baseball Champions in 1967
o Two other national tournament appearances – runner-up and semi-final finish
o 384-351 Record
o Athletic Director and Intramural Director for 12 years
o Coached the softball team for 2 years, finishing as runner up in RMAC both years
o Offensive Coordinator of the football team for a few years
o Professor of Physical Education and Health Classes
o Acting Chair of the Department of Physical Education and Health
o Several of his players have been inducted into the NMHU Hall Of Honor over the years
o Coached four First-Team All-Americans, three Second-Team All-Americans, and two Honorable Mention All-Americans
o Served on numerous committees such as athletics, admissions, scholarships, Title 1X, Safety
o Chairman for the RMAC Athletic Directors Council
o RMAC Presidential Council Rep
o RMAC Oversight Committee
o Planning Committee for Facilities Additions at NMHU
• College of the Southwest (Hobbs, New Mexico)
o Took over Head Coaching job at College of the Southwest in 1993 until 2005.
o Won 34 games in 2004 and 33 games in 2003
o Runner-up Red River Athletic Conference, which led to the only Regional appearance
o Red River Athletic Conference tournament appearances in 2001, 2002, 2003, 2004, & 2005.
o Built a baseball field at CSW (including press box and bleachers) The field was well-known in the area. Teams from Texas and all over would use it for playoff and tournament games.
• Other Accomplishments
o Played twice in the National Baseball Congress Pro Tournament as a pitcher and short stop
Honors:
• Inducted into NMHU Hall Of Honor in 2002
• Served on the Executive Council of District 7
• District 7 coach of the year three times
• Area 2 Coach of the Year twice
• Sought after guest speaker. Spoke at NMHSCA clinic five times, New Mexico State
football Clinic, NAIA national convention, baseball clinics across state and El
Paso, Kiwanis Club, and Rotary Club.
• Coach Marshall has organized tournaments and playoff games before and after
his retirement. His experience and knowledge benefit everyone involved.
Community Involvement:
• Community wide cleanup, Hobbs 1994-2006
• Little league advisor
• Red Cross Board of Directors
• Student Life committee at CSW
• Community Recreation Advisor
• Relay for Life participant
• Ocotillo Golf Association
Family:
• Wife, Carolyn
Two children, Tammy Rotunno and Jim Bob Marshal