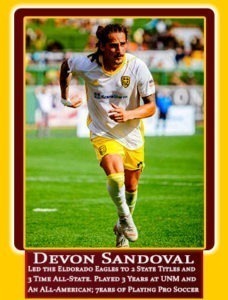 Devon Sandoval
Born: June 16, 1991 Albuquerque, New Mexico
High School: Eldorado High School and South West Secondary Learning Center,
Albuquerque, NM 2009
College: University of New Mexico
High School
• Devon Sandoval, as a freshman, made the varsity soccer squad at Eldorado High
School in 2005. That year, the Eagles won the state championship. Sandoval and
Company did the same thing in 2006.
• Three-time All-State selection
• Three-time District Player of the Year.
• Male Athlete of the Year in 2008 and 2009
• Eldorado Eagles soccer, with Devon Sandoval in the lineup, won two state titles and three district titles.
• Devon was also a three–year starter for Classic FC Redstar of the New Mexico Olympic Development Program (ODP) from 2006-08 and a two-year starter for his regional ODP in 2007 and 2008. He played club soccer for, who were five-time State Champs, two-time President's Day Champs, and Region IV ODP representatives.
• ESPNRise.com National Player of the Week (Sept. 10, 2008)
College
• Sandoval played his freshman year of college at the San Diego State University
• Returned to the University of New Mexico for his sophomore through senior seasons.
• Throughout his collegiate career, Sandoval netted 30 goals and tallied 19 assists.
• His laundry list of accolades led to 2013 when he was drafted 29th overall by Real Salt
• Lake, in the MLS SuperDraft.
• Mac Herman Finalist
• 2012 NSCAA and College Soccer New Second Team All American
• 2011-12 First Team NSCAA First Team Far West All Region
• 2011-12 First Team All-Conference MPSF
• Four-Time MPSF player of the week
• 3-time Top Drawer Soccer National Team of the week
• Top 10 in Goals scored nationwide in 2012
Professional
• In 74 appearances with Real Salt Lake (RSL), Sandoval scored game winners, notched goals of the week, and earned the honor of being RSL's highest scorer in the 2013 Open Cup Run.
• Western Conference Champion 2013
• Open Cup Final 2013
• Open Cup Semi-final 2015
• CONCACAF Champions league quarterfinal 2016
• In appearances with the Carolina Railhawks, Rayo OKC, Real Monarchs, San Francisco Deltas and Atlanta United 2, Sandoval netted 12 goals, earned a USL Goal of the Week, and helped the San Francisco Deltas win the 2017 NASL Championship.
• NASL Semi-Final 2016
• On June 6, 2018, Sandoval was announced as the first signed player for the newly awarded USL New Mexico franchise. That franchise is now known as New Mexico United. United kicked off for the first time on March 9, 2019, and poetically, Sandoval
scored the first goal for his state's pro team. Throughout the
• 2019 season, Sandoval has scored 12 goals and assisted on 4
• USL Championship Team of the Week – Week of March 12, 2019.
• USL Championship Team of the Week – Week of September 9, 2019
• USL Championship Team of the Week- Week of September 15, 2019
• USL Championship Fans Choice Goal of the Week – Week of September 9, 2019
• USL Championship Fans Choice Goal of the Week – Week of September 15, 2019
• USL Championship Fans Choice Goal of the Week – Week of August 2, 2018
• MLS Goal of the Week – Week of May 16, 2015
Community Involvement
• Since returning to New Mexico, Sandoval has been heavily involved in the team's youth initiatives – both camps and the high-performance program. He has also made multiple appearances at metro area schools and community events.
• Most recently founded Albuquerque Futbol Academy (along with Chris Wehan) to train and give back to the youth community.
Family
• Wife – Cristin Sandoval
• Daughter – Lyanna Sandoval