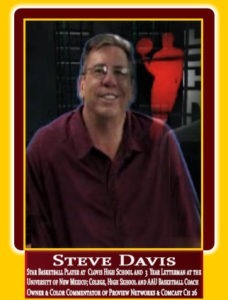 Steven "Steve" Davis
Born: March 27, 1956 Clovis, New Mexico
High School: Clovis High School (NM) 1974
College: University of New Mexico Bachelor of Business 1978
High School
• 1971-1972 – All-District Basketball Honorable Mention
• 1972-1973
o All-District Basketball First team
o All-State Basketball First Team
o All State Basketball 4A Tournament Team
o Leading scorer 18.0 (307 points) and rebounder (194) for the Wildcats
• 1973-1974
o Led the team in scoring 22.0 points per game, rebounding and assists
o Broke school records in rebounding of 391 and field goal percentage with 68%
o Named to Prep All-America Basketball Yearbook by the College & Athletes magazine based on career athletic accomplishments, sportsmanship, leadership and service to the team and community
o 2nd Team All-State and 1st Team All-District
o Named to the South All-Star team
o Boys Stater
o Member of the National Honor Society with a cumulative 3.9 GPA
o Member of the Fellowship of Christian Athletes
o Member of the Key Club
o Voted Mr. Talent for all-around involvement in school
o Steve owes a lot credit to his head coach, Jimmy Joe Robinson for helping him stay discipline and focused on and off the court, especially after Steve's father passed away in February 1974. Coach Robinson was like a father figure to Steve.
College
• 1974 – Recruited by hard by Assistant Coach, John Whisenant to come to UNM. John and Steve would forge a friendship that still last today.
• 1977 – Steve would have his best game of his college career when Don Haskins' UTEP Miners came to The Pit on March 6 looking to roll a UNM team with a depleted roster. There was a mutiny within the Lobo ranks and on March 1, 1976, six of the black players on the squad quit and said they would not return to UNM if Ellenberger remained as the head man. That boycott produced one of the more memorable wins in Lobo history. UNM had retained one starter and took to The Pit floor with a starting lineup that combined for a 13.8 scoring average. The Miners were expected to mop up the floor with Lobos. It didn't happen. The Lobo fell behind by 12 points early, rallied to a 56-49 lead with 3:56 to play and held on for a 59-58 win. The Pit went nuts. Steve Davis led the Lobos with 22 points and teammate, Dan Davis scored 20 points. Steve, who they nicknamed "Motor Body" for his near reckless hustle on the court. He was only averaging 1.8 points per game for the season – 46 points in 26 games. Steve was added to his night's scoring heroics after being fouled just before the buzzer with the game tied at 58-58. He would make the first free throw to win the game for the Lobos. This game was voted as one of the top 10 games in Pit history.
• 1977 Co-WAC Player of the Week with Dan Davis for their efforts in the win over UTEP … mentioned in Sports Illustrated Magazine for this accomplishment.
• 1977 – Lobo Spirit Award for the player with the positive attitude and energy on the basketball team.
• 1977-1978 Steve was going to quit and focus on his academics when Head Coach Norm Ellenberger decide he still wanted Steve part of the team. Coach Ellenberger asked Steve to be a graduate assistant coach for his senior year. The team would win Western Athletic Conference Champions and lost in the first round of the NCAA Tournament. It would also be considered one of the best Lobo team ever.
Professional
• 1980 – 1985 Opened real estate firm in Albuquerque with Otis Echols, former state senator.
• 1985 – 2012 Sivad Construction … concrete work, tile, painting and framing.
• 1990 – 2011 Wiz – Davis Homes partner with former Lobo assistant coach, John Whisenant built over 300 homes
• 1995 -2000 La Cueva Basketball coach
o Varsity Assistant … 3 of 5 years District Titles
• 1999- 2008 Owner of Ultimate Team Sales & Ultimate Dugout
• 1999-2012 Developer and Owner of Parker/Davis business complex near Albuquerque Academy. He was partners with former Eldorado High School and New York Yankee pitcher, Christian Parker.
o Sandia High School Basketball Coach
 2000 Assistant Coach
 2003-2004 Head Coach and led the team to the first round of the State Tournament
o 1995 YMCA Coaching Metro area high school head basketball coaches, Tom Knauber and Frank Castillo's 7-year old sons, Ted Knauber and Matt Castillo
o AAU Coaching
 1995 New Mexico Lobos AAU 17U … James Borrego, now Charlotte Hornets Head Coach
 1997 New Mexico Silvers 15th 17U National AAU Tournament
 2011 -2012 Danny Granger Hurricanes
 2018-2019 New Mexico Force 16U and 17U
o 2008 Started and Became the Owner/President of Proview Networks and in 2014 started broadcasting games on Comcast Channel 26 … Steve is the color commentator on all big high school games.
 6000 + high school and youth games
 Over one million YOUTUBE viewers
 700 + shows on Proview Networks and Comcast Channel 26
 600 + guests on the Steve Davis Show
 2008 to Present … YAFL Super Bowl … Game of the Week the last 3 years
 2013 to Present … all the North vs. South All-Star games
 2014 to Present … Streaming Albuquerque Youth Basketball Tournaments and Game of the Week
 2014 to Present … streaming live the Metro High School Banquets – Football, Volleyball and Basketball
 2014 to Present … Marty Saiz's Top 120 High School Basketball Showcase ever September featuring games of the upcoming to top players from 8th grade to 12th grade
 2015 to Present … streaming live he Duke City Gladiators' games. The Gladiators are a professional indoor football team based in Albuquerque, New Mexico. and are members of the Champions Indoor Football.
 2016 to Present … streaming live New Mexico Hall of Fame Banquet
 2016 to Present … streaming live all Perez Boxing events
 2016 to 2018 … streamed the New Mexico Sol soccer games
 2018-2019 … streamed the New MexicoRunners, who are Rio Rancho and New Mexico's 1st Major Arena Soccer League
 2019 … streaming some of the New Mexico United professional soccer team's games
Honors
• 2014 NMAA Award Distinguished Service
Community Involvement
• New Mexico Activities Association Foundation
o Board Member from 2007 to the present
o Board President from to 2008 – 2017
o The funds raised by the Foundation are used for student scholarships and school grants/support for high school athletic and activities programs across New Mexico. More the 200 scholarships from 85 NMAA member schools have awarded since 2007.
o From 2007-2012 the Foundation distributed $26000 to over 15 NMAA member schools in grants to schools that were starting new athletic and/or activity programs.
• New Mexico Special Olympics Games 2009 to the Present
o 2009 – First in the country to stream online all the events of a Special Olympics
o 2018 Steamed only the Opening Ceremony
• Sponsored over 50 Charity Golf Events in New Mexico
• 1979 -1983 helped former high school team and college coach, Dick Hunsaker conduct basketball camps in Clovis.
Family
• Janet, wife of 30+ years
• Marie, mother … Steve's number one sports and business fan
• Bruce, father … Steve's sports hero, who died in a tragic railroad accident in Steve's senior year of high school. His dad played on the 1951 State Championship Clovis Basketball team. Bruce scored 23 points of the team's 48 points in the 48-41 win over Hurley High School. Like Steve, Bruce played for the South All-Star team. He played college at Wayland Baptist University.
• His uncles were also a big influence in Steve pursuing and athletic career. Uncle Cecil Davis was
All-State in baseball, basketball, and football. While in college playing basketball, he played professional and minor league baseball as a pitcher with the Detroit Tigers and Cincinnati Reds. He was inducted into The Wayland Baptist University Athletic Hall of Honor in 2005-2006. Uncle George Davis was a very good high school athlete at Clovis High School. Uncle Jim Davis played basketball and ran track at New Mexico St. Uncle David Davis and Aunt Sue Davis were big supporters of Steve's career.