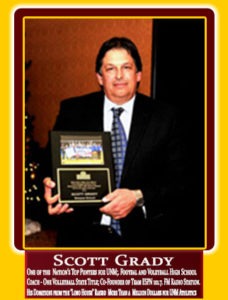 Scott Grady
Born: Albuquerque, New Mexico
High School: West Mesa High School 1973
College: Western New Mexico
University of New Mexico
High School
• Lettered in Football two years plus one year in basketball and track
• 1971 Played defensive back and back-up quarterback for the West Mesa Mustang (9-2) that won the district championship and was the state runner-up in the 4A State Football Championship losing to Las Cruces Mayfield 24-20.
• 1972 Played quarterback and got injured the game before playing Highland High School. Highland won the game winning the district championship and eventually would be state champs.
• 1972 1st team All-City; 1st team All-District and 3rd Team All-State quarterback
• 1973 North All-Star team as a quarterback
College
• Western New Mexico
o Played quarterback, defensive back and punter for Western New Mexico Mustangs
o Averaged 40 yards per punt at a freshman
• Two years later, transferred to the University of New Mexico (UNM)
o One of the nation's top punters, with his booming long hang time punts are still remembered by Lobo fans.
Professionally – Scott exemplifies an individual who has significantly impacted athletics in New Mexico at all levels for a long period of time as a business owner, athlete and coach. Being a competitive athlete started for Scott at a young age when in 1964 was one of five New Mexican youth football players to participate in the Punt, Kick and Pass competition winning the State's Age 9 division and competed at the regionals. He would be tops in age group in this competition for the next 5 years.
Scott and his wife, Laura have made a great team and their greatest wealth is what they have given from their hearts. He was a great athlete in high school and college. The National Football League took notice too as a punter. However, Scott decided to enter the business world in the home building business and forgo a chance to play professional football. Since 1976, Scott has been a strong believer in giving back to the community. His community donation efforts have brought more than a million dollars to Albuquerque Public School Foundation, UNM Athletics, high school and youth sports. In his spare time, Scott got involved in coaching youth and high school football for eight years and high school volleyball and for five years.
• 1976 Began Raylee Homes with his wife, Laura. Scott followed the footsteps of his grandfather and father who built modular homes since 1957 in the Corrales, New Mexico area. Scott combined his middle name with his wife's middle name to come up with the company's name.
• 2001-2011 Formed another home building company, Vantage Builders that grew to be on the national top 100 building companies in the country – spanning three states (New Mexico, Texas and Arizona)
• Offensive Coordinator for the Cibola High School's football team for 7 years where he was awarded assistant coach of the year
• Volleyball Coach at Bosque School, where he led the Bobcats to the state runner-up in 2011 and finally the school's first state volleyball championship in 2012. Scott's daughters were top players on those teams.
• 2008 Co-Founder and Owner of ESPN Radio 101.7 THE TEAM radio station.
• 2009 RayLee-New Generation was established where Scott serves as a professional mentor to his three children and their employees.
• 2015 Major contributor to the UNM Baseball through construction in-kind contribution to the team's clubhouse.
• 2018 Opened the 8 Grady's Performance Center. Scott's vision for the center stemmed from his own experience as a young athlete. In addition to athletic training, he has placed a focus on academics, nutrition, and sports psychology to further enhance the overall benefits for every athlete that trains at the facility.
Honors
• 2011 & 2012 Named the Marty Saiz's State Farm Agency Albuquerque Metro High School Volleyball Coach of the Year.
• 2015 New Mexico Sports Hall of Fame's Award of Distinction for his long-time contribution to athletics in New Mexico. The "Award of Distinction" award is the most prestigious annual award given by the Hall of Fame.
• #1 sports radio station in New Mexico – 101.7 The Team ESPN
Community Involvement
• Donations from the "Lobo House", which he would build a home and donated the net profits to UNM Athletics for scholarships its student-athletes. He has built 16 homes raising over a million dollars.
• Inspired by the Lobo House, Scott began the "Apple House" to benefit Albuquerque Public Schools. Three Apple House have been built to benefit the Albuquerque Public Schools Educational Foundation, raising $250,000.
• 1995 Served as a consultant on the "Cibola House" raising money for Cibola High School
• Title Sponsors for the Albuquerque Public School's Sport Fund Golf Extravaganza. Their $25000 Sponsorship was for four years. This event raised about $400000 during those four years. This golf event helped raise money to help high school and middle school athletics. The money from this event was instrumental in reviving middle school athletics.
• Major sponsor of the Marty Saiz's State Farm Agency/Albuquerque Metro High School Volleyball Banquet for several years
• Major corporate partner for a couple years for the New Mexico Sports Hall of Fame
• Coached his youth football teams for six years, which included his sons in the Albuquerque Youth American Football League (YAFL) to four consecutive championships.
Family
• Wife, Laura … married July 25, 1976
• Daughters – Autumn McCarthy, Tammy Grady-Thornton, Samantha and Lexi Grady-Haitsma,
Sons – Jeff and Tim