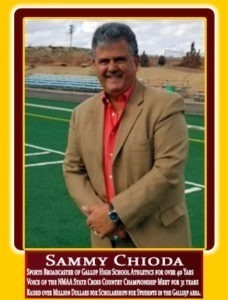 Salvatore "Sammy C" Chioda
Born: 12-29-54 Gallup, New Mexico
High School; Gallup High School (NM) 1972
College; New Mexico State University 1976 Bachelor's Degree in Business Administration and Accounting
High School:
• National Honor Society
• New Mexico Boys State
• Student Council Vice President 1971-1972
• President of Key Club
• Student Representative to Kiwanis Club
• Soroptimist Scholarship recipient … one of three Gallup High School seniors to receive this scholarship.
College:
• 1974 -Dean Honor Roll
• 1975 -Student of the Month
• 1975 Among 50 NMSU seniors that were recognized by Who's Who Among Students in American Colleges and Universities
• President Pro Temp of the Associated Students of NMSU
• Member of the Senate Finance Committee
• Faculty Advisory Committee
• Member of Delta Sigma Pi, professional business fraternity for business majors
• Blue Key senior men honorary service fraternity
• New Mexico State University Business College Dean's Award
• Delta Sigma Pi, Undergraduate of the Year
Professional: For the last 50 years, Sammy has been a radio disc jockey and sports broadcaster in Gallup. Plus, he has done more for the Gallup area student-athlete than any person in the Gallup area. He has raised nearly $600,000 in scholarship money for student-athletes in Gallup and surrounding area to help them fulfill their dreams and goals in life.
• Radio Career
o Started on the radio at the age of 14 on June 25, 1969. As a ninth grader, he walked into KYVA-AM and convinced them to have his own radio show. "The Sammy C Show." from 7:00 pm to 10:00 pm Monday through Friday and filled in during staff vacations
o 1970 – first play-by-play came while a sophomore in High School. Back then, there was no NCAA Women's College Basketball Division. There was the Women's National AAU Basketball Championships, which Gallup had the hosting contract for, during a period of years. After leaving Gallup, the Women's National AAU Basketball Tournament moved to Council Bluffs, Iowa .and, with Title IX coming on, this tournament came to an end and was replaced by the NCAA Women's College Basketball Division. He broadcasted many of the games including the Championship Game of 1970 between Nashville Business College NBC) and Wayland Baptist. Amongst the lineup for NBC, two future Hall of Famers in the Naismith Memorial Basketball Hall of Fame, Nera White (a pioneer of women's basketball) and Joan Crawford.
o During the 1974-1975, he had the privilege of doing his first major play-by-play radio broadcast of the New Mexico State Aggies vs. Louisville led by the legendary Coach, Denny Crum Men's Basketball Game on KRWG-FM radio.
o 1977 Started doing sports play-by-play on KYVA radio for Gallup High School Athletics.
o Sales Manager for KYVA in 1977-1978
o General Manager for KYVA FROM 1978-1983
o Vice President/General Manager from 1983-2002
o President/General Manager of Millennium Media Inc. from 2003 to the present.
• Voice of Gallup High School Athletics since 1979. He also does other area schools including Miyamura High School, covering their baseball team during the 2017 and 2018 seasons, making the State Playoffs each of the two years.
• Voice of the New Mexico Activities Association State Cross Country Championship Meet since 1987 (33 years).
• Announcer for Navajo Ceremonial since 1980 (4th Announcer in the History of Ceremonial)
• Sammy broadcasted the first Gallup State Girls Basketball Championship from 'The Pit' in the Spring of 1994 when the Fightin' Bengal Girls defeated perennial Champion Eldorado, under the leadership of Legendary Coach and Hall of Famer Don Flanagan, 48-45.
• 2007 November – became the owner with his wife, Marie of Sammy C's Rock n Roll Sports Pub in Gallup
o It is considered one of the nation's top sports pubs
o displays Sammy C's rock and sports memorabilia collection with over 6,000 autographs
o CNN Go's, "101 Best Sports Bars in the United States" Recognition, 2012
o Best Things New Mexico.Com, 'Top 10 Best Sports Bars' in New Mexico – 2017
o Profiled on New Mexico Tourism, 'New Mexico True' Treasures – 2015
o Gallup Chamber of Commerce, 'Organization of the Year' – 2017
o Gallup Chamber of Commerce, 'Business of the Year' – 2011
• Founder of the Tony Dorsett Touchdown Youth Football League in 1996, a non-profit area wide youth program of tackle football for boys and girls ages 6-13.
o Trustee; Board President – 1996 to the Present – Present; Board
• Founder and CEO of the Four Corners Annual Youth Football Championship – 2010 -Present
o 50 Teams Per Year from up to Five States showcasing nearly 50 Teams. Teams have come to Gallup from New Mexico, Colorado, Arizona, Utah, Idaho, amongst other states.
• Navajo Nation Fair Night Performance Announcer – 2 years
• Celebrities he brought to the Gallup area for Fundraising activities – Tony Dorsett, HOF of the Dallas Cowboys, Tom Landry, Dallas Cowboys HOF, Lou Holtz, College Football), Joe Greene, Pittsburgh Steelers HOF, NFL Head Coach, Dick Vermeil, Arizona Cardinal Jake Plummer, Green Bay Packer Bart Starr HOF, NBA star Rasheed Wallace, Tim Brown, Tom Flores, Steve Garvey, Marv Levy, Ed McCaffrey, Karl Mecklenberg, Dan Reeves, Ronnie Lott, Ed Hochuli, Jay Novacek, Randy White, Drew Pearson, Darryl 'Moose' Johnston, Ron Jaworski, Robin Cole, Anthony Miller, amongst others.
• Partnering up with Legendary New Mexico High School Cross Country Coach and
New Mexico Sports Hall of Fame Inductee Curtis Williams, revolutionized and
elevated the sport of Cross Country in New Mexico … the single sport which has grown
incredibly through mass statewide media exposure and more fan base participation.
• He also partnered with Legendary New Mexico High School Girls Basketball Coach and New Mexico Sports Hall of Fame Inductee John Lomasney, introducing girls basketball play-by-play to the airwaves which initially drew approximately fifty fans in the stands (mostly parents) and a low number of listeners, getting it to a waitlist for sponsorship of games, while growing local interest to massive sellouts of 3,500 fans per home game as the program developed, ultimately bringing State Championships to Gallup.
Honors
• 1986 – Gallup High School #1 Club, Honoree
• 1988 – New Mexico State University Centennial Celebration Outstanding Alumnus
• 1989 – Rehoboth McKinley Christian Hospital/Western Health Foundation,
Community
Service Award
• 1997 & 1998 – Leadership McKinley, Leadership Award Nominee
• 1997 – Native American Indian Health Service Honor Award, 1997
• 1998 & 1999 – New Mexico Broadcaster Association Sports Play by Play Award
• 2002 – Ganado Unified School District #20 (Arizona) Partner-in-Education Athletic Award
• 2004 – New Mexico Broadcaster's Association, Broadcaster of the Year Nominee
• 2005 – Inducted into the New Mexico Broadcaster's Association, Hall of Fame
• 2005 – New Mexico Governor's Distinguish Public Service Awards … public service to McKinley County
• 2005 – New Mexico District 6 High Schools Athletic Award, 2005
• 2006 – Rotary Club of Gallup, Rotarian of the Year
• 2009 14th edition of Charity Invitational honored Gallup born, Sammy "C" Chioda as that year's honoree in their traditional nomination.
• Profiled in New Mexico Magazine, April 2009, January 2009, July 2017 and January 2019
• 2010 – Gallup/McKinley County Chamber of Commerce, Volunteer of the Year
• 2013 – New Mexico High School Coaches Association Distinguished Service Award
• 2015 -The Athletic field complex in Gallup was named the Sammy C. Chioda's Field by Mayor Jackie McKinney and the Gallup City Council.
• 2016 inducted into the Navajo Nation Sports Hall of Fame
• 2017 – Recognized in 'Legendary Locals – Gallup' Book, 2017
• 2018 – New Mexico True Hero nominee in 2018
• New Mexico Track & Field Coaches Association, First to Finish Award
Community Involvement
Sammy has been actively involved in many civic, school and state athletic and activities as it relates to student-athletes and other matters especially health-related in the Gallup area and the entire state of New Mexico.
• 2008 Navajo Department of Education's Bishop Optical Eyeglass Project. Sammy and his wife donated over $5,000 in pizzas to Native Youth who were eligible for the program. Bishop Optical, provided eyewear about $100,000 to eligible youth patients.
• Blue Cross-Blue Shield of New Mexico Affiliate's Board Member 2006- Present … Named Chairman of the Board in 2018
• Western Health Foundation
o Created the Western Health Foundation Health Fair in 1988. He chaired it for five years combined between two different periods. In 2019, the health fair celebrated its 31st year and continues to be a strong event the community turns out for annually. Attendees can get health screening and blood panels at a generous discount.
o Chaired the overall committee for two years and in charge of Funds Development Committee for three years. Under Sammy's leadership, nearly $1.5 million dollars were raised for the betterment of health care in our Greater Gallup Area.
o Charity Invitational Board for 10 years. It is the fund-raising event for Western Health Foundation and Rehoboth McKinley Christian Health Care Services. Annually, the group selects a project they wish to fund raise for whether a new project, or upgrading a present facility – dialysis center, emergency room facilities, Pediatrics, or diagnostic facilities (C-Scan/MRI Facilities)
o Charity Invitational 's honoree in 2009.
o Grand Marshalls included former St. Louis Cardinal and MLB Commissioner Bill White, MLB Hall of Famer, Larry Doby, amongst other notables.
• New Mexico State University, Alumni Association Board – 12 years;
• New Mexico State Foundation Board – 5 years
• Wells Fargo Bank Gallup Community Advisory Board – 17 years
• New Mexico Amigos – 5 years
• Gallup Rotary Club, Member – 28 years – 1991 to the present; Board Member, 13 years;
President, 1999-2000; Program Chair, 2 years; Scholarship Speaker's Banquet Chair,
17 years – Present. As chairperson of the Annual Rotary Scholarship Fundraiser Banquet has netted nearly $600,000 in Scholarship Money for Area Students over the last 20 years.
• Inter-Tribal Indian Ceremonial Board – 9 years;
• Gallup/McKinley County Chamber of Commerce, Board – 4 years; Vice-Pres.
Community Development 2 years; Ambulance/EMT/Paramedic Task Force Chair – 1 year
(improved medical pickup services from basic pickup, to creating EMT and Paramedic Services through the Gallup Fire Department where personnel became cross trained, providing a stronger first responder service to the community and area).
• McKinley County Crime Stoppers Board – 4 years
• New Mexico Activities Foundation Board Member (2016-present)
• New Mexico Bowl Board Member (2016-present)
• United Way, Board – 4 years
• University of New Mexico/Gallup Ambassadors – 10 years; Advisory
Board – 2 years
• Gallup High School Quarterback Club, Booster Club President – 1 year
• Gallup/McKinley County Schools Academic Standards Ad Hoc Committee – 1 year
• Gallup Catholic School, Board – 8 years; President 4 years
• McKinley County Development Commission – 2 years
• Sacred Heart Cathedral, Lector – 17 years – Present
• Gallup Economic Development and Tourism Board – 5 years
• Red Rock Development Steering Committee – 2 years; Chair 2 years
• Business Improvement District (BID) Board Member
Family
• Wife, Marie … married April 25, 1998
• Children – Giovanni and Francesca