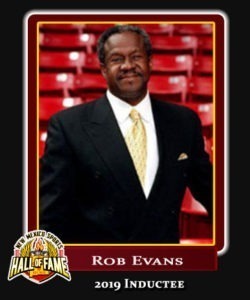 Robert Oran Evans
Born: September 7, 1946 Hobbs, New Mexico
High School: Hobbs, New Mexico 1964
College: Lubbock Christian Junior College Associate Degree in Arts & Science 1966
New Mexico St University Bachelor's Degree in Education 1968
Working on a Master's Degree in Administration
High School
• 1963-1964 Played on the varsity high school basketball team under legendary coach Ralph Tasker.
• Senior year he was named co-captain.
• Played on the team made it to the 1964 championship game losing a one-point game to rival Roswell 80-79. The team was 26-2.
• Named to the South team at the North -South State All-Star Basketball game in Albuquerque.
• Three Year Letterman in baseball playing shortstop.
• Batted .474 for the baseball team
• Drafted out of high school by the Colt 45s, which eventually became the Houston Astros.
College
• Lubbock Christian Junior College
o 1964-65 All-Conference.
o 1965-66 All-Conference, All-Regional, All American
o 1966 First All-American at Lubbock Christian history
o Both seasons he played at Lubbock Christian Evans was voted the teams' best defensive player.
o In his second year with the team Evans was named team captain.
• New Mexico State
o Captained the Aggies to a pair of NCAA Tournament berths. NMSU's 1967 team lost to Elvin Hayes and Houston in the NCAA Tournament
o 1968 squad beat Dick Motta and Weber State before falling to eventual national champion UCLA and Lew Alcindor. Helped the Aggies to third place at the Far West Regionals beating the UNM Lobos.
o 1968 February 24th broke the single game assist record with 7.
o 1966-1967 was 15-5
o 1967-1968 MVP of the basketball team
o 1967-1968 Team was 23-6, which was the most victories in the 62 history of the basketball program
o Led the team with 47.3% Field Goal Percentage and 80.2% Free Throw Percentage
o School's Honor Roll
o 1969 Led the Omega Psi Phi with 30 points to beat the Albuquerque's House of Carpet led by former UNM great, Ron Nelson 82-73 for the State AAU Basketball Championship
Professional – Rob's mother said "professional baseball is fine, but you're going to college. If they want you after that, fine." He signed a free agent contract with the Oakland Raiders in 1968, despite only playing on the junior varsity on his high school football team. The AFL's Oakland Raiders even sent a promising assistant coach named John Madden to Las Cruces, N.M., to convince Evans he could be a top-flight wide receiver.
He had another focus that would change the course of his life, as well as hundreds of others over the next half century. "It goes back to my high school coach Ralph Tasker," Evans said. "I saw the impact he had on young people. Not only his basketball players, but he taught five classes. The impact he had on all of those people, that's what I wanted to do. I wanted to impact young people's lives. That's why I got into coaching."
49 years of coaching in Division I basketball, former Arizona State and 'Ole Miss head coach Rob Evans is a true legend of the hardwood. In all as a head coach, Evans led six of his teams to the post season. 3 NCAA tournaments and 3 NITs. He owns a 205-201 overall record in helping to rebuild the ASU and Ole Miss programs. Rob signed as a free agent with the Dallas Chaparrals of the American Basketball Association.
• 1968-1969 Became the first black coach in NMSU athletic history when he became the Freshmen Coach for New Mexico State. (He was classified as a graduate assistant). Although he was classified as a graduate assistant at NMSU, he did everything full-time assistants did, including recruiting on the road, mostly in the south. Only three black men were coaching major-college basketball in 1968, and all of them were assistants. Evans took the coaching job, then was offered a full-time position for the 1969=-1970 season. He would recruit Hobbs High School's Truman Ward and Richard Robinson to NMSU.
• Salary: $10,000. He wanted to learn his craft under legendary coach Lou Henson. Evans was a natural, and his zeal for the game caught the attention of others across the country. Under Henson and Evans, the Aggies advanced to five NCAA Tournament births, including a trip to the Final Four in 1970.
• New Mexico State's head basketball job opened up after the 1974-75 season, and Evans, then 28, applied for it. But the school looked elsewhere after a painfully protracted process, and an unhappy Evans found a new job as an assistant coach at Texas Tech University in Lubbock.
• 1976 – 1990 he joined Gerald Myers' staff at Texas Tech, where he would recruit a gritty point guard from Hobbs High School named Tony Benford. Together, they would lead the Red Raiders to a Southwest Conference title, and forever change the career path of Benford -the 1986 SWC Tournament MVP. He would recruit some of the best New Mexico players like Jeff Taylor Sr, Vince Taylor, Bubba Jennings, Kent Williams, Steve Smith, and Nelson Franse to name a few during his 15 years at Texas Tech.
• 1990-1991 season, head coach Gerald Myers was promoted into an administrative position at the school. Evans had left Texas Tech the year before to go to Oklahoma St. He wanted the head job badly, and stories published at the time called him the clear front-runner. But again, he didn't get the job.
• 1990 -1992 Assistant Coach for another legend, Eddie Sutton, would team up with talented assistant Bill Self at Oklahoma State from 1990-92. Both the 1990-1991 and 1991-1992 teams went to the Sweet 16.
• Became a commodity as a head coach. First, both Rice and Baylor offered him their head coaching slots. Then a third offer popped up. Though the head coaching job at the University of Mississippi was fraught with momentously uphill challenges on and off the court, Evans decided to give it a go at a starting salary of $90,000. But the school's top brass including Rob Evans' ex-college teammate Gerald Turner were convinced that the time was right for a black coach, specifically Rob Evans. (Ironically, Evans replaced Ed Murphy, his old coaching associate from New Mexico State.)
• 1992-1998 – Evans was hired at Ole Miss as its first black head coach in a major sport. At Ole Miss, Evans took over a program with just one winning season in the previous nine years and only one NCAA Tournament bid in its history. One of Evans' Lubbock Christian University teammates was Gerald Turner from New Boston, Texas. Evans knowing that Turner had not played with many, if any black players, took pains to get to know his fellow freshmen. "I wanted to prove to Gerald and our teammates that I was a good person and good teammate," Almost three decades later, his teammate and good friend, Gerald Turner by then the chancellor at the University of Mississippi would be a driving force behind Evans' hiring as head basketball coach there.
o Led the Rebels to a 14-13 mark in 1994 during his second season, marking the program's first winning season in seven years,
o Won SEC Western Division titles and back-to-back NCAA Tournament bids for the first time in school history in 1997 and 1998.
o The consecutive 20-win seasons were the first for Ole Miss since 1937 and 1938
o 1997-98, we were ranked in the top 25 for the first time in school history … ranked #10.
o 1997 Beat Kentucky at Kentucky for the first time since 1925. Kentucky won the NCAA championship that year.
o 1997 Named Associated Southeastern Conference (SEC) Coach of the Year
o 1997 College Hoop Insider.com National Coach of the Year
o Led the Rebels to a pair of SEC Western Division titles and NCAA Tournament bids
o 1998 Basketball Times All South Coach of the Year
o 1998 NABC District XXI Coach of the Year
• After the Rebels' success in the 1996-97 season, Louisiana State offered Evans its head coaching job. He says the total salary package was about $800,000 annually, about $500,000 a year more than he was making by then at Mississippi. Almost everyone, including Evans' assistants, thought he'd move on. He didn't. "Our work wasn't done yet, and it just didn't feel right," he says. "Money is nice, but it's not always about dollars and cents."
• 1998-2006 His success in Oxford, Miss., parlayed Evans into the head coaching job at powerhouse Arizona State in 1998. On April 7, 1998, ASU announced the hiring of Rob Evans as its new basketball coach at a five-year salary of about $450,000. (The coach makes much more than that through his basketball camps, shoe deals, radio deals and other incentives He led the Sun Devils to four postseason appearances in eight years at ASU, and sent numerous players to the NBA, including Ike Diogu and Eddie House. He led the Sun Devils for eight seasons.
o In 2003, Arizona State recorded its first 20-win season since 1995, and advanced to the second round of the NCAA Tournament.
o ASU also qualified for the NIT in 2000, 2002 and 2004.
• 2007 – 2011 Assistant Coach at University of Arkansas under Head Coach John Pelphrey
• 2011 – 2012 Assistant Coach at Texas Christian University under Head Coach Jim Christian
• 2012 – 2017 Assistant Coaching alongside fellow Hobbs native and Head Coach, Tony Benford as the Associate Head Coach at North Texas
• 2018 to Present Special Assistant to the Southern Methodist University's Athletic Director overseeing the Men's and Women's Basketball programs.
• Rob Evans Coaching Tree
o Rod Barnes (Cal State Bakersfield, Georgia State, Ole Miss)
o Tony Benford (LSU, North Texas)
o Russ Pennell Central Arkansas, Grand Canyon, University of Arizona
o Mike White (Florida, Louisiana Tech)
o Sean Sutton was assistant at Mississippi in 1992-93( Head coach at Oklahoma State).
o Dan O'Dowd was assistant at Ole Miss and Arizona State( Head coach at Bethany College, Kansas.
o Brooks Thompson was assistant at ASU(Head Coach at UT San Antonio).
o Ron Dubois played for Evans at ASU(Head coach at UC Santa Cruz.
o Awvee Storey played for Evans at ASU and is the assistant coach in the NBA G League Capital City Go Go).
o Phil Jabour was Evans' manager at ASU( currently scout for the Philadelphia 76ers.
o Scott Simpson, manager at ASU, (former NBA scout for the OK City Thunder, New York Knicks, and Long Island Nets.)
o Brice Long was manager at ASU(former video coordinator for the Minnesota Timberwolves).
o Dai Oketani was manager at ASU, (Head coach of the Sendai 89ers in Japanese B League.
o Hanoo Hamaguchi was manager for me at ASU. Head coach of Kyoto Hannaryz of the Japanese B League.
o Keith Carter played for Evans at Ole Miss and is now Interim Athletic Director at Ole Miss.
Honors
• 1967 Mexico State Most Outstanding Athlete
• 1975 NMSU All-Time Basketball Team member
• 1987 Texas Tech Outstanding Achievement Award
• 1990 Lubbock Christian Athletic Hall of Fame
• 1991 Elected President of the National Association of Basketball Coaches
• 1994 Inducted into the US Bank/New Mexico State Athletics Hall of Fame
• 1994 NMSU's School of Education Alumnus of the Year
• 2000 Southwestern Christian College "Man of Valor" Award
• 2000 Arizona March of Dime Sports Leadership Award
• 2003 Sports Illustrated 101 Most Influential Minorities in Sports.
• 2004 Honored as Distinguished Alumnus by the Lubbock Christian University
• 2009 Lea County New Mexico Hall of Fame
• 2013 Hoop Scoop Magazine named Evans the Nation's No. 1 Mid-Major Assistant Coach
• 2018 Southeastern Conference Coaching Legends Award
Community Involvement – Carolyn and Rob have worked as a team both professionally and in life from the beginning.
• Raised money at NMSU with golf tournaments sponsored by the Black Alumni Association.
• 2001-2005 College Basketball Ethics Committee-NABC
• 2000-2005 Coaches vs Cancer Board Member-NABC 2000-2005.
o Carolyn and Rob have been involved with Coaches vs Cancer since the beginning with Norm Stewart.
o Wife Carolyn was on the Coaches Wives vs Cancer Committee from 2006-2017.
o She also was Vice President, then President the local chapter of The American Cancer Society in Oxford, Mississippi from 1993-1998.
Family
• Married Carolyn Marshall in Hobbs on July 25, 1970. Carolyn dropped out of college to work to help care for her ailing grandmother in 1968. She went back to college after raising their two children and graduated from Wayland Baptist University Lubbock with Honors in Human Services, with a specialization in Child Development in 1995. After raising their two children, Damon and Amber, Carolyn Evans taught child development for a time at South Plains Community College Lubbock, where she was won Outstanding Faculty of the Year Award in 1989. "We decided to focus on the stability of raising our kids in one place," Rob Evans says. "You get one chance to raise your kids, and you have to do it right. Lubbock was a good place to do it." Carolyn also kept busy with Community Boards, PTA, Local and State Teachers Association for The Education of Young Children, and Junior League.
• Damon, son graduated with honors from The University of Mississippi in 1996 with a degree in Bank and Finance. He also was the 1996 Orrin Swayze Scholar in Business Award Winner. Damon was the first Afro American to formally rush and pledge Sigma Chi fraternity at Ole Miss. Has his own business in Phoenix, Arizona ( 101 Distribution and Arena ) Music business. He and his wife Emily have 2 children, daughter Elliot (8) and son, Oliver (6).
• Amber, daughter attended Ole Miss and studied Radio and TV Broadcasting. She was one of the 1st Afro American females to pledge Phi Mu sorority at Ole Miss. She and her husband, Cliff have 5 children. Daughters Nia,15, Sarah,11, sons, William,14, Brandon,8, and Gregory, 2.
• Hobbs' growth stabilized after the oil craze waned. When Rob Evans was born September 7, 1946, it had a population of about 13,000, including his parents, Oscar and Gladys Evans. Gladys was a home cleaner, and Oscar, a preacher and janitor. Robert was the fourth of seven children, all of whom would go on to graduate college. Hobbs then was as segregated racially as any city in the Deep South. The blacks who accounted for about 10 percent of the population lived in one part of town, and the whites in the other. Those of Latino descent lived in the black neighborhoods. Gladys Evans gave birth to all seven of her kids by her 25th birthday, including Rob, the middle child of five brothers and two sisters. Oscar Evans was a janitor during the days, and often did odd jobs at nights. He preached at area churches on Sundays and had a great love of books. A courteous, unpretentious man, Mr. Evans carried himself in a manner that earned him adoration and respect. Gladys Evans cleaned them homes of white folks in Hobbs to help make ends meet, no small task in a family of nine. Hobbs was a separate and unequal world for blacks during Rob Evans' youth. One evening, when Evans was 6 or 7, his dad took him and his brothers to work at a second job, cleaning an attorney's office. "The guy decided to have fun at my dad's expense," Coach Evans recalls. "Oscar, get over here.' Dad continued to work. You don't get over here, I'm going to kick your rear end.' Dad said, Boys, let's go.' I said, Dad, we need the money.' He said to us, Son, Dignity and integrity are non-negotiable.' I get chills right now when I think of it." Neither of the Evanses had much formal education — eighth grade was it for each. But they put the schooling of their children atop their list of priorities. (All seven children are college educated, a remarkable achievement.) On May 17, 1954, the U.S. Supreme Court ruled against the continued segregation. The integration of Hobbs High School meant black kids could play for the Eagles' basketball team coached by Ralph Tasker. Tasker then was just starting a half-century stint that would earn him acclaim as one of the nation's best. "I remember my parents telling me to listen to the radio one night," Evans says. "It was 1955, and I was 9. Some white parents had been giving Coach Tasker grief about playing so many black players. He came on and said, I'm going to play my best players. You want another coach, get one.' To kids in the black community, he was saying, if you're good enough to play, you will." Evans played baseball, basketball and football with a drive and skill that would carry him far. He also competed hard in the classroom with the white kids at newly integrated Houston Junior High. "There was a little bit of difference at first academically" he says, "not from the standpoint of innate intelligence, but exposure to certain things in life." Coach Tasker named Evans as co-captain in his senior year, an honor that brought with it a responsibility that transcended race. "Looking back on it, the coach had the foresight of making me one of the guys in charge of bed check," Evans says, relishing the memory. "Here I was, a 17-year-old black kid in a segregated community, and I'd go to the other side of town, knock on doors, and ask if my white teammates were home. My next comment was, I have to see for myself.' "Still, the specter of racism always lurked at Hobbs High. "Some kids would make a point of pointing at me in the hall. That's Rob Evans. His mother cleans our house.' That was denigrating; however, they meant it or didn't mean it." These life lessons led Rob to have a positive impact on many youth and coaches. " Coach Evans has used athletics to teach life lessons," Evans said. "Because you have to help them understand that at some point the ball is going to go flat."