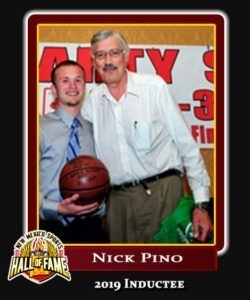 Nick "Nick the Stick" Pino   
Born: November 1944
High School: St Michael's High School, Santa Fe, NM, Graduated in 1963
College: Kansas State University, Manhattan KS, Graduated in 1968
Nick grew up in a tight-knit working class family of 8 siblings who were taught the importance of honesty, integrity, kindness, love, a strong work ethic and self-sufficiency. His first language was Spanish, which was spoken in the home and the only language his grandparents knew. While his friends were having fun after school hours and in the summer, Nick went to work at age 10, cleaning yards, scrubbing floors and washing windows. He became financially independent at this young age, earning lunch money, purchasing his clothes and covering other personal expenses. When he was 11-12 years old, he found a Little League baseball team that practiced after his working hours and played what he considered to be his favorite sport at the time. The first organized basketball team he played for was at Harvey Jr. High in 7th grade when he was six feet tall.
High School
• Joined St. Michael's Horsemen varsity team coached by Dick Shelley, as a sophomore in 1961.
• He played with the St. Michael's renowned "Mighty Midget" team whose tallest player had been under six feet. Nick then became known as the "Mighty" and the rest of the team as the "Midgets." (Before Nick, the Mighty Midgets were small, but they excelled on the court because they were fast, perfected the full court press and were good team players.)
• In the winter of 1962, the Santa Fe New Mexican sports writer gave Nick the name "Nick the Stick."
• In the 1962-63 season, his senior year, he achieved some notable game records:
Individual Scoring:
• 80 points against El Rito High School (1/12/63)
• 50 points against Farmington High School (1/26/63)
• 48 Points against Espanola High School (2/23/63)
Free Throws Made in a Game: 26 against Espanola Valley (2/23/63) – State Record
Points Scored in a Season: 1,033 points (Nick held the state record for 50 years until it was broken by Bryce Alford playing for La Cueva, Albuquerque when he scored 1,050 points in 2013. When Pino was asked what he thought of Alford breaking his record he said, "I want to congratulate the guy and shake his hand!" At an annual banquet honoring star basketball players of the Albuquerque area, Nick presented Alford the basketball that he was given in 1963, when Alford broke Pino's 50-year-old record.)
Other 1962-63 Achievements:
• Selected to "All-America" Boys basketball Team (1963)
• Named to the "New World All-Star Basketball Team" (1963)
• Recruited by over 100 universities and colleges his senior year
College
• With the guidance of St. Michael's Coach Shelley, Nick selected KSU to get a good education (Got a BA in Business Administration) and to play under the renowned basketball coach, Tex Winter and he assistant coach at KSU was Cotton Fitzsimmons, who would later become a NBA head caoch.
• At 7'1", Nick was the tallest player on the KSU Wildcat roster.
• By his senior year (1967-68), he had a good average point record of 11.7 points and 8.3 rebounds per game.
• In 1967-68, KSU had an average game point score of 69.9 with the opponent team average being 65.1 point score.
• Nick played the successful Triangle offense used by Winter, which keeps the ball in continuous motion until the "open man" has the right shooting opportunity. The Triangle offense was successfully used by the Chicago Bulls and the Los Angeles Lakers, when Tex Winter went on to coach in the pros.
• Assists were not measured in those years; However, Nick became successful at passing the ball off to open teammates for scoring.
• With his height, Nick developed a hook shot that was unstoppable by his opponents.
• The Wildcats ended the 1967-68 regular season with 17 wins & 7 losses.
• 1968 Big game for Nick was against rival University of Kansas. Nick shooting his unstoppable hook shot on the road against the Jayhawks and the Wildcats went on to win the game, 64-61. The Wildcats defeated the Jayhawks both times in the season, the first time 71-56. The Jayhawks were favored to win the Big 8, but the KSU Wildcats took home the title in 1968. The Jayhawks had Dave Nash, (6'10") who went on to play with the Harlem Globetrotters. Also playing for the Jayhawks and was Jo Jo White, who went on to play for the Boston Celtics.
• As a senior in 1968, Nick helped the Wildcats win the highly competitive Big 8 Conference championship and qualify for the NCAA tournament. (At that time only 16 teams qualified for the tournament.)
• In the first game of the NCAA, the Wildcats were ahead double digits at half time over Texas Christian University, but Nick injured a knee and was sidelined. The Wildcats went on to lose the game by a score of 72-77.
Professionally
• The Los Angeles Lakers drafted Nick but his troublesome knee ended his chances of making the Laker's roster.
• Additionally, he was recruited to try out for the 1968 U.S. Olympic Basketball Team, which would be playing in Mexico City, but the knee injury prevented him from accepting.
• After graduating from KSU, Nick successfully went into the insurance business in Kansas where he was well-known.
• While in Kansas, Nick was hired to star in numerous television commercials. He appeared in commercials for Milgram's grocery store chain, Dairy Queen and in commercials with "The Dodge Girls," who did commercials for five major city Dodge dealerships in Kansas, Iowa and Nebraska.
• In 1985, Nick decided to move back to Santa Fe to be closer to his parents in their twilight years.
• Nick received an offer to play professional basketball in Mexico and played for the San Luis Potosi team. With his basketball skills, the team went on to win the Mexican national title.
o Nick recounted that young Mexican kids would wait for him to come out of the gym after each home game and would chant to him, "Money, money, money," so he would throw them Mexican centavos. After losing an important game, Nick came out to their chanting for money and he explained to them that they never even bothered to ask him how the game went. After future games, the kids still waited for him but asked "Did you win or lose tonight?" Then after he responded, they would chant, "Pino, Pino, Pino!" This was one of his fond memories of his time in Mexico. Nick always loved those kids. Many were homeless and hungry. He watched them run around and play soccer on the streets. He was the only member of the basketball team that payed attention to these kids and gave them some financial support.
o Nick was well-liked by the local people including the cab drivers that transported him around the city. These cab drivers often invited Nick to their homes to meet their families and share a meal with them.
Community Involvement
• Nick served for years on the governing board of the Charles "Cocoa" Maxwell Jr. Memorial Scholarship Fund, Inc., which was founded by Charles Maxwell Sr. in loving memory of his son who died in 1989. This fund was established to provide financial aid to four deserving athletic high school seniors annually, in order to encourage their potential and further their education.