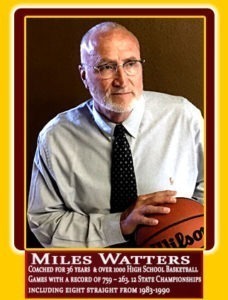 Miles Watters
Born: April 16, 1955 Clayton, New Mexico
High School : Clayton High School 1973
College: Lubbock Christian University 1977
High School
• 1972 – All District Football Defensive End.
• 1972 – All District Basketball
• 1973 – All District Quarterback and Defensive End
• 1973 – All District Basketball
• 1973 – All State Football Defensive End
• 1973 – All State Basketball
College
• Four -year letterman in basketball
• 1977 – All Texhoma Conference Basketball Senior year, led the team in scoring, rebounding, field goal and free throw percentage.
• Received the school's prestigious LD Hayes Award for the Outstanding Athlete of the Year.
Professional – Miles grew up in the ranching industry in Clayton NM where he was a multiple sport high school athlete. He is proud to have been coached by the well-respected Wayne Moore where he developed many of his basketball philosophies and values. . Watters began his Coaching career in 1978 and was involved with Education and Coaching for 36 years when he retired in 2014. He coached for 36 years, 23 in NM High School Basketball, and was involved in over 1000 Basketball games. His overall record was 759 – 263, which ranks him with most in New Mexico girls' basketball history.
o High School Coaching 1978-2014 526-105 (New Mexico record)
• 1978 Began coaching at Sudan High School (Texas), where he was the boys head basketball coach and assistant football coach.
• 1980 Returned to Clayton High School to lead the girls' basketball and track programs for 15 years. The basketball team won eleven state titles and the girls' track & field team won seven state titles. His girls' coaching basketball record was 373-57 with 13 district titles and 13 regional titles. The girls' track & field team won 10 district titles.
• One year he was called to coach both the boys' and girls' teams, taking the boys to a third-place finish at State and the girls won the state title.
• Returned after coaching at Lubbock Christian University to coach the girls' basketball team at Clovis High School (NM) for seven years. During that span the Lady Wildcats reached the State finals three years, winning it all in 2005 with a perfect 30-0 record.
• Most Career wins for a girls' head basketball coach within the state of New Mexico.
• Most State Championships for a girls' basketball coach in New Mexico with 12 state championships.
• Most consecutive state championship teams with 8. He accomplished this feat at Clayton High School from 1983-1990.
• 2008 Retired from coaching in New Mexico
• 2009 Returned to coach at Farwell High School (Texas). He coached the girl's team for five years. His record at Farwell High School was 97-59, leading the program into the state playoff in three out of five years.
o College Coaching
• Served as head women's basketball coach at Lubbock Christian University for six years. He left the school as the first coach to have a winning record in women's basketball.
Honors:
• 1989 Panhandle Sports Hall of Fame Coach of Year
• 1989 National Federation High School Coaches Association's Sectional Track Coach of Year
• 1996 Inducted into the Lubbock Christian University Sports Hall of Fame.
• He was named the New Mexico Coaches Association Coach of the Year in 1986, 1996 and 2006.
• Named National Federation High School Coaches Association's Sectional Basketball Coach of the Year in 1986, 1992 and 2005.
• Named Coach of the Year ten of his fifteen years at Clayton High School
Community Involvement
• Active in his Church where he serves as a Deacon
Family
• Deborah May Ann, wife who he met and married the love of his life while in college. They have been married since 1976.
• Two sons: Dr. Chase Watters who serves in the U.S. Navy and Zachary Watters who is involved in the oil and gas industry in Pennsylvania.