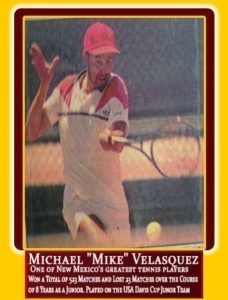 Michael "Mike" Velasquez
Born: January 7, 1966 Lubbock, Texas
Died: June 13, 2008 Rio Rancho, New Mexico
High School: Valley High School 1984
Youth Sports
• 1971 Started playing tennis from the tender age of 5 years old and quickly picked up the fundamentals of the sport.
• 1974 By the age of 8 years old Mike started competing and winning most junior events around Albuquerque, Santa Fe and the whole Southwest of the USTA.
• 1976 By age 10 Mike was playing on the New Mexico Junior tennis team out of The Indoor Tennis Club.
• 1978 he played number one singles for the boys 12 & under team. By the age of 12 Mike was playing in Adult tournaments and defeating such local favorites as Tim Garcia and Anthony Richy to name just a few, by the age of 14.
High School
• 1980 Conquered the local tennis competition and had amassed a state ranking of #1 and #1 in the Southwest division in the boys 14's
• 1982 #1 in the boys 16's in New Mexico and in the Southwestern division, he was ranked #2 in the boys 16's.
• 1983 On top of his game and was Ranked #1 Boys 18's & Men's Open singles statewide & the Southwest, but Mike had also achieved a national ranking by this time, and he was Ranked #5 Nationally in the boys 16 and under as well as #10 in the boys 18
• 1984 #1 in boys 18's in New Mexico & the Southwest Mike was also ranked #1 in the Men's Open singles in New Mexico & the Southwest as well.
• 1982-1983 & 1984 – Won the New Mexico High School State Championships 3 years in a row defeating the likes of such locals as Mark Keil, Garon Fulgenzi and Nicole McKenzie. He was undefeated during those three years.
• 1984 After graduating, named to the United States Junior Cup tennis team. He won several matches
• Offered a scholarship to University of New Mexico but was academically ineligible. UNM Head Tennis Coach, Mike Geatz stated that Mike was the best high school player that he had ever seen in his 30 years of coaching.
Professional
• 1984 Turned pro at the age of 18 years of age and throughout his professional career Mike defeated such players as Patrick McEnroe, Rodney Harmon, Joey Blake Ryan Harrison, Peter Fleming, Marcello Rios and Yannick Noah.
• Played in and made the main draws in such tournaments as Citi Open(Washington D.C.), ASB Classic(Auckland, New Zealand), Australian Open(Melbourne, Australia), U.S. Open(New York City, New York), Abierto Mexicano Telcel(Acapulco, Mexico), Miami Open(Miami, Florida)
• 1994 At the age of 28 Mike retired with a world ranking of #300.