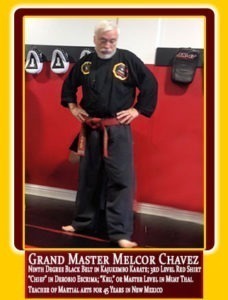 Grand master Melcor Chavez
Born: September 15, 1955 Albuquerque, New Mexico
High School: West Mesa High School, Albuquerque, New Mexico 1973
College: University of Albuquerque Bachelor's degree in Physical Education
K-12 and Outdoor Recreation 1980
High School
• 1970 Rocky Mountain Karate Champion Denver, Colorado
• 1971 Central North American Karate Champion Albuquerque, New Mexico
• 1971 United States Martial Arts Champion Denver, Colorado
• 1971 New Mexico State Karate Champion
• 1972 Ed Parker International Karate Champion, Long Beach California
• 1972 Ed Daniels United States Karate Champion Dallas, Texas
• 1972 Las Vegas National's Champion
• 1972 State Cross Country Team Championship
• 1972 2nd in State in Pole Vaulting
• 1972 UNM United State Karate Association Championships Champion
• 1972 UNM United States Karate Association Championships Champion
• 1973 Southwestern Karate Champion, Albuquerque, New Mexico
• 1973 Central North American Champion, Albuquerque, New Mexico
College Accomplishments
• 1978 Small College Wrestling Champion
• 1977-1980 Served as a school senator for the University of Albuquerque advocating for enhanced student services and outreach programs.
Professional
Grandmaster Melcor Chavez is a lifelong native New Mexican who has dedicated his life to serving youth and families in Albuquerque's South Valley. He has successfully owned and operated Chavez Martial Arts Academy Inc. for over 46 years. He is well known for his reputation as an outstanding Martial Arts owner, instructor, trainer and cornerman.
Grandmaster Chavez is considered a pioneer of Martial Arts in New Mexico. His students have competed worldwide attaining International and National acclaim for their Karate, Boxing, and Kickboxing, Muay Thai, JuJitsu, and Derobio Escrima skills. Eighteen World Title Kickboxing, Boxing and Muay Thai belts have been attained by athletes under his direct training and supervision.
Grandmaster began studying Martial Arts as a young child, quickly becoming an accomplished competitor in forms and fighting. He competed in many National and local tournaments, winning championships in numerous prestigious Martial Arts tournaments such as the Central North American Karate Championships, and the Rocky Mountain Championships.
He has devoted his life to teaching martial arts. He is an instructor that expects a lot from his students and their parents. He believes that the hard work has paid off time and time again. His students are talented athletes who have persevered through the hard times in training and have become champions in competition and in LIFE! Many other students have also become National, State and Local champions as well. Every student he has taught has experienced success through their hard work and dedication. He has taught them to respect themselves and others. They have made him proud every day for these last 46 years!
• 1969 Junior World Jiu-Jitsu Champions.
• 1973, he earned his 1st degree black belt in Kajukembo Karate and on May 8 of the same year he began teaching the art of Kajukembo Karate as his chosen profession. Grandmaster began developing his own Kickboxing system during the mid-1970's and traveled throughout the world including the countries of Japan, Canada, Australia, Belgium, Germany, Russia, Portugal, France, Mexico, and England where his students won Kickboxing, Boxing, and Muay Thai titles on a regular basis. On September 10, 2005 Grandmaster Chavez was promoted to the Ninth Degree with the title of Grandmaster in the Art of Kajukembo Karate.
• Grandmaster Chavez has successfully integrated his academic degree and his martial arts degrees to create a fully balanced science-based as well as reality-based teaching program. He currently holds the ranks of 9th degree black belt in Kajukembo Karate, Kru, or Master in Muay Thai, the National Sport of Thailand, and Chief Maestro in Derobio Escrima, a Filipino stick and knife fighting art.
• Grandmaster Chavez has had a positive impact in athletics in New Mexico and beyond as well as in the social and educational community for four decades. He is dedicated and hard-working, emulating a very strong work ethic. He teaches "from the heart" and has very high expectations from every student. Students learn how to work hard on the deck and in life. Students learn to value life, respect themselves and others. He expects students to "carry themselves with Manners and Respect at all times". Students learn to do their best in everything they do and always value new knowledge.
• Grandmaster Chavez has taught thousands of children to believe in themselves by their hard work and commitment to becoming strong and exceptional athletes. For 46 years he has spent countless hours dedicated to ensuring his students not only learn martial arts as a discipline, but he has also gone beyond his work at Chavez Martial Arts Academy Inc. to make sure that they stay focused on their academic education. Grandmaster stays connected with parents, teachers, guidance counselors, the medical community and others to make sure that each student has support and guidance in all areas of their development. Grandmaster believes that all his students can and will graduate and go on to college. He is a constant advocate for their educational attainment and attends all student graduations demonstrating his enduring commitment to their success.
Honors
• 1979 Tang Soo Do Karate Championship Chief Referee Award
• 1980 Martinez Tang Soo Do Chief Referee Award
• 1985 Albuquerque Karate Championships Team Award
• 1985-1995 Head Kickboxing Coach for World Kickboxing Association
• 1989 Brussles, Belgium Outstanding Instructor and Fighter Award
• 1991 High Desert Karate Championship Award
• 1992 Feria Juarez Outstanding Kickboxing Belt
• 1993 House Tae Kwon Do and Kickboxing Dawson Creek, British Columbia Canada, Most Supportive Coach and Outstanding Team Award
• 1994 Kim's Tang Kwon Do Inc. Most Outstanding Team Award
• 1998 "25 Years in the Arts " Juarez Kajukembo
• 1998 Gaylord Method Silver Anniversary Recognition Award
• 1999 Inducted into the North American Black Belt Hall of Fame
• 1999 Boys and Girls Clubs of America San Leandro, CA Team Support Award
• 2002 Sijo A. Emperado 5th Annual Tournament Most Supportive Competitors
• 2002 Sijo A. Emerado 5th Annual Tournament Outstanding Team Award
• 2003 Gaylord Method Kajukenbo Association of America 30 Years of Teaching, Guiding and Creating Champions Award
• 2005 Isshin Ryu Club Inc. Appreciation Award
• 2008 Bernalillo County Outstanding Citizen Award
• 2008 Chin Wu Athletic Association 35 Year Martial Arts Recognition Award
• 2009 Desert International Martial Arts Championships Lifetime Achievement Award for Tireless Efforts as a Pioneer in the American Martial Arts
• 2012 New Mexico State Grappling Championship Submission Grappling Youth Team Championship
• 2014 K.S.D.I. World Championships 1st Place Most Supportive Award
• 2014 Aztec Warrior Championship Team Award
• 2015 "Citizen for a Day Proclamation" Bernalillo County District 2
• 2016 NAGA Albuquerque Grappling Championships 2nd Place Children and Teen Team Award
• 2017 NAGA Albuquerque Grappling Championships 2nd Place Team Award
• 2018 Proclamation for "Outstanding Contributions to Children and Adults" Bernalillo County Board of Commissioners
• 2019 Kajukenbo Championships Most Winning and Supportive Team Award
Community Involvement
• Volunteers and gives regular presentations such as "Stranger Safety" and "Bully Prevention" to Bernalillo County Children's Recreation and After School Programs.
• Volunteers and gives regular presentations such as "Leadership Skills"; "Valuing Education" and "Prevention of School Failure" for Albuquerque Public Schools.
• Provides martial arts instruction to children participating in Parks and Recreation programs through the City of Albuquerque; Bernalillo County, Albuquerque Public Schools as well as several neighboring Pueblos including Isleta Pueblo, San Felipe Pueblo, and Acoma Pueblo.
• Hosts an annual Holiday Food, Toy and Clothing Drive. (For 45 years we have donated truckloads of these items to numerous neighborhood associations such as Peanut Butter and Jelly, Pajarito Mesa, All Faiths Home, Catholic Charities, Barrett House, various Churches in the city and county, and individual families in need in the community.
• Gives out School supplies to students and families.
• Organizes many fundraisers within the dojo for children and families to be able to travel and pay for tournaments throughout the United States, Canada and Mexico.
• Sits on various committees for Bernalillo County Including the Economic Development Committee.
Family
• Peggy, wife were married on July 6, 2019. Peggy's background is in education. Her bachelor's degree is in Elementary Bilingual Education, her Master's degree is in Early Childhood Education and her PhD. is in Family Studies. Peggy is a ninth-degree black belt in Kajukembo Karate. She is a 2nd level Red Shirt in Derobio Escrima. Grandmaster Peggy's martial arts and professional skills are very valuable in the dojo
• Two married daughters Margarita and Angelica.
o Margarita has a master's degree in Health Education and is currently the interim Executive Director for Behavioral Health for Bernalillo County. Sigung Margarita is a 6th degree black belt in Kajukembo Karate; a 2nd level Red Shirt in Derobio Escrima and was a professional fighter. My son-in-law is Jared Sanchez and my granddaughter is Victoria.
o Angelica currently works for Southwest Airlines as a Flight Attendant. She has a degree in Fire Science. Angelica plans and coordinates specialized programs for children and families. Sigung Angelica is a 6th degree black belt in Kajukembo. She is a 2nd level Red Shirt in Derobio Escrima and was a professional fighter. My son-in-law is Patrick Bollotta. Angelica just gave birth to my first grandson this past July 2019 .
o Angelica and Margarita are very involved in all aspects of teaching and management in the dojo. Each one is an outstanding student, competitor and instructor. Students and their families have the utmost respect and regard for each of them and their own respective family's.