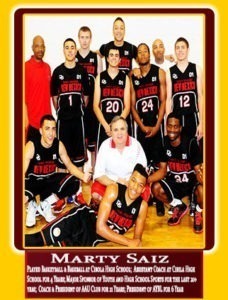 Marty Saiz
Born: October 25, 1960 Albuquerque, New Mexico
High School: Cibola High School (NM) 1978
College: University of New Mexico – Bachelor degree in Business – Marketing 1982
High School
• 3-year letterman in basketball and baseball
• 1974 – first freshman class at Cibola High School … his freshman football, Junior Varsity basketball coach and freshman baseball coach was the legendary basketball coach and NMSHOF Inductee (2016), Frank Castillo. His freshman basketball coach was long-time football and basketball official, Jake Vandergeest
• Introduced to coaching in 1976 & 1977. His head basketball coach, Louie Yannoni asked him to coach the Boy's Club area 7th grade team. He led them to the summer championship. Some of the players were Phil Rohr, probably the greatest basketball player in Cibola High School basketball history, Joe O'Neill, current owner of ESPN 101.7 The TEAM radio station, Pete Martinez, former owner of the Albuquerque Tortilla Factory and Tom Davis, successful businessowner. This was the Class of 1981. He would coach them again as 8th graders and lost in the championship game.
• #2 in his class (Salutatorian) with a 4.0 GPA
• Vice President of the National Honor Society
• Member of the National Spanish Honor Society
• One of Cibola High School's delegate to Boy's State
• Voted by his senior class as "All-Around Senior" and male "Most Likely to Succeed". The female "Most Likely to Succeed" was Judy Nakamura, current New Mexico Supreme Judge.
College
• Focused his energy on his academics and becoming the first one in his family to get a college degree.
• 1979-1983 worked for Eagle West Inc. in the summers as a door-to-door books salesperson. The salespeople were all college students from across the country, He had never sold anything and had never traveled outside of New Mexico. He would become the Top Rookie Salesperson in 1979 and number two overall. Over the next four years, he would be the company's number one salesperson. He would work the farm towns of Modesto, California; Fresno, California; and Visalia, California, plus the cities of El Paso, Texas and San Antonio, Texas during those five years.
• After high school graduation would attend nearly all of Cibola High School basketball games. In 1980, Head Coach, Frank Castillo asked him to be an assistant coach for Bob Welch on the Freshmen basketball team. He was one of the first contract coaches of any sport at Cibola High School that was not a teacher. As an assistant coach, helped Coach Castillo lead the 1980-1981 team led by Phil Rohr and Joe O'Neill to their first district title and first state tournament appearance in school history. The team would finish third in the 4A State Tournament
• 1981-1982, he coached his own team, the Sophomore Team for the first time. The team was competitive but lost their first 11 games. With the encouragement of Coach Frank Castillo and the steady team improvement, the team would win 11 of the final 12 games.
• 1982, the JV Coach that year was going to be Wally Sanchez. He was offered the head basketball coach at one of the area high school a month before the basketball season was to start. Coach Castillo promoted Marty to the Junior Varsity Coach. The varsity team would make another state tournament appearance losing to Hobbs High School in the first round. He would coach one more year, 1983-1984 as the JV Coach.
• Towards end of Marty's senior in college, he asked Coach Castillo what he earned as teacher and head basketball coach. Marty wanted coaching basketball to be part of his future. After learning the answer, he decided to become an owner of a State Farm Insurance Agency in 1985.
• Last game that he coached in high school was as an assistant coach for Frank Castillo at the 1984 North-South All-Star game. The other assistant coach was Gene Pino, 2017-2019 NMSHOF Board President. One of the players on the North team was Joe Coleman, the longtime Valley High School head basketball coach.
Professionally
• State Farm Insurance Agency (Athletic Involvement) January 1, 1985 – September 30, 1995 … Youngest agent hired by State Farm Insurance in New Mexico … offered the agency at the age of 23.
o Sponsored youth sports such little league and Young American Football teams
o Major Sponsor of North Valley Little League
o Sponsored state tournament games on KDEF-AM radio
o Helped at least 8 individuals become State Farm agents, who are still agents today.
• State Farm Management – Agency Field Consultant (Athletic Involvement) October 1, 1995 – July 31, 1999
o 1996 – State Farm Regional Management encouraged local agency management teams to get involved in the area high schools. In September 1996, legendary radio sports broadcaster and NMSHOF Inductee (2016), Henry Tafoya came to visit Marty and his boss, Dennis Hodges, former UNM and UNLV assistant basketball coach back in the 1970" about being a sponsor of his high school sports game broadcasts. A $500 sponsorship led to the Player of the Week for Albuquerque Metro High School Basketball for the 1996-1997 season. Marty would get on the radio every Wednesday morning to introduce the Player of the Week and let Henry "T" interview the player. Marty would then during the week present a State Farm Insurance Player of the Week plaque.
o 1997 – After the 1996-1997, Marty convinced State Farm to sponsor the Albuquerque Metro Player of the Year and Student Athlete of the Year for male and female. Marty recommended the presentation take place at the luncheon of the annual State Farm Agent sales rally in late March. Henry "T" was the master of ceremonies. The players and coaches thought this was a special luncheon for them not knowing that it was just lunch during the two-day sales meeting. The local management made it special. Marty was unable to attend the event since he was sent out of town to do training at the Regional Office. On the following Monday morning, NMSHOF Inductee (1989) Jim Hulsman called Marty to tell him that this was a first class and one of the most special events recognizing high school athletes that he had been to. As a result of this luncheon, State Farm regionally became the major corporate sponsor of High School State Football and Basketball Tournaments in the state of Arizona. Dennis and Marty complained and said it was our idea and the next year in 1998 became the first corporate title sponsor for state championships event for the New Mexico Activities Association history.
• State Farm Insurance Agency – Returned back to own an agency on August 1, 1999 to the Present.
o The week prior to the death of 2001 NMSHOF inductee and State Farm agent, Ray Giannini. Ray convinced Marty to start a Recognition Program for high school program in the Albuquerque Metro area. After his death, Marty convinced State Farm Management to add Football to their High School Recognition Program.
o 2000 Started with football partnering with the Albuquerque Journal to do the All-Metro Teams eventually Basketball, Baseball and Volleyball.
o 2001-2002 partnered with fellow State Farm Agent, Tol Graves and the Rio Rancho Observer to do the Rio Rancho Athlete of the Year. Colonel Swan former sportswriter did the cool 5×7 Sports Card looking awards that sparked the idea of future awards at the State Farm Recognition Banquets.
o 2001 unified the All-Metro Football and Basketball Banquets until 2013
o 2002 -2012 Coordinated the State Farm Albuquerque Metro High School Baseball Recognition Program
o 2003 July Sponsored and tool photos including team photos of Kenny Thomas Golf Charity Tournament. The photos of golf events and team photo led Marty to do countless charity golf event to the present day.
o 2004 – 2006 Marty's State Farm Agency became the NMAA Corporate Sponsor of the High School Volleyball State Championships
o 2004 Title Sponsor of the Marty Saiz's State Farm Agency 's Duke City vs Sun City Challenge featuring the top 3 high school basketball teams from Albuquerque – Cibola, Eldorado & Sandia verses the top 3 teams from El Paso, Texas – Parkland Hanks and Chapin -in a New Year's weekend tournament.
o 2005 to Present started Marty Saiz's State Farm Agency Albuquerque Metro High School Volleyball Recognition Program including an end of season banquet.
o 2006 Good Golfer/Bad Golfer Tournament organizer to raise money for area youth basketball
o 2007 Partnered with the Albuquerque Journal for the Volleyball All-Metro
o 2013 Marty Saiz's State Farm Agency took over sponsoring and coordinating the Football and Basketball Recognition Program and Banquets.
o 1997 to Present TV spokesperson with media on insurance matters and State Farm charity causes in New Mexico
o Sponsor of many youth basketball camps including:
 Brian Urlacher Football Camps
 Kenny Thomas Basketball Camps
 Danny Granger Basketball Camps
 Alex Kirk Basketball Camps
 UNM Lobo Basketball Camps
 Bryce Alford Camp
o Donated money for Basketball Shooting Guns for several metro high school basketball programs
o 2000 to Present Major sponsor of the New Mexico Games
o 2008 to Present Major sponsor the Proview Network which broadcasts hundreds of high school and youth sporting events via internet streaming and Comcast Channel 26 in Albuquerque
o 2002 to Present – Offers his office to the high school coaches for the All-Metro Selections
o 2007-2009 Sponsor of the Albuquerque Academy Basketball Tournament
o 2012 to Present – Researching he history of high school basketball in New Mexico including basketball state records. The goal is to write books on the history of the top coaches and players to ever play on the basketball courts in the State.
• Youth/AAU Basketball Coaching and Club Organizer
o 1995 Began coaching youth basketball at the Bernalillo County Parks & Recreation
o 1998 Began coaching youth basketball at Albuquerque Youth Basketball League the encouragement of good friend, Gene Pino
o 1999 Gene Pino encouraged Marty to help him coach a 10 and under AAU team. Before the first tournament, Gene turned the head job to Marty so Gene could focus on being the State AAU Basketball Director
o 2004 – 2007 Board Member and coach in the New Mexico Force AAU Club
o 2007 to Present Started and Coordinated the State's top AAU basketball club. The Club has focused on getting the top players in the State and add top players from adjoining states to attend regional and national tournament. The tournaments were top play in front of college coaches and national recruiting gurus. With this exposure Marty and fellow coach, Alvin Meadors have helped over 150 high school players go to play college basketball and resulting in over 6 million dollars of scholarship over the last 12 years. The Club has had two players play in the NBA – Alex Kirk with the Cleveland Cavaliers and George King with the Phoenix Suns. George has been the only player ever drafted to the NBA from the Club.
In November 2007, the AAU club was started. The Club was first known at the Southwest Titans in 2008. Starting in 2009 and for the next 4 years, NBA and University of New Mexico star, Danny Granger provided a huge financial donation. Thus, the name was changed to the Danny Granger Hurricanes 2009-2011. Danny Granger was the one who selected "Hurricanes" to be part of the name. From 2012-2015, the club partnered with Max Ivany and the D1 Nation based out of Austin, Texas. With Danny Granger giving us the approval to change the to the Danny Granger D1 Ambassadors . However, in 2016, the Club left the D1 Nation and went back as the Danny Granger Hurricanes. In the summer of 2016, NBA and University of New Mexico big man, Cameron Bairstow provide some financial support. Thus, the name was changed to the Bairstow Boomers, which the name was selected by Cameron, himself. In 2018, the Club decided to change the name to the New Mexico Basketball Club (NMBC) Hurricanes. In 2019, the became an Adidas sponsored team under the PB Nation Club based in Dallas, Texas,
o AAU Coaches & players moving to the next level as college and/or high school coaches
 Craig Snow – assistant coach at UNM and former head coach and Athletic Director at New Mexico Highlands University
 Brandon Mason – assistant coach at UNM, NMSU and UNLV
 Malik Waters – high school coach at Bosque School and La Cueva High School
 Greg Brown – high school at Bosque School
 Billy Keys – assistant basketball coach and assistant athletic director at Northern New Mexico College
 Forrest Becker – high school coach and trainer with the Ganon Baker Basketball Training
 Pat Baca – assistant coach at Eldorado High School and Coordinator/Trainer for the Point Guard College
 Kory Alford – assistant coach at UCLA and University of Nevada
 Lucas Archuleta – assistant coach at
 Lawrence Livingston – assistant coach at Albright College men's basketball and graduate assistant for two years at his alma mater, Goldey-Beacom University.
 James Healy – assistant coach at
 Kane Martinez – assistant coach at Ft. Lewis College
 Chris Cerny Jr – assistant coach at Sul Ross University and Manzano High School
o 2007 – 2018 Organizer and Sponsoring the New Mexico Basketball Skills Youth Clinic for players from 6th to 12th grade. He had brought some of the nation's top trainers, such at Point Guard College, Ganon Baker, Cody Toppert, David Nurse, Billy Keys and other. For a few years the organization the does the skills evaluation at the NBA Combine.
o 2010 to Present Organizer and Coordinator of the Top 120 High School Basketball Showcase featuring the top high school basketball players in the State before the start of the season. The goal is getting exposure to area college coaches and nationwide to college coaches via the Proview Networks' streaming of the game over the internet.
• Sports Radio Broadcasting
o January 11, 2002 1st game on the radio top ranked teams, Cibola vs Rio Grande featuring Cibola's all-time scorer, Mikal Monette and future Arizona State bound, Serge Anguno
o 2002 – 2015 Would broadcast over 1000 high school football, volleyball, basketball and baseball games with 2016 NMSHOF inductee sports broadcaster, Henry Tafoya on KDEF-AM radio.
o 2008 to Present Does color commentary occasionally on high school basketball games on Proview Networks
• Sports Photography
o 1999 – 2005 Started doing his son's YAFL games
o 2002 to Present Designing, printing and framing hundreds of photo awards for each of all the Metro High School Banquets … countless of hours
o 2005 December Innovator Lab – featured in Dale Dauten's nationally syndicated for his photography
o 2005 to Present Designing portraits senior players for many High School football, basketball and baseball teams
o 2007 – 2008 Coordinated all photography for the state championship events for the NMAA
o Provides photography occasionally to local newspapers, national basketball recruiting services and recently to ESPN for major league baseball game featuring local stars, Alex Bregman and Blake Swihart
Community Involvement
• Christmas in April /Rebuilding Together Albuquerque – 1997- 2004
o 1997 to 2004 Member of the Board of Directors
o 1997 to 2004 Vice President of the Board
o This nonprofit is involved in repairing homes for elderly, disabled, and low-income citizens of Albuquerque. He helped coordinated over 4,500 volunteers, working on some 200 homes and raised more than $300,000 in donations.
• Albuquerque Youth Basketball League
o 2001-2011 Board member
o 2005-2011 President … took the league with the Gene Pino as the Executive Director from 65 teams to 155 teams with 22 high schools and middle schools' gyms
o 2006 to 2015 Owner of the AYBL website
• Albuquerque Public School Sports Foundation
o Board member 2006 – 2009
o Organize the major fundraising activity of middle school sports and high school "B' & "C" team sports. APS Celebrity Golf Extravaganza event raised over $400000 during the four years.
• New Mexico Sports Hall of Fame
o 2010 to Present Member of the Board of Directors
o 2015 – 2017 President
o 2017 -Present Past President
o Major Sponsor since 2004 and major Partner Company since 2014
o 2004 -2012 Sponsored the Top 10 Female and Male Albuquerque Metro Senior Student/Athlete
o 2012-2014 Sponsored the Top 10 Female and Male Albuquerque New Mexico Senior Student/Athlete
o 2014 Developed the current website – did the Inductee and Candidate pages … countless hours
o 2014 Public Voting in
o 2016 Introduced the Induction Celebration Weekend concept to include a Charity Golf Tournament
o 2014 to Present Designed and did the layout of the Souvenir Program from seven pages to 40 to 60 pages program
o 2014 to Present Raised over $250000 in Partnership money
o 2014 to Present Did all the Inductee's Portraits
• 2011 Business Symposium Organizer of bringing nationally known business consultants, authors and speakers, Dale Dauten, Nick Sarillo, David Cottrell and Dennis Deaton. He partnered with the Albuquerque Hispano Chamber of Commerce. He events raised money for Joy Junction and AAU Basketball.
• 2005 to Present Major Sponsor of Juvenile Diabetes
o Major Sponsor since its inception in 2005
o Major photographer of all the team photos and photos of the event.
• 2011 Helped organize and was one of the Master of Ceremonies for a benefit dinner to raise money for his good friend, Gene Pino who had been diagnosed with ALS- Lou Gehrig's Disease.
• 2011 to Present – Sponsor and fund raiser of the annual Walk to Defeat ALS, especially Team Gene Pino
• Member of the Albuquerque Hispano Chamber of Commerce
• Member of the Albuquerque Chamber of Commerce
• Sponsorship of countless youth and high school sporting event and teams in the area including Valley High School sports – football, wrestling, basketball and tennis
Honors
• 2003 Honored at the Albuquerque Sports Hall of Fame Promotion of the Year for his involvement in Albuquerque Metro High School Recognition program of high school football and basketball. Marty made sure the State Farm Insurance and his boss, Dennis Hodges were included in the honor. Without their financial support and Dennis' encouragement the Recognition Program would have never happened.
• 2004 Pride of the Zone Finalist from the 3 states – New Mexico, Arizona and Nevada. This recognition was for Marty's community work.
Family
• Teresa, wife … married on April 9, 1983. Being sports-minded, the few decisions he made of his wedding date was to change the date from April 2nd to April 9th when he realized he had tickets to the Final Four at the famous PIT in Albuquerque. Teresa is the Vice-President of the Marty Saiz Insurance Agency, Inc. She had worked with Marty for 30+ years with managing and growing their agency.
• Kenny, son … Albuquerque Academy grad … played varsity football for three years; varsity basketball for two years and was on the varsity track and field team in his senior year. He played football at Trinity University in San Antonio, Texas. He is working currently for an engineering firm in Albuquerque.
• Kevin, son … Cibola High School grad … one of few players to play varsity basketball for four years. He would play college basketball at Eastern New Mexico. He is currently an agent for his dad at the Marty Saiz's State Farm Agency
• Megan, daughter, Hope Christian School grad … played two years of varsity volleyball. Megan will be attending the University of New Mexico' nursing program.