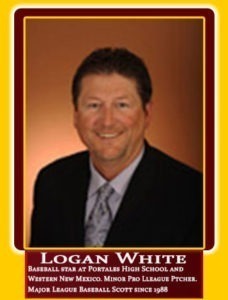 Logan L. White
Born: November 29, 1961 Humansville, Missouri
High School: Elida High School 1976-1980
Portales High School 1983-1984
College: Ranger Junior College 1980-1981
Murray State Junior College 1981-1982
Western New Mexico University 1983-1984 Bachelor's degree of
Academic Studies
High School
• Elida High School, Elida, New Mexico
o All-District A/AA Baseball
o All-State A/AA Baseball
o 7-2 pitching record freshman year
• Portales High School, Portales, New Mexico
o All-District 3A Baseball Junior Year
o All-State 3A Baseball Junior Year
o Senior year finished with a 9-5 record and a .75 ERA.
o 152 strikeouts in 81 innings with an average of 13 strikeouts per game
o All-District, All-Region, All-State, North/South All-Stars, Team MVP
o Pitched 5 no hitters and 1 perfect game in his career.
• White also honed his skills playing summer baseball. At 16 he played for Clovis and was picked up as an All-Star to play and represent Las Cruces in Mickey Mantle. Additionally, he played Connie Mack representing Hobbs and Farmington.
College
• 1981 Played baseball at Ranger Junior College and finished with a 2-2 pitching record.
• 1982 he attended Murray State Junior College with a 5-5 record, 1.56 ERA, 2 saves, 72 2/3 innings pitched, 42 strikeouts, 57 hits, and 26 walks. He was also named All-Conference Pitcher and All-Oklahoma JUCO Pitcher that year.
• 1983 at Western New Mexico State University, he finished with a 6-2 record and was again named All-Conference as well as All-District. Most of his wins were against Division I programs such as UNM and NMSU.
• 1984 Senior year at WNMU he had a 16-4 record with 2 saves.
o Named All-Conference, All-District, and Academic All American.
o Led the nation in wins and strikeouts that year.
o Still holds the record for wins and strikeouts in the Rocky Mountain Athletic Conference.
o Credited with turning the baseball program at WNMU around.
o First player ever drafted from WNMU. He was selected by the Seattle Mariners in the 23rd round of the 1984 First-Year Player Draft.
o Pitched a one hitter against New Mexico State University.
Professional
• 1988-1989 Coach/Teacher, Portales Junior High and High School
• 1988 Associate Scout, Seattle Mariners
• 1990-1992 Area Scout, Baltimore Orioles
• 1993-1995 West Coast Supervisor, San Diego Padres
• 1996-2001 West Coast Supervisor, Baltimore Orioles
• 2002-2014 Los Angeles Dodgers
o Director of Amateur Scouting
o 2006 Promoted to Assistant General Manager of Amateur and International Scouting.
o 2012 Became the Vice President of Amateur Scouting. He was responsible for the organization's amateur scouting, including the First Year-Player-Draft. From the time White began leading the Dodgers Amateur Draft and international signings, more than 100 players have reached the Major Leagues. Many have achieved MLB awards, including MVP, Cy Young, Rookie of the Year, Gold Glove, Silver Bat, and All-Star selections. Some notables are Clayton Kershaw, Matt Kemp, James Loney, Joc Pederson, Chad Billingsley, Russell Martin, Corey Seager, Cody Bellinger, and Nathan Eovaldo.
o Headed the Dodgers' International scouting efforts from 2002 to 2012. He was instrumental in signing Cuban outfielder, Yasiel Puig, Mexican pitcher, Julio Urias, Korean pitcher, Hyun-Jin Ryu, and Japanese pitchers, Takashi Saito and Hiroki Kuroda.
o Several former White draftees have achieved success as leaders beyond the field within Major League Baseball. Scott Emerson (Pitching Coach, Oakland Athletics), Billy Owens (Assistant General Manager, Oakland Athletics), Preston Mattingly (Manager of Pro Scouting, San Diego Padres), and Corey Wade (Pro Scout, San Diego Padres).
• 2014 October to Present: San Diego Padres Senior Advisor and Director of Player Personnel
o White is responsible for the evaluation of all players at the Major, minor, amateur, and international levels. While with the Padres, he has helped acquire young talents such as Cal Quantrell, Fernando Tatis, Joey Luccess, and more.
Honors
• 1996 Inducted into the Western New Mexico University Hall of Fame
• 2019 Inducted into the "Scouts Hall of Fame" and given the prestigious award of Legends in Scouting.
Community Involvement
• 2001 – Present – Positive Impact Raising money for cancer.
• Speaker 1990-Present – Guest speaker at numerous schools in California and Arizona, primarily to underprivileged kids.
Family
• Deena, wife
• Logan, Jr., son