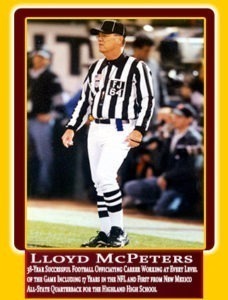 Lloyd McPeters
Born: December 5, 1947, Santa Ana, California
High school: Highland High School , Albuquerque 1965
College: Oklahoma State University, Stillwater, OK 1969 B.S. in Finance
High School
• 3 years football letters, 2 years basketball letters, 2 years track letters
• 1963 – Started as defensive cornerback on the 1963 Highland team beating Las Cruces to win the 1963 NM State Football Championship
• Started as QB and defensive safety on the 1964 Highland team…lost to Artesia for the 1964 NM State Football Championship
• Selected in 1964 as the 1st team NM All-State quarterback and 1st team All-State safety on defense
• Selected as a 1964 honorable mention Kodak All American
• Selected and played in the 1965 NM North/South All Star game completing 10 of 18 passes for 139 yards and one touchdown
• Spring 1965 placed third in NM State Track Championship for the javelin
• Received full athletic football scholarship to Oklahoma State University
• Member for 3 years of Key Club (service organization)
• Selected to Boys State prior to senior year
• President of Letterman's Club – senior year
• Selected as Highland Sportsman of the year 1964-65
• Maintained above 3.0 GPA all 3 yrs
College
• 4- year football scholarship resulting in a B.S. in Finance from Oklahoma State University, August 1969
• Played on the Freshman for 3 games
• Sophomore … dislocated right shoulder
• Junior – dislocated again … two-days
• Senior spring ball dislocated … never played a down
• Maintained above 3.0 GPA Junior and Senior year.
• Qualified for the School of Business Dean's Honor Roll
Professional
• Lloyd has experienced a 38-year successful football officiating avocation working at every level of the game including being the first NFL official hired from New Mexico. He worked officiating games in the NFL as well as the NCAA. His officiating took him to England, Spain, Canada, Germany, Japan, Australia, Mexico, and The Netherlands. During a 45-year career in the employee benefits business, the most memorable accomplishment was the trust and partnership developed with all sizes of clients resulting in long term business relationships. According to 2010 NMSHOF Inductee, Jim Cicccarello it should be noted that in New Mexico as a student, athlete, official, and a businessman Lloyd himself was a role model in Albuquerque (and throughout New Mexico) for countless thousands in our local communities. His reach as been throughout our great state of New Mexico and he should be forever remembered in our NMHOF as one of our great athletic contributors. His character can best be described as "top shelf".
• 1969 – 1974 Hired by General Electric Co. into their 3- year Financial Management Program in Oklahoma City. Transferred with GE to Cincinnati. Graduated from this program and continued with GE for another year.
• 1974 – 2019 Pursued a career in the insurance industry as an independent employee benefits broker starting in Cincinnati and continued in Albuquerque. This 45-year career began in 1974 ending with retirement in January 2019. Provided employers with assistance by implementing employee benefit insurance programs. Client businesses ranged in size from 2 to 1,500 employees.
• 1972 Started officiating football in Cincinnati with pee wee, middle school and high school games.
• 1976-1981 Selected to work several New Mexico Playoff and Championship games
• 1978 – 1992 Selected to officiate in the Rocky Mountain Football Conference and Western Athletic Conference.
• 1983 NAIA Championship games Mesa College (Co) vs. Carson-Newman (Tn) most exciting game in Grand Junction, Colorado
• 1992 Selected to officiate during the Spring of 1992 in the NFL World the World Bowl Championship in Montreal.
• You had to have a minimum of five years of college officiating before you could be considered for the NFL. He knew they were scouting him. He would send his application to be a NFL official for 9 years. In 1992, he was one of the five finalists for the three available spots. Unfortunately, he was not selected until the next year.
• 1993 Selected to officiate in the National Football League. His first game was the Pittsburgh Steelers vs Los Angeles Rams. The Rams Quarterback was Albuquerque and 1995 NMSHOF inductee, Jim Everett. Lloyd was the line judge for the game. Two hours before the game the saw each other on the field. Jim goes to say, "We are a long way from Milne Stadium." Jim remembered Lloyd from his high school days at Eldorado High School.
• First 10 years as a Line Judge and a Field Judge working several playoff games. The final 7 years worked as an NFL replay official working several playoff games and retiring after the 2009 season.
• Officiated several post-season bowl games: NAIA Championship, California Bowl, Australia Bowl, Freedom Bowl, Cotton Bowl, and Hall of Fame Bowl. .
• Attributes most of his success to being motivated, taught and coached by many coaches and officials who ironically are in the New Mexico Sports Hall of Fame (NMSHOF). They helped him develop life principles that helped him be successful in his career.
o Coach and 1989 NMSHOF inductee Jim Hulsman was his little league coach 1959-1960 at the age of 11-12 years old. His father said one day driving home after a little league practice, "Coach Hulsman can be a real significant coach one day." Coach Hulsman went to be one of the greatest high school basketball coaches in New Mexico high school basketball history. Coach Hulsman taught him one to teach individuals those important qualities to build a strong team such be unselfish, team first, build on everyone's strong skills to help the team and discipline.
o High School Head Football Coach and 1986 NMSHOF inductee, Bill Gentry taught him how to have a tough minded and winning attitude in one's approach to life. Coach's favorite saying was "You got to want it … You have to realize to be able to achieve it"
o High School basketball coach and 1994 NMSHOF inductee, Mickey Miller taught him, as the team's point guard to execute your game plan on and off the court
o High School Track & Field Coach and 2013 NMSHOF inductee Henry Sanchez was a master of the little details. Lloyd threw the javelin. Coach would focus on working on your footwork and technique. This helped Lloyd finish third in State.
o Assistant Basketball Coach and 2005 NMSHOF inductee, Bobby Gibbs taught that coming to practice was not enough. You need to work after practice on your weaknesses. Coach Gibbs would stay after practice to help Lloyd on free throw shooting. He would tell Lloyd "Don't just practice but practice with a purpose."
o Longtime College and High School Official and NMSHOF inductee, Mel Otero taught Lloyd how to diffuse tough situations on the field by being a great listener than a great talker .
Honors
• Selected NFL Playoff Games 8 nine games
• First New Mexico official selected to officiate in the NFL. In fact, Land Clark from Albuquerque because the second ever official in the NFL from New Mexico in 2018.
Community Involvement
• Asked to serve on several employee benefit advisory boards with BCBS of NM, Presbyterian Health Plan, NM Health Connections/True Health New Mexico, and United HealthCare.
• Participation in Albuquerque Jaycees—chaired the 1978 Albuquerque City Golf Championship. 1977-1982
• Participation in Albuquerque Rotary Club—chaired the Speaker Committee for several years. 1997-2007
• Participation in the Albuquerque Football Officials Association—served as President 1978 and Vice President 1977 in the late 70's. Met with Albuquerque area high schools to review yearly rule changes and points of interest. 1976-1983
• 1985 to Present Active Deacon at Hoffmantown Church.
• 1984-1984 Participation in the 80's in starting the Albuquerque chapter of Fellowship of Christian Athletes. Monty Gavin
• During the college and NFL officiating years, spoke to schools, churches, and civic organizations throughout New Mexico about the positive impact of officiating football as an avocation/profession.
Family
• Wife married August 16, 1969 (married 50 years August 16, 2019)
• Katie Stephens, daughter and Son-in law – Shane Stephens, Grandsons – Hunter, Cooper, Tanner, Spencer.
• Sisters – Shirley McVey and Daphne Edrington
• Family moved to Albuquerque when he was three years old because his mother was suffering with asthma and needed a drier climate. His father was a longtime meat butcher. Thus, Lloyd feels despite not being born in New Mexico that he was "Made in New Mexico by Hall of Fame New Mexicans."