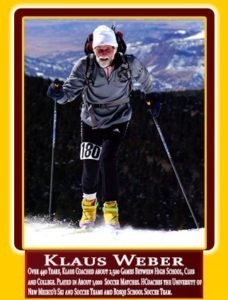 Klaus Weber
Born: April 27th 1943 Olten, Switzerland
High School; Gymnasium Olten High School
College University of New Mexico M.S. in Education (Foreign languages, PE and Health)
Athletic Accomplishments:
o Switzerland: 1957-64 / 2nd Division Soccer Team. Starting line-up at 16 Regional Cross-Country Junior Ski competitor 1956 – 1963
o Played for the German American League teams Juliana F.C, Hota F.C. Player coached F.C. Kingston to the Premier Division at age 26
o Ski competitor in the All New England Division
o 1971-72. Ulster CC – 1972 First Team all American
o 1972-75. Keene State College. All New England Selection, All conference, Ski and Tennis Competitor
o 1984 Competed in the Worlds Senior Cross-Country Championship (finished 17th in the world)
o 1984 Founder of the Grant's Quadrathlon! Participated in it over 15 times.(Now in its 35th edition).
o 1988 Completed the Western State 100 Mile run Distance Ski Races. Time 22:47 (placed 66th)
o Completed the Leadville 100 Miles in 24:24 (32nd place)
o Masters competitor in Mountain Runs, Soccer championships (over 40) and long-distance Ski races.
o Earned over 20 State Titles with Duke City Junior League teams between 1976 and 2012.
Professional: He started actively competing in cross-country ski championships when he was 7 years old, and later, after moving to New York, with the Scandinavian Ski Club of New York. He also played professional soccer for a spell. He came to UNM in 1976 as the cross-country ski coach. Weber estimates that he coached 2,500 games between high school, club and college. He also played in about 1,000 games. He competed in his last over-40 game at the age of 66
For 40 years, Weber has been ingrained in this city's soccer community. He once coached the University of New Mexico soccer team. He also used to coach the Lobo ski team. Think about that; how many people do you know who could pull off that double coaching duties. He spent 27 years at UNM (coaching and teaching), with a couple of those soccer seasons overlapping with skiing. After leaving the Lobos, it wasn't long before he resurfaced at a tiny private school on the West Side. Bosque has been a small-school powerhouse since Weber arrived.
Klaus has been a leader in the Nordic ski scene in New Mexico for over 40 years and continues to be actively involved with outdoor sports in New Mexico.
o Marriott Operations Manager at Kennedy Airport 1964 – 1970
o 1975-2002 University of New Mexico.
• Player coached UNM club soccer team 1975-80 (WAC club championship at Colorado State 1976)
• Coached UNM Cross-Country Ski Team (1975-1988)
• UNM Soccer Team: 1987-2002 – 2 season with both teams (skiing and soccer)
• 1986.UNM Ski Team, First Ever Bronze Plaque finish
• 1975-88 Over 25 All-Americans 1st Team in X-C Skiing – 2 Individual and 2 Relay National championships
• 1991 First National Ranking for UNM Soccer and Win over 2nd ranked UCLA/1995 SMU 5-2
o Bosque School 2002-2016 Soccer, Tennis and A.D. 2 Years
• 2006-08 Bosque Girls Tennis State Title A-AAA
• 2011/2012 Bosque Boys Tennis- State Runner-Up A-AAA
• 2016 Bosque Boys Tennis State Title A-AAA
• 2008, 09,15 Bosque Boys Soccer State Title A-AAA
• 2006,12,12 Bosque Boys Soccer, Runner -up A-AAA
Honors:
o 2011 Induction into the New Mexico Ski Hall of Fame
Community Involvement:
o 1977 Helped establish the Youth Duke City soccer league and the Albuquerque adult soccer league for men and women
o Established the Southwest Junior Cross-Country League with teams from N.M., Arizona and Southern Colorado
o Literary accomplishment: Business Upstart proposal. Educational course and organizational materials.
o Designer and Board Member of numerous Wellness programs and lecture series on "Wholistic Fitness", "Outdoor Movement and Incorporating "Total Life Outlook", Oquol, a program based on The Five Element Theory to Change our Present Environmental and Educational Approach.
o Presentations: Cultural Inclusiveness (The Mount Taylor Story) / Remembering WWII in Switzerland.