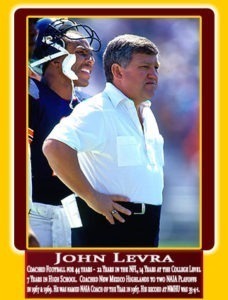 JOHN L. LEVRA
Born: October 2, 1937
High School: Arma High School (Kansas) (1954)
College Kansas State Teachers College (known now as Pittsburg State University -PSU) -Pittsburg, KS Bachelor of Education 1959 Masters of Education 1963
High School:
• Four-year letterman in football and basketball
• 1954 – Team Captain – Led the team to undefeated football season. In fact, from his junior year to the end of his senior season the team won 15 straight games. He was named All-Conference player.
• 1955 Led the basketball to undefeated regular season and lost in the first round of the State Tournament
• Salutatorian of his high school senior class.
College:
• Three-year letterman- Linebacker & offensive guard for the Gorilla football program (1956-58)
• Member of Pittsburg State National NAIA National Championship Football Team Champs in 1957. Under the leadership of Head Coach Carnie Smith, the Gorillas west 11-0 and beat Hillsdale College 27-26.
• Team Captain – Most Valuable Player, " Mr. Football Award" and the "Richard Stratton Award" for the player who contributed the greatest leadership, academic attainment, habits and attitude on the 1958 team.
• 2nd Team All-Central Collegiate Conference Offensive Guard – 1958
Professionally John was a football coach for 44 years … 23 years in the pros, 14 years in college and 7 years high school …. in the National Football League (NFL) from 1981 until 2002, finishing his career with the Buffalo Bills as their defensive line coach. Over his twenty-two years of NFL coaching his teams compiled a cumulative record of 180-164-0. Few coaches have had the opportunity to coach at every level in their sport, from high school all the way to the highest level of professional sports. Even fewer have the longevity of John from his playing days through his retirement from coaching, Levra's impact on the game of football spans parts of six decades. In fact, John is the only college coach to have two of his players become Pro Football League Rookie of the year. From little Highlands University, Carl Garrett taking the American Football League award in 1969 and Don Woods winning the National Football League award in 1974.
• High School
o 1959 – 1960 Head Coach – All Sports (football, basketball and track) – McCune High School -McCune, KS
o 1961 Assistant Coach – Washington High School – Kansas City, KS
o 1962 – 1965 Head Coach & Athletic Director – Washington High School – Kansas City, KS
 Won 1st Sunflower League Title in 1964
o College
 New Mexico Highlands University (Las Vegas, New Mexico) 1967 – 1970 Head Coach Record 35-4-1 … only one loss during the regular season. Two of the losses were the NAIA Playoffs in the last minutes of the game. John's teams were 26-0-1 in the regular season until they lost to preseason #1 ranked Tampa University in the opening season game. In the NAIA national playoffs for four out of five years that he was coaching the Cowboys. The only tie was against the University of Hawaii in 1969. This was unprecedented in NAIA history. The year they didn't go to the NAIA national playoffs, the Cowboys were undefeated at 9-0 and ranked #1 in the country. The school's athletic program was put on probation by NAIA weeks before the playoffs because the basketball program didn't honor contracts to play 4 NAIA teams the previous year.
 .897 winning percentage during his four years as head coach is the best in school history
 1966 Offensive Coordinator for former Pittsburg State teammate, Jack Scofield.
 9-2 Regular Season – Lost in the NAIA national semi-finals to the eventual national champion, Waynesburg 30-27. First time in NAIA playoffs, which were only the top four teams were invited by the NAIA our of 300+ colleges.
 Ranked 5th in NCAA Small College poll and 3rd in the NAIA poll
 1967- Took over as Head Coach after Coach Scofield passed away in January 12, 1967 in a car accident in Texas. John was a passenger in the car.
 His annual salary was $10000 the first year.
 NAIA Coach of the Year
 NAIA Playoffs in 1967 were 9-0, 1st undefeated regular season team in school history going into the NAIA national semi-finals losing to Eastern Washington 28- poll
 1968 The team was undefeated at 9-0 and ranked #1 in NAIA at the regular season. The probation by the NAIA prevented the Cowboys a NAIA Championship .
 The team dominated team during the regular season. The has wins of 85-0, 72-0, 85-14, 62-7 and 70-7. Their closest game was against rival Adam St 28-6.
 Only allowed one team more than 10 points in a game. Colorado School of Mines scored 14 points in an 85-14 score.
 Broke 23 school records
 The offense averaged 331.0 rushing yards, 189 passing yards and 60 points per game. 520 yards total offense and 533 points for the season.
 Defensively, they allowed only 84.7 yards rushing, 107 yards passing and less than 7 points per game
 1969 8-0-1 tie with Hawaii lost to Texas A&I, eventually national champion 28-23 in the last minute of play.
 The Cowboys led by freshman quarterback, Don Woods finished ranked #2. Don would be inducted into the New Mexico Sports Hall of Fame in 1999.
 Conference Coach of the Year
 Finalist for National NAIA Coach of Year
 1970 finished ranked #5. The team went 9-2 for the season. The NAIA change to two divisions. The Cowboys moved up to the top division NAIA Division 1.
 The Cowboys were ranked 14th in total offense and 12th in total defense in NAIA for the entire season.
 Lost 13-12 in the inaugural Boot Hill Bowl in Dodge City, Kansas vs Cameron State College (Ok). The bowl game was sponsored by the NAIA. They dominated statistically the game but a late minute fumble that led to a winning touchdown by Cameron.
 Beat a very good 9-1 Hawaii team in Hawaii
• Stephen F. Austin University, Nacogdoches, TX Head Coach and Athletic Director -1971-1974 Record was 22-20 in the four years. John has been applying for a better paying coaching job including the University of New Mexico, but had no luck. It was until on a recruiting trip in Texas, foe Texas A&I head coach made him aware of the openings for head coach and athletic director at Stephen F. Austin.
o Wins were tough to come by the first two seasons, but by year three and four, Levra and the Lumberjacks had won nine games each season (1973: 9-3) & (1974: 9-2), which is the fifth most in school history.
o 1973 – Won School's 1st and only Bowl Game, the Poultry Bowl beating Garden-Webb (NC) 31-10
o Head Coach of Texas High School team in Oil Bowl vs. Oklahoma All-Stars
o 5th best single win season in school history
• Kansas University 1975 – 1978 Offensive Coordinator
o 1975 – Led Big 8 in Rushing and the team played in Sun Bowl
o Spent three years at KU, coaching legendary Jayhawk Nolan Cromwell in the process.
o John was the Offensive Line Coach. His fellow Defensive Line Coach was future NFL Head Coach, Wade Phillips. Wade would impact many of John's NFL football jobs.
• 1979 Offensive Coordinator – North Texas St. University. Denton, Texas
• Professional Football
o 1980 Defensive Line Coach – British Columbia Lions in CFL
o 1981-1985 Offensive Back Coach for the New Orleans Saints
 Head Coach – Bum Phillips
 1981 – Levra's big break came when newly appointed head coach of the New Orleans Saints and larger than life coach, Bum Phillips, offered him a job on his staff. Bum had seen John coach at the University of Kansas with his son, Wade. The original choice at the Running Back coach was unable to get out of his contract with the Houston Oilers, where Bum has coached the previous year. Thus, the opening on the football staff.
 1981 – Coached George Rogers, who set NFL Rookie Record for Rushing Yards in a season with 1674 Yards.
o 1986-1992 Defensive Line Coach for the Chicago Bears
 Head Coach – Mike Ditka
 1986, Defense had 62 sacks, which ranked No. 1 in NFL
 1986 – Defense allowed 187 Points in 1986, which was an NFL Record until the 2000 Baltimore Ravens broke it.
 1987 – the defense had 70 sacks, which ranked No. 1 in NFL.
 4 Division Titles and 5 Playoff Games
 1988 – Assistant Coach in the Pro Bowl
o 1993-1994 Offensive Line Coach for the Denver Broncos
 Head Coach – Wade Phillips
 1993 – Ranked No. 5 in Offense
 1993 – NFL Playoffs
 1994 – Ranked No. 6 in Offense
o 1995-1997 Defensive Line Coach for the Minnesota Vikings
 Head Coach – Dennis Green
 1995 – 44 Sacks in 1995 – 4th in NFL
 1995 – Ranked No. 4 in Run Defense
 1995 – NFL Playoffs
o 1998-2002 Defensive Line Coach for the Buffalo Bills
 Head Coach – Wade Phillips
 1999 – No. 1 Defense in NFL
 1999 – NFL Playoffs
 2000 – Gregg Williams No. 3 Defense
o 2003 – Present Football Clinic Lecturer – average two per year
o 2008 – 2011 Head Coach of one of the teams in the Cactus Bowl- Division II All-Star Game Kingsville, Texas.
o 2010 Defensive Line Coach Football University Camps
o 2012 Assistant Coach for the Under Armour All-American Game, Orlando, FL
o 2013 Assistant Coach for the Ray Com College All-Star Game, Montgomery, AL
o Outstanding Pro Players coached in his career. Six of them are in the NFL Hall of Fame.
 Bruce Smith – DE – Buffalo Bills – Pro Bowl & NFL Hall of Fame
 John Randle – DT – Minnesota Vikings – Pro Bowl & NFL Hall of Fame
 Gary Zimmerman – OT – Denver Broncos – Pro Bowl & NFL Hall of Fame
 Dan Hampton – DT – Chicago Bears – Pro Bowl & NFL Hall of Fame
 Richard Dent – DE – Chicago Bears – Pro Bowl & NFL Hall of Fame
 Steve McMichael – DT – Chicago Bears – Pro Bowl
 George Rogers – RB – New Orleans Saints – Rookie of the Year & Pro Bowl
 Earl Campbell – RB – New Orleans Saints – Pro Bowl & NFL Hall of Fame
 Carl Garrett – RB – New Mexico Highlands – NFL Rookie of the Year 1969 -New England Patriots
 Don Woods – QB – New Mexico Highlands – NFL Rookie of the Year 1974 -San Diego Chargers
o 1994 – Published the book, Coaching Defensive Linemen … printed by Coaches Choice Co.
o Since 1994 Produced Fourteen Defensive Video Tapes … Coaches Choice Co.
Honors
• 1988 inducted to the Pittsburg State Athletic Hall of Fame as part of the 1957 national championship team
• 2000 Inducted into Pittsburg State University Athletic Hall of Fame as an individual.
• 2005 New Mexico Highlands named the football stadium's Fieldhouse
• 2009 Inducted into the New Mexico Highland Athletic Hall of Honor.
• 2017 Inducted into the Kansas Sports Hall of Fame.
Community Involvement
• Plays a key role in raising scholarship monies for PSU Football
• Active in various PSU Football Letterman's activities
• Countless hours consulting with high school and college football coaches across the country.
• Conducting an average of three coaching clinics a year across the country including the prestigious Glazer Clinics. Glazer Clinics champion coaches like John for all levels to teach their football clinics.
• Coaching and teaching the defensive line players at the Football University (FBU) football camps
Family
• Married – Wife, Rosie of 61 years
• 2 Children – Son, Craig; Daughter, Gina
• Grandchildren: Chase and Samantha