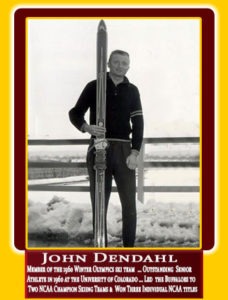 John Dendahl
Born: September 28, 1938 Santa Fe, New Mexico
Died: November 09, 2013 in Denver, Colorado
High School: Santa Fe High School (NM) 1956
College: University of Colorado Bachelor's degrees in electrical engineering and business finance 1961
College
• 1957 Ski team had the best finish of second at a NCAA Championship in any sport ever.
• The first national championship team in any sport in CU's athletic history, the nine members of the team that won the title on March 29, 1959 in Winter Park were nominated as a group (seven skiers and two coaches). The '59 squad broke through for the first major win when it captured the NCAA West Region title. Two weeks later, head coach Bob Beattie's Buffs were celebrating CU's first of what is now 17 titles in the sport, winning the title at Winter Park in defeating rival Denver by 5.8 points. In addition to Beattie, members of the team included skiers Frank Brown, Dave Steed, John Dendahl, Norris Durham, Gary Gisle, Bob Gray and Harold Shaeffer and assistant coach Helge
• 1960 Dendahl won the NCAA Nordic Combined Championship and was named skimeister.
• 1960 Named Outstanding senior athlete
• 1960 Member of the Winter Olympics cross-country ski team. He finished 11th in
• Member of Phi Gamma Delta fraternity
Professional
John's great grandparents emigrated to Santa Fe, New Mexico from Germany in the 1870s. His parents were John D. and Eleanor Dendahl. The elder Dendahl owned a merchant business established in 1901 by his grandfather, Johann, and operated by the family for three generations . After college, John would eventually settle in New Mexico, where he became a syndicated columnist, businessman, and politician. He started in the 1960s as an engineer for Eberline Instrument Corp, which made radiation monitoring instruments, and he later became CEO of the company. He would leave that position to be CFO of St. John's College in New Mexico, and in the mid-1980s was President of the First National Bank of Santa Fe.
From 1988-90, Dendahl was Secretary of Economic Development and Tourism for New Mexico. In 1994 he ran unsuccessfully for governor of New Mexico, but later that year was named chairman of the New Mexico Republication Party, a post he held until 2003. In 2006, Dendahl again
ran for New Mexico governor, losing decisively to incumbent Gov. Bill Richardson. Dendahl then retired from public service and moved back to Colorado, where he went back to writing political columns and consulting for conservative causes and candidates.
Honors
• 2006 Inducted into the University of Colorado Sports Hall of Fame as part of the 1960 ski team
• 2010 Inducted into the New Mexico Ski Hall of Fame
Community Involvement
Dendahl served on the boards of directors of numerous
charitable organizations, including United Way, Sangre de Cristo Girl Scout Council, New Mexico
Association of Commerce and Industry, the Santa Fe Opera, Santa Fe Preparatory School,
School of American Research (now School for Advanced Research), Mountain States Legal
Foundation (MSLF), and St. John's College, Dendahl was chairman of the board for St. John's
College for two years. Over the years, John was always a big supporter of New Mexico skiing.