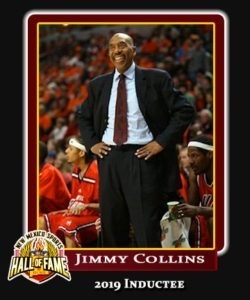 James "Jimmy" Earl Collins  
Born: November 24, 1946 in Syracuse, New York
High School – Corcoran High School – Syracuse, New York 1966
College – New Mexico State University (1966-1970)
High School:
• Three-time All-City selection
• His last game in Syracuse — the All-City Championship before a raucous crowd of 5,838 in the War Memorial in March 1966 — ended in a 57-52 overtime defeat
• 2018 Voted the best high school player ever in Central New York … Collins is the No. 1 player in the Syracuse.com list of the Top 75 high school boys basketball players from Central New York.
College:
• Jimmy Collins is arguably one of the best men's basketball player to ever play for New Mexico St. Jimmy led NM State to three NCAA Tournament appearances and the 1970 Final Four. 3 NBA players on the Final Four team – Sam Lacey and Charlie Criss
• Was in the first recruiting class for the legendary Lou Henson. He was recruited by Assistant Coach and Syracuse native, Ed Murphy, Lou never saw Jimmy play in high school. While Collins would never sign a player he hadn`t seen perform many times, Henson took Collins into New Mexico State sight unseen out of Corcoran High School in Syracuse in 1966. Collins had been identified as a top prospect by the father of Ed Murphy, a former player for Henson who is now the head coach at Mississippi. . I don`t know if Ed ever saw him play, but I know I didn`t." Collins spent four days on a bus traveling from Syracuse to Las Cruces, N.M., because "I`d never been on an airplane and no one in my family ever had. The tales of the horrors of airplane crashes got larger as the flight came closer, so I took a bus.' 'When I got there, Coach said, `Let`s see how high you jump and how you shoot the ball.` After four days on the bus, I couldn`t do either. I imagine he was asking Murphy why he brought me there."
• He was the leading scorer as a freshman with 19.7 point a game. Freshman were not allowed to play on the varsity team.
• Team Captain with NMSHOF Inductee, Sam Lacey for their junior and senior years
• Led the Aggies to the only Final Four in NMSU history
• 1969-1970 Senior Year –
o consensus Second-Team All-American after averaging 24.3 points, 4.6 rebounds and 2.9 assists in 31 games for the Aggies
o First team Helms, First Team USBWA, First Team Converse)
o All-NCAA District Team
• 1970 New Mexico State advanced to its first Final Four in school history. The Aggies defeated Rice, Kansas State and Drake on their way to the final weekend. NM State lost to UCLA in the semifinals, but defeated St. Bonaventure in the third-place game.
• Collins, who is the only Aggie in program history to earn multiple All-America honors, was a three-time first team All-American during his time with NM State. named a first team All-American by Helms, a first team All-American by the United State Basketball Writers' Association and a first team All-American by Converse.
• Collins was a two-time NCAA All-Tournament team selection (1969 and 1970).
• Holds two single-season records, scoring (754 points) and field goals made (322). Additionally, Collins ranks third on NM State's all-time scoring list with 1,734 points.
• Ring of Honor second class to the men's basketball Ring of Honor in 2008-09
• Named to the All- Century Team on Feb. 2, 2007. The team, which automatically includes NM State's five All-Americans
• 2004 the 1969-1970 Final Four team was inducted into the New Mexico
State Athletics Hall of Fame
• Beat Nate "Tiny" Archibald at UTEP all three years and in his senior year helped beat the UNM Lobos twice/
Professionally:
• Player
o Drafted 11th overall in the first-round of the 1970 NBA Draft by the Chicago Bulls
o Jerry Krause, then the Bulls` chief talent scout, recommended the slim, quick guard as the Bulls` No. 1 pick. Drafted ahead of Calvin Murphy and Nate Archibald. The number 10 pick was Greg Stretch Howard from UNM
o Utah Stars and Chicago Bulls.
o Collins spent half a season with Charlotte in the old ABA before deciding that his growing family needed a more stable existence.
o Scores 284 points in 76 games with the Bulls
• Coach
o Hired by Lou Henson in 1973 as a graduate assistant back to school for his master`s degree at New Mexico State and worked there as a graduate assistant to Henson for a year and a half
o Coached at St. Thomas Elementary (1980-1983)
o Coached in the pro-college league of Chicago and was named Coach of the
Year in 1981
• Assistant Coach for Lou Henson at the University of Illinois for 14 years (1983-1996)
o He had made a name for himself as one of the nation's best recruiters, helping lure Chicago area players such as Kendall Gill, Nick Anderson, Deon Thomasand the bulk of the Fighting Illini's 1989 Final Four team
• Head Coach at University of Illinois-Chicago (1996-2010)
o UIC all-time winningest coach (218-208 in 14 seasons)
o NCAA Tournament – 3 times – 1998, 2002 and 2004
o NIT – 2003
o Flames won the Horizon League regular-season championship in 1998
o Horizon League Tournament championship in 2002 and 2004.
• Occupation (Non-Sport)
o 1976: Collins returned to Chicago to start a trucking business.
o 1977-1983 Became a hearing officer for the Cook County (Illinois) Probation Department. He dealt with Class X felons
Honors:
• 1975 Inducted into the US Banks/NM State Athletics Hall of Fame
• 1998 Inducted into the Greater Syracuse Greater Syracuse Sports Hall of Fame
• Charter member of the Corcoran High School Hall of Fame
• 1998 Father of the Year by Chicago's Father's Day Council
Community Involvement:
• Co-chairman of the Chicago Special Olympics
• Currently, mentors city youths, trying to steer them away from gangs and violence and stills resides in the Chicago area. He has since taken up a mentorship role among the youth in the Chicagoland area, hoping to lead them down a non-violent path.