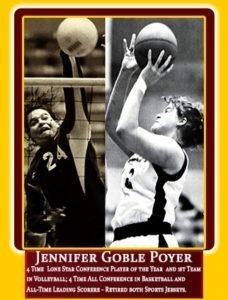 Jennifer Goble Poyer
Born: September 9, 1972 San Antonio, Texas
High School: John Marshall High School in San Antonio 1990
College: Eastern New Mexico University BS Communication & Public Relations,
Professional Technical Writing 1997
High School
• Athletics
o 1990 Greater San Antonio Player of the Year for Girls' Basketball
o Holds school's shotput record
o All District honors in basketball, volleyball and track & field
o 1990 Greatest Female Athlete
• Other Achievements
o Texas All-State Choir, Soprano II
 1988, seventh chair
 1989, third chair
 1990, first chair
o Top 10% of GPAs for class of 1990
o Voted Best All Around by senior class
College
Played four years basketball and volleyball for the Zias and is considered the greatest female athlete in the history of Eastern New Mexico University.
• Volleyball (1991–1995)
o Only four-time first-team All-Lone Star Conference (LSC) pick in volleyball for any LSC school
o LSC Player or Co-Player of the Year all four years
o Honorable mention All-American
o Named LSC Player-of-the-Week, multiple weeks
o 1993 Panhandle Sports Hall of Fame Athlete of the Year, 1993
o Career kills leader in volleyball when she graduated (1,687 kills) and ranks second today
o Holds several LSC volleyball records: block solos in a match (18) and career (360), and total blocks in a season (266) and career (791).
o Ranks first in career service aces (153), is tied for second in career hitting percentage (.324) and holds third place in career digs (1,309).
o Led ENMU to their best-ever volleyball record (33-6) in 1993 in route to the LSC regular season and tournament titles.
o The Zias were 105-35 (.750) during her four years on the court
o Voted Greatest Zia for all years played.
• Basketball (1990–1994)
o LSC Player or Co-Player of the Year honors twice and LSC Freshman of the Year in basketball
o Named LSC Player-of-the-Week multiple times
o Four-time All-LSC pick
o School's all-time scoring leader in basketball with 1,852 points.
o Tops the records for per game scoring average (23.9 in 1991-92) and career (20.4).
o Holds marks for made free throws in a game (15), season (174, 1990-91) and career (568).
o Second for field goals made, career (202)
o Holds marks in top 10 for other ENMU records including field goals attempted and points in a game.
o Paced the Zias to an LSC regular-season basketball title and best-ever record
(23-5) in 1992-93.
o ENMU was 74-36 (.673) during Poyer's four seasons on the basketball team
o 1992 MVP, Southern Colorado tournament
o 1992 Third leading scorer in the nation in NCAA DII going into playoffs (24.8 points per game)
o All-American
o Voted Greatest Zia for all for years played
• General
o Founding member of Students of Public Relations student organization
o 1996 Presidential Award for Outstanding Student of the Year
o 3.31 overall GPA
Professional
• 1997–1998 Reporter Freedom Newspapers of New Mexico Portales, NM
o Reported for local sporting events; wrote stories concerning various topics ranging from out-of-town events to Roosevelt County Commission meetings;
o Took photographs as needed.
• 1998–2001 Athletics Events Manager Eastern New Mexico University
o Created, solicited and maintained corporate sponsorship packages; managed and fulfilled corporate sponsorship agreements; developed and implemented marketing plans for eight varsity sports to increase attendance at athletic events; created publications, brochures and other marketing materials to promoted University athletics programs; planned and executed advertising plan to promote events; created and managed athletics website; coordinated yearly booster club membership drive; managed and coordinated kid's club communication and events; oversaw publications for donor relations including quarterly newsletter, season tickets and other membership materials; coordinated and implemented game day promotions and halftime entertainments; managed student workers and volunteers for game day events staff; served as liaison to University student organizations and community groups for the Department of Athletics; maintained athletic facility bulletin boards and marquees; compiled and mailed game packets to visiting teams; oversaw crowd control at athletic contests; developed standards and processes for web content and development.
• 2001–2003 Webmaster
• 2003–2005 Director of Publications
• 2004–2010 Owner/Partner, XPRT Creative
• 2005–2013 E-Commerce Business Owner, DVD Guaranteed
• 2016 To Present – Coordinator of Design and Content at Eastern New Mexico University
• 2004–2012 Writer, The Incidental Domestic
• 2013–2016 Web and Print Content Coordinator
• 2016 to Present Author
o Various online stories and articles including Tumblr.com, Medium.com and LinkedIn.com.
Honors
• 1993 Panhandle Sports Hall of Fame Athlete of the Year for Volleyball
• 1999 Named as member of ENMU's All-Century and All-Decade (1990s) volleyball teams
• 2000 Inducted into Eastern New Mexico University's Athletic Hall of
Honors
• 2011 Inducted into the Lone Star Conference Hall of Honor
• 2012 Jerseys retired for basketball (#42) and volleyball (#24)
• Most decorated athlete in Eastern New Mexico University history
Community Involvement
• Highly involved with Eastern New Mexico University and Portales Schools
• 2001-04 and 2013 to Present – Member of Council for Advancement and Support of Education (CASE).
o Chair of Website Development, 2004
• 2013 to Present – Member of the Greyhound Club, ENMU Athletics booster club
• 2013 to Present – Member of the ENMU Alumni Association Board of Directors
• 2017 to Present – Volunteer coach for City of Portales youth volleyball league
• 2017 to Present – Member of Toastmasters
o Treasurer, 2018
• 2018 to Present – Member of the Greyhound Club Board of Directors
o Secretary, 2018-Present
• 2018 – Mentor of the Greyhound Connect student mentoring program
• 2015 to 2017 ENMU Professional Employee Senate
o President, July 2016–June 2017
o Vice President, August 2015–July 2016
• 2015 to 2016 Member of Greyhound Moms women's basketball mentoring group
• 2017 to 2019 Volunteer for nursery care at church
Family
• Husband, Inosia "Sia" Poyer, head volleyball coach at Eastern New Mexico University, former head volleyball coach at Valdosta State University (Georgia)
• Children, Malkolm, Malia, and Maina