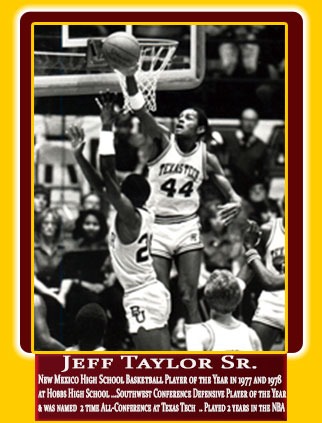 Jeff Taylor Sr. was born January 1, 1960 in Blytheville, Arkansas Taylor was a three year lettermen in Basketball at Hobbs High School. He was twice named New Mexico Player of the Year in 1977 and 1978. He started all three seasons at Hobbs and was the leading scorer and rebounder his junior and senior season. Jeff's senior year was 1977‑78 and this was a team that would go on to set several school and state records. The team would win 26 games against 3 losses. Jeff would average 25.6 points per game, scoring 409 in only 16 games, but suffering a broken leg on January 17, 1978 against Carlsbad. Less than a week earlier on January 13, 1978, the Eagles set a state record for most points scored that still stands today by downing Roswell by a score of 176‑49. Other state records set were 81 field goals made in a game. The Eagles' 84 rebounds would tie the state record and the 66 assists would set a school record. In that game, Jeff was the second leading scorer with 40, just behind Steve Smith's 43. Despite their scoring ability, the team would lose in the playoffs to Albuquerque High 92‑84 without Taylor.
Jeff signed with Texas Tech where he was a four year starter for the Red Raiders under long time coach, Gerald Myers. He was twice named Southwest Conference Defensive Player of the Year and was named All-Conference his junior and senior season. In 115 games, he logged 3,538 minutes and scoring 1424 points.
Taylor was selected by the Houston Rockets in the second round, picked 42 overall. He played one season with the Rockets and another season with the Detroit Pistons in the 1986-87 NBA season. He played 56 games in those two seasons.
After his NBA career ended, he continued his career in Europe, eventually settling in Sweden, where he now lives. Taylor is a an inductee of the Texas Tech Hall of Fame and the Lea County Sports Hall of Fame.