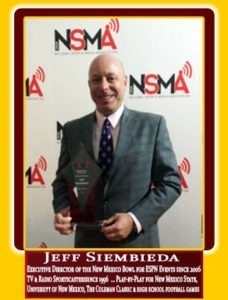 Jeff Siembeda
Born: October 21, 1965 New York
High School: Taft High School, Woodland Hills Ca. – 1983
College: San Diego State Bachelor's degree in broadcast journalism, Minor in Psychology (1988)
High School
• Basketball and Track & Field (Pole Vault, Shot Put, High Jump, Utility)
• Class President
• Director of Student Athletics
• Student Newspaper
• Student Council
College
• Sports Director – KCR Radio – San Diego St. University
• Play-by-Play (TV) – San Diego Sports Scene
Professionally Since Jeff moved to New Mexico in 1996, he has been reporting on, coaching and promoting New Mexico's sports and athletic events. Jeff is great for New Mexico athletics, he always spinning a positive light on our sports community on a local and national level. He promotes and supports all sports and athletes all over New Mexico. Jeff worked in television and radio in San Diego, California; Yakima and the Tri-Cities, Washington prior to coming to Albuquerque.
• 1996 – Started on KOAT-TV as its Weekend Sports Anchor
• 1997 to 2001 Sports Director for KOAT-TV. He had a popular, regular feature, "I Challenge Jeff" where he would challenge views on various sports activities
• 1997 Narrated the New Mexico Symphony Orchestra "David's Fantastic Follies".
• 2001, Director of Special Projects and later the Vice President of Media and Entertainment for the New Mexico Scorpions Hockey Team. That year the Scorpions were recognized by the Central Hockey League as the top marketing franchise in the league.
• 2002-2005 Weekend News Anchor/Morning/Noon News Anchor at KRQE – TV
• 2005, he was appointed as Deputy Director for the newly created New Mexico
Sports Authority
• 2005 to 2007 hosted "The Big Show" on 1310-AM – The Ticket
• 2006 – As Deputy Director of the New Mexico Sports Authority led the organization and application, worked with the Albuquerque Convention and Visitors Bureau, the University of New Mexico and ESPN to establish the New Mexico Bowl.
• 2006 to Present Executive Director of the New Mexico Bowl a college football bowl game owned and operated by ESPN Events, a division of ESPN. The game is played annually at University Stadium on the campus of the University of New Mexico. Jeff is responsible for all aspects of the event which has become a staple on the local and national sports calendar.
• 2008 to Present co-hosts a morning sports talk radio show on KNML's 610 AM, "the Opening Drive"
• 2011 Secured Gildan clothing company as the Title Sponsor of the New Mexico Bowl
• He has excelled at play-by-play for New Mexico State and the University of New Mexico
• The Coleman Vision Classic and high school football games.
• Covered for Josh Souchon for Albuquerque Isotopes Baseball games.
Honors:
• 1999 New Mexico Associated Press Sports Story of the Year – honored with co-worker, Bob Brown at KOAT-TV
• 2000 New Mexico Broadcaster's as Sportscaster of the Year
• 2007 honored with the Ambassador Award by the City of Albuquerque
• 2010, 2011, 2017, 2019 Radio show was recognized as the best sports talk show by the New Mexico Broadcasters' Association. NMBA awarded best Breaking News Coverage in 2018
• 2015 and 2016 Honored as the New Mexico Sportscaster of the Year by the National Sports Media Association
• 2016 Recognized with a Memorial by The Legislature of the State of New Mexico for his efforts to promote New Mexico athletics and the national visibility of New Mexico as a venue for sports.
Community Involvement:
• 2001 -2005 Basketball coach at Madison middle school in Albuquerque and Summer Coach for New Mexico's Amateur Athletic Union Boys under fifteen and under sixteen basketball teams
• Board of directors for the Presbyterian Ear Institute
• 2018 – Volunteers with his daughters Lacrosse team, the Duke City Bears, by keeping stats, score or running drills at practice, fill-in coaching
Family:
• Daughter, Addison