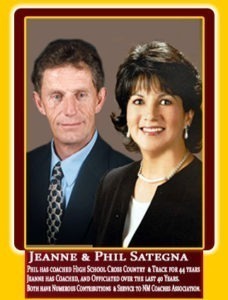 Jeanne and Phil Sategna have been married 49 years with three children Phyllis, Mario, and Dominic. Jeanne and Phil both attended Bloomfield High School and Adams State College graduating in 1973. They began their teaching and coaching careers in Artesia from 1974-78. In 1979 they moved back to their northwest four corner roots teaching at Aztec and Bloomfield Schools. In 1980 they began their distinguished teaching and coaching careers at Bloomfield High School. Both have been inducted into the NMHSCA Hall of Honor for their exemplary coaching careers and numerous contributions and service to their Coaches Association. Phil is a 2014 inductee into the NMAA Hall of Fame and in 2008 NHSACA National Hall of Fame.
Jeanne in high school participated in GAA prior to Title IX in volleyball, basketball, track, and was a cheerleader. She was a leader and great advocate in our state to implement Title IX. She
was an outstanding volleyball coach, track and field, cheer sponsor, volleyball official, and the first female to serve on the NMHSCA Board of Directors' and serve as President. She coached volleyball for 22 years with a record of 257-124, 6 district titles, 3 state trophies (2nd-3rd), north all star coach, and was instrumental in helping move the volleyball all star matches from Roswell to Albuquerque. She single handedly chaired the all star volleyball matches for 8 years, her most significant contribution. In track and field, she coached 8 district titles, 5 state place trophies, 11 individual state champions, 8 district coach of the year awards from 2001-11. She was honored to be the Albuquerque Journal volleyball coach of the year in 1995 and 96. Jeanne has now been a volleyball official for 19 years, 16 in NM and 3 in southern Colorado.
Phil has coached track and field for 43 years, 33 at Bloomfield HS, 32 years as cross country coach, and two stints for 12 years as athletic director of Bloomfield High School. His track and cross country teams have captured 15 state trophies, 24 district titles, 5 girls state cross country championships, 1 individual boy's cross country state title, 58 individual state champions, and 8 district coach of the year honors. Other honor include state track coach of the year 3 times, 1 Section 6 Coach of the Year, 1 Region 8 Coach of the Year, and the Ralph Bowyer Coaching for Character Award. After retiring from teaching from Bloomfield Schools, he has coached 2 years at Aztec and is in his 3rd year at Farmington High.
Their daughter Phyllis is an instructional leader / Principal with Farmington Municipal Schools. Son Mario is the head track coach at the University of Texas. He was also an Olympic assistant track and field coach at the Rio Games, and this summer the head coach for Team USA at the London World Games. Dominic lives in Santa Fe and they have 8 grandchildren and 1 great grandchild.