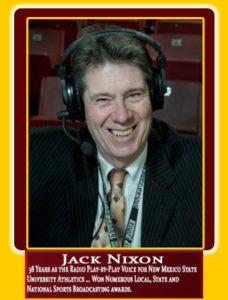 John "Jack" Nixon
Born: March 14, 1950 Omaha, Nebraska
High School: Central High School (Nebraska) 1968
College University of Kansas, Bachelor's degree in Journalism 1972
College
• Outstanding Senior William Allen Whote School of Journalism university of Kansas.
Professional: Jack Nixon is currently in his 40th year as the radio play-by-play voice for New Mexico State University athletics. Only 11 other college-radio announcers have a longer tenure at one school than Nixon has at New Mexico State.
• Nixon first came to Las Cruces in 1976 and began his career as the sports director for KOBE 1450 AM radio. For the past 22 years he also has been the news director for Radio of Las Cruces.
• The 'Voice of the Aggies' has broadcast more than 400 Aggie football games and more than 1,000 Aggie men's basketball games. On Jan. 14, 2012, Nixon broadcast his 1,000th game for the men's basketball program during a win over Western Athletic Conference foe, Idaho, to join a list of only six radio announcers with at least 1,000 men's collegiate basketball games called for one team.
• Nixon has been on the mic during 13 trips to the NCAA Tournament for the men's basketball team, including five of the last six years, and has worked with legendary New Mexico State coaches such as Ken Hayes, Neil McCarthy, Lou Henson and Marvin Menzies.
• Nixon has been on the radio during all three times the Aggies have defeated a ranked opponent, the first coming on Jan. 10, 1980, when Aggies defeated Larry Bird and No. 9 Indiana State in overtime inside the Pan American Center. He was also the radio announcer as the Aggies defeated their I-25 rival, New Mexico, on Jan. 19, 1999, when the Lobos were ranked 12th in the nation, and the last time Aggies has defeated a ranked opponent, Jan. 20, 2007, when the Aggies defeated No. 13 Nevada inside the Pan Am Center.
• Nixon also has covered basketball games versus Jerry Tarkanian's No. 1-ranked UNLV teams as well as Missouri Valley, Big West, Sun Belt and WAC basketball championships.
• On the football mic, Nixon was part of the Aggie football team's stunning upset over the 22nd-ranked Arizona State Sun Devils in Phoenix, 35-7, on Sept. 18, 1999. He was also on the radio when Aggies traveled to Minnesota for its first-ever matchup against a Big-10 school in 2011. The Aggies upset the Golden Gophers, 28-21.
• Aside from men's basketball and football, Nixon also has covered women's basketball, volleyball, baseball and softball during his time at New Mexico State.
Honors
During his time as a radio broadcaster, Nixon has won numerous local, state and national awards
• 1977, the Associated Press recognized Nixon with the New Mexico Spot News Reporting Award.
• 1979, the National Association of Sports Writers and Broadcasters honored Nixon as its Sportscaster of the Year
• 1980 The AP also awarded Nixon the New Mexico News Director of the Year award
• 2009, the New Mexico Broadcasters Association (NMBA) recognized Nixon as its Sportscaster of the Year as well as its News Director of the Year.
• 2012 Honored by the National Association of Sports Writers and Broadcasters as its Sportscaster of the Year.
• 2012 Won again NMBA awards, Sportscaster of the Year as well as its News Director of the Year
• 2012 and 2013, the NMBA honored Nixon with the award for best feature story and best in-depth news series for his work with NM State.
• 2014 Won Four NMBA News awards and Sportscaster of the Year
• 2015 Won Newscaster and Sportscaster of the Year as well as three additional news awards
• 2016 NMBA Sportscaster of the Year
• 2017 Won Newscaster of the year and three other News and One Sportscasting award from the NMBA
• 2017 & 2018 New Mexico Sportscasters Association's New Mexico Sportscaster of the Year
Community Involvement
• 2008 to Present Volunteer Mesilla Valley Hospice
• 2009-2011 Board Member of the Court Appointed Child Advocates
Family
• Nephew AJ NIxon Elkhorn, Nebraska