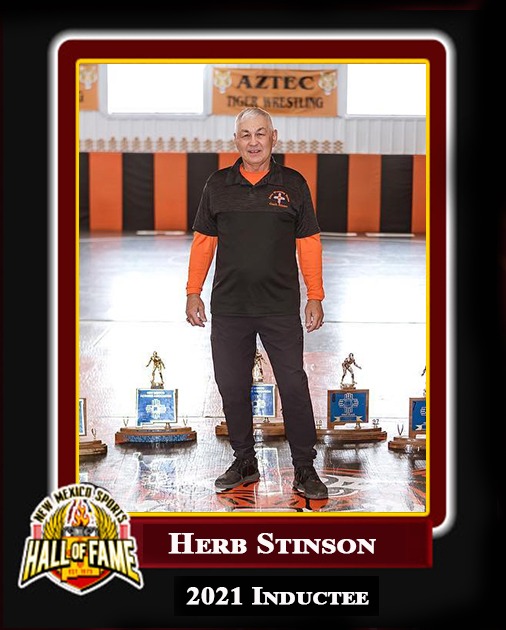 Herb Stinson
Born: March 30, 1952 in Farmington, New Mexico
High School: Aztec High School (1970)
College: Dixie College (Utah) 1971, Southern Utah University 1971-1975
High School:
• Nine varsity letters – 4 year in football, 3 years in wrestling and 2 years in track
• During sophomore year, the wrestling coach, Jerry Parker to come out for the wrestling team. That decision would mold his lifelong calling. He just wanted to be a better football player
• During the 1967 high school season, Herb set his goal to becoming a coach and vowed . to return to take over the Aztec High School Wrestling program.
• Played as the starting right offensive guard on the 1968 team that lost to Lovington High School for the Class A Football State Championship 13-12. The tough offensive guard only weighed 145 pounds.
• He qualified for the State Tournament for his last 3 years and placed 3rd in the 1970 state tournament.
• 1969 Associated Press Class A All-State Football Second Team Offensive Guard
• Voted in 1970 as the top Aztec High School's Outstanding Wrestler
• Ran the 800-yard race
• Member of the National Honor Society
• Senior Class President
College:
• Dixie Junior College
o Dixie dropped their wrestling program for the 1970-1971 season.
o His freshman year, Herb was actively wrestle for the Las Vegas YMCA. In that program, he won a state championship.
o He represented Nevada at the AAU Nationals, where he placed 5th in Greco wrestling.
• Southern Utah University
o He was a two-time Rocky Mountain Athletic Conference regional place winner. 4th in the Rocky Mountain Conference tournament in 1973
o Qualified for the National Tournament twice
Professionally:
• Herb has had a great 46 years of coaching and teaching. As the Wrestling Head Coach from 1980 to 1989, Aztec High School finished outside of the top three at the state tournament just three times and won the state title in 1982. Starting in 1990, the Tigers won their 11 consecutive state wrestling titles. Stinson accomplished all this as a three-sport coach with three-sport athletes. From 1989 to 2000, he had unbelievable dual match record was 221-3. All three losses were close matches.
o Dixie High School (St. George, Utah) Since there was no longer a wrestling program at Dixie Junior College in 1970-1971, he was recruited to coach at Dixie High School at the ripe age of 18. Stinson's first coaching assignment was as a volunteer at Dixie High School in St. George, Utah. He replaced the coach who had passed away just prior to the season's start.
o Southern Utah University (St. George, Utah) he helped coach the Southern Utah Program as he finished up his BA in Education.
o Bloomfield High School (NM) his first coaching job in New Mexico was as an assistant wrestling coach in 1975. That very year he helped lead the team to its first District Championship and a 4th place finish at State.
o Aztec High School (NM) … taught history and Physical Education
 In 1975, his former high school coach, Jerry Parker, asked him to transfer to Aztec, NM to become his assistant coach. He was Jerry's assistant for two seasons.
 1978 – became the head coach of the wrestling program
 535-92-5 lifetime record
 Ranks #52 nationally in all-time dual match wins and the winningest coach in New Mexico
 171 Straight Dual Match wins from -1998 … lost opening season to Los Lunas because many of wrestlers were playing football
 Coached an undefeated 5-0 New Mexico All Star team Tour du Monde to Canada in 1991
 Selected by Wrestling USA magazine in April of 1998 as the head coach for the Wrestling USA Dream Team", which was made up of top wrestlers from 14 states. He team beat the Iowa Elite Team in the 2nd Annual Dream Team Classic 44-10.
 17 District Championship teams (15 straight).
 12 state championships – 1982 … 1990-2000. He is one of only four coaches nationally to win his state's championship every year during the decade of the 1990s.
 11 straight state champions including every year in the 1990's. They are tied with Laguna-Acoma Cross Country team 1969-1979 for second longest consecutive state titles in New Mexico. Gallup Cross Country team won 12 straight titles from 1983-1994.
 3 state runner-up finishes
 3 third place finishes
 208 individual place winners
 19 High School All Americans and 12 Academic All Americans
 For the 1996-1998 state tournaments the entire team medaled in the state tournament.
 His 1990's teams and his last team in 2000 were ranked in the top 25 nine times and high as #3 and finished #7 in 1995.
 Competed every Christmas time in major high school wrestling tournaments from Hawaii to Florida. They won the following national tournaments:
 1990 and 1997 Iolani Hawaii Tournament
 1991 Cotton Bowl Classic, Dallas, Texas
 1993 Orange County Holiday Classic in Irving, California
 1994 and 1998 Upland, California Invitational
 1998 Sierra Nevada 64 team tournament in Reno, Nevada
 His teams are listed five times in the national record book:
 Herb is ranked #4 nationally with 139 wrestling tournament championships. He was ranked #3 nationally in 2000 with 120 dual match victories when he retired from Aztec High School.
 1992-1993 team held the national record for the biggest average margin of dual meet victories with more than 63 points until 2007-2008. They currently rank #2 nationally.
 65 individual state champions, which ranks 5th nationally all-time
 Ranks 5th for the most consecutive matches won with 92 … lost to Durango 1994, Los Lunas 1998 & 2000 to Atlanta high school …. 161- 1 … 1989-1997. 1998: 15-1; 1999: 20-0; and 2000: 25-1.
 Dynasty High School Teams Wrestling USA magazine 1991-2001 ranked Aztec High School as the #5 wrestling program nationally. This Ranking is based only on the number of state championships won between 1991-2001
 Ranked #26th in the Nation's Best High School Wrestling Programs between 1991-2006 by WRESTLING USA Magazine .
 2012 to the Present – Returned to become the Varsity Assistant Wrestling Coach
 Coached football for 39 years at Aztec High School and Bayfield High School
 Defensive Coordinator for 33 years
 Coaches for 10 different head coaches
 His defenses had 57 shutouts
 Helped the football team to 25 years of state playoffs – 50 playoff games and three state finals
 Was on the coaching staff for the 1980 & 2000 North team vs South. The North won both games with is rare in the North-South Football All-Star game.
 Was the JV pitching coach for the high school baseball for 10 seasons
 He coached in 24 state final events in 3 different sports and winning 14 state titles
 1998 Aztec team still is considered one of the best in New Mexico history. The team had 10 in the finals and ended up with eight (state) champion. The 2000 team was probably better than 1998 team. They had five undefeated wrestlers on that team.
 From those state champions, Stinson ended up coaching 18 high school All-Americans
 32 of his wrestling athletes have gone on to coach high school wrestling. 11 of them became head coaches.
 Six times, Stinson was honored as the coach of the year in his division in New Mexico.
 New Mexico State Wrestling Records
o Takedowns: 1999-2000 – 1131
o TEAM WINS: 1999 602 individual matches won by the Tiger wrestlers
o Team Win Percentage: : 1990-1991 85% (461-83-1)
o Most Individual Tournament Place Winners: 1997 14 (DISTRICT) 14 (STATE)
o Team Tournament Point Average: 1997-1998 284
o Most Dual Shutouts: (Season) 1994-1995 10
o Most Points in a State Tournament: 1997 339.5
o Undefeated Seasons: 1988-89-90-91-92-93-95-96-97-99
o Most Dual Match Wins in a Row: 1988-1994 92
o Duals – Average Margin of Victory: 1994-1995 63.14
o Bayfield High School (Colorado) – 12 years 2000-2012
 Built a solid and competitive program
 He started with only eight wrestles and immediately built Bayfield High School to one of the bigger programs in the Four Corners.
 Intermountain League Wrestling Championship in 2007
 Intermountain Wrestling Coach
 of the Year 2007
 Intermountain Assistant Football Coach of the Year in 2007.
 One Regional Wrestling Championship
 Coached 18 regional Champions, 18 Colorado State Place winners, 4 State Champions, 2 Academic All Americans and 1 High School Wrestling All American & 5 National High School power clean place winners
 As Defensive Coordinator of the football team, he was instrumental in helping the team to an undefeated regular season and a runner-up in the 2A State Football Championships in 2011.
 Selected 3 times as North South All Star Wrestling Coach in 2005,2009, and 2012.
o Develop two training DVDs with Championship Productions for public sale – "Tiger Tilt" and "Peaking for State"
o Big Faster Strong (BFS) WRSC Certification since 1987
Honors:
• Selected National High School Coaches Association's Coach of the Year three times in 1991, 1995 and 2000.
• 1991 USA Wrestling USA Magazine Coach-of-the-Year … only New Mexico High School Coach to receive this honor.
• AAA-A Coach of the Year six times
• New Mexico High School Coaches Association Wrestling Coach of the Year four times – 1989 1995, 1999 & 2001,
• Teacher of the Year two times – Aztec High School in 1994 and Bayfield High School in 2012
• In 2017, he was awarded the State Assistant Coach of the Year and Section 6 National Assistant Coach of Year by the National Wrestling Coaches Association.
• In 2001 was inducted into the Southern Utah University Coaching Factory Hall of Fame as their inaugural class of two inductees
• Wrestling USA Magazine Coach-of-the-Year Award in Herb is the only New Mexico High School Wrestling Coach to win this award.
• in 1995, he was chosen by National Federation Interscholastic Coaches Association as National Wrestling Coach of the Year
• Inducted into the New Mexico High School Coaches Association in 1998
• Inducted into the New Mexico Wrestling Coaches Association Hall of Fame in 2004 as part of inaugural Class of
• Inducted into the National High School Athletics Coaches Association Hall of Fame in Louisville, Kentucky in 2016. 25 New Mexico high school coaches have been inducted to the NHSACA Hall of Fame. The National High School Athletic Coaches Association (NHSACA) recognizes coaches not just for a season of coaching, but for their "lifetime achievements." The NHSACA National Hall of Fame is the most prestigious recognition given to high school coaches in America.
• Founded and was the Chairman of the Aztec Municipal Schools Hall of Fame.
• In 2018 the city of Aztec named Herb the "Citizen of the Year"
• Herb is one of only 7 coaches to achieve NMHSCA Milestone Awards for Wrestling Coaches the Level IV 1600+ points. The points are earned – 20 points for each State Team Championship; 5 points for Runner-up or Third place finish; 3 points for every individual state champion; 5 points for Invitational/Dual/District Team Championship and 10 points for each year as a Varsity Head Coach.
Community Involvement:
• Founded and was the Chairman of the Aztec Municipal Schools Hall of Fame.
• Board member of the New Mexico Wrestling Coaches Association Hall of Fame
• Founding Chairman of the Board for the Aztec Wrestling Program Building Committee. They have raised approximately $300,000 to build Aztec High School a new 100×50 top of the line wrestling facility of the future of the Aztec Wrestling Nation. The wrestling facility is expected to be open by the end of the summer 2019
• Contributed to the Aztec' weekly newspaper the Talon News as a sportswriter from 2012-2019
Family:
• Terry, wife is a retired second grade teacher
• Tonya, daughter is a BYU graduate, who is the Executive Director of Farmington's Visitor and Convention Bureau.
• Jerry, son is a Western New Mexico University graduate and Head of Oncology at Rolla Missouri Cancer Center
• Travis son is a Texas A&M graduate and Engineer with TechnipFMC Technical Authority, Workover Systems in Houston Texas
• All three of his kids were top student-athletes at Aztec High School, winning state titles and All-State awards.
• One of his fondest memories are his sons playing on the same football team in high school