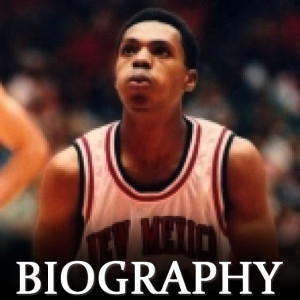 Greg Brown, a 5'7″ point guard played basketball for Albuquerque High School, New Mexico Junior College and the University of New Mexico and has been a AAU basketball coach for both boys and girls. Greg was always told that he was too small to play basketball, especially NCAA Division I basketball. There was no doubt in Greg's mind that you could play at a high level in high school and at the collegiate level. Greg proved to all the naysayers that there is room for the little man in the game of basketball.Brown demonstrated that a 5'7″ guard can get the job done! Greg is best known for his standout college career at the University of New Mexico, where he was Western Athletic Conference (WAC) Player of the Year in 1994 and won the Frances Pomeroy Naismith Award as the nation's best player under six feet tall.
Brown had a sterling high school career at Albuquerque High, leading the Bulldogs to the 1990 state championship with a 30-point effort against Albuquerque La Cueva. He was named the state's Player of the Year. But he went unnoticed by Division I recruiters and attended New Mexico Junior College in Hobbs from 1990 to 1992. During those two years, New Mexico Junior College and the team amassed more wins in NMJC history as well as a WJAC conference championship and named All American and Player of the year in the WJAC. There, he caught Bliss' eye by averaging 18.5 points and almost nine assists per game.
He moved to his hometown to play at the University of New Mexico for coach Dave Bliss from 1992 to 1994.  Brown moved into the Lobos' starting lineup early in the 1992-93 season and averaged 30-plus minutes throughout the rest of his career. Brown demonstrated that a 5'7″ guard can get the job done! He did so by taking the UNM Lobos all the way to the 1994 WAC basketball championship, their first regular season conference championshipin 16 years by beating BYU 79-72 in overtime. Brown saved his biggest game for BYU. In the title-clinching victory at Provo, the next-to-last-game of the season, Brown was awesome. He scored 34 with 28 of those coming in the second half and overtime of the triumph. Brown scored 20 of the Lobos' final 28 points, including 12 straight at one point. His three free throws – after drawing a 3-point foul with six seconds left in regulation – sent the game into overtime. Without Brown, the Lobos wouldn't have come close to winning the WAC title, the school's first in over 16 years..
Brown led the Lobos to consecutive NCAA tournament berths in 1993 and 1994. As a senior in 1993–94, Brown averaged 19.3 points per game and was named to the First Team All WAC team in 1994. He was also named the District 7 Player of the Year in 1994. He garnered honorable mention All-America recognition from the United States Basketball Writers and The Sporting News.
The Frances Pomeroy Naismith Award came five weeks after the close of a season in which Brown scored at least 25 points seven times and become only the sixth Lobo to score 40 or more in a game — he scored 42 against Texas-El Paso on Feb. 5. Brown was the first UNM lettermen to receive this coveted award. He not only gained self-recognition, but recognition for his teammates, the University of New Mexico, all his coaches, the WAC, and the entire State of New Mexico.The Lobos went 23-8, losing 57-54 to Virginia in the NCAA West Region's first round. "As a coach, I have never compromised more of my offensive principles than while coaching Greg Brown," Bliss said. "Because his best play is to dribble down the court and shoot it. Everybody knows that's not a great basketball play, but for us it was terrific."
Greg was inducted in the Albuquerque/New Mexico Sports Hall of Fame in 2008. His mom wrote a book on Greg's basketball career. According to Greg, the money they made from the book his mother wrote about my basketball career, The Little Point Guard, The Greg Brown Story: A Mother's Perspective, helped to pay my graduate tuition at UNM.  Greg has a Masters Degree in Sports Administration and a Minor in Public Administration.
Not only was Brown an exemplary college athlete, he has carried on his life by giving back to his community – Albuquerque. Brown is a firm believer in giving of himself; his list of community service is daunting. He visits sick children, organizes basketball clinics for youth, encourages students to "stay on track," cautions youth against drugs and has volunteered countless hours as a coach, advocate and mentor. He has coached for the Danny Granger Hurricanes AAU Club, New Mexico Select Girls Club and the Bairstow Boomers AAU Club since 2007. He also was Head Coach at Bosque School for the girls basketball program. Greg has worked 16 years for the City of Albuquerque as a Recreation Service Manager and Community Center Supervisor, where he uses his leadership skills honed during his athletic career.. He was the Editor for the Black Alumni Chapter Executive Board at the University of New Mexico from 2012 to 2015. He currently is a teacher for the Santa Domingo School District.