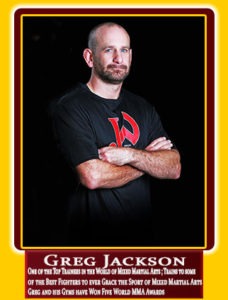 Gregory "Greg" Jackson
Born: June 16, 1974 Washington DC
High School: Rio Grande High School 1992
High School
• 1992 Award for Most Physically Fit
Professional – Greg is a mixed martial arts (MMA) trainer who co-owns Jackson-Wink MMA Academy in Albuquerque, New Mexico. Greg came from a family of wrestlers – his father, brother and uncle were all champions in the sport. Greg grew up in a rough neighborhood and began learning martial arts to defend himself. As a result, Greg was suspended from school for instigating fights on more than one occasion.
The Academy is the home to some of the best MMA fighters to ever grace the sport of Mixed Martial Arts. Greg is widely considered one of the top MMA trainers in the world. It is here that Greg and Coach Mike Winkeljohn have created something truly unique and took the sport of MMA to a totally different level. Coach Jackson has built the gym where fighters from every part of the world come to train in Albuquerque, New Mexico with on-sight housing and many other fighter related services. Because of these two coaches Albuquerque, New Mexico is considered the MECCA of Mixed Martial Arts. This team of coaches have brought numerous World Championships back to Albuquerque.
The duo has been featured in Sports Illustrated, ESPN, Forbes, and numerous other documentaries, radio shows, television programs, articles and news features. Greg has trained many successful champion fighters, including Jon Jones, George St-Pierre, Holly Holm, Rashad Evan and many more UFC contenders and World Extreme Cagefighting champions.
• 1992 Founded his own martial art, Gaidojutsu, which combines rudimentary techniques from catch wrestling and kickboxing with basic judo locks.
• 2000 His school officially turned into an MMA school
• 2007 Teamed with up with striking coach Winkeljohn to create the Jackson Wink MMA Academy
• 2009 Released an instructional book about his fighting style called Jackson's MMA – The Stand Up Game.
• 2010 Released another instructional book about his ground fighting style called Jackson's MMA – The Ground Game.
• 2013 February 5th Signed with Bellator to coach the promotion's reality series titled Fight Master: Bellator MMA
• Some of the notable fighters that Greg has trained over the years:
o Jon Jones – UFC Light Heavyweight Champion
o Holly Holm – Former UFC Women's Bantamweight Champion
o George St-Pierre – Former UFC Welterweight and Middleweight Champion – 10 title defenses
o Frank Mir – Former UFC Heavyweight Champion, Current UFC Heavyweight title contender 3-time Heavyweight title contender
o B.J. Penn – Former UFC Lightweight Champion and UFC Welterweight Champion
o Rashad Evans – Former UFC Light Heavyweight Champion, The Ultimate Fighter season 2 winner.
o Keith Jardine – Former Strikeforce Middleweight Title challenger
o Carlos Condit – Former UFC Interim Welterweight Champion
o Nate Marquardt – Former King of Pancrase and former Strikeforce Welterweight Champion
o Shane Carwin – Former interim UFC Heavyweight Champion
o Andrei Arlovski – Former UFC Heavyweight Champion
o Clay Guida – Former Strikeforce Lightweight Champion and World MMA Fight of the Year Award Winner
o Diego Sanchez – The Ultimate Fight 1 winner in the middleweight division
o John Dodson – The Ultimate Fight 14 winner
o Diego Brandao – The Ultimate Fight 14 winner
o Damacio Page – TUF 24 Flyweight LFC Legacy Fighting Champion
Honors
• Voted as a #1 MMA Camp in the world
• MMA Coach of the Year award in 2009, 2010 and 2011.
• 2009 Greg Jackson Fighting Systems won the MMA Gym of the Year award.
• 2015 Jackson-Wink MMA Academy won the MMA Gym of the Year award.
Community Involvement
• Member of the Board for Non-Profit Organization DeliverFund that is staffed by former elite intelligence operators from the CIA, NSA, FBI, Delta Force and Navy Seals who bring their experience in counterterrorism to bear on the human trafficking industry.
• Trains nearly every Police Department and Military in New Mexico and around the country on developing combative skills. Coach Jackson works with New Mexico's Attorney General to develop a special self-defense system for our police officers.
Family
• Parents, Kris and Jim Jackson, who were Quakers originally from the Midwest. The family moved to Albuquerque, when Greg was three years old.