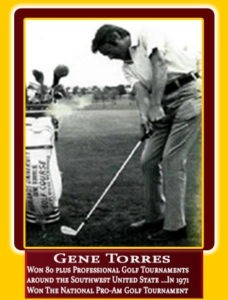 GENE "THE ROCK or La PIEDRA" TORRES
BORN: September 9, 1937 Trinidad, Colorado
DIED: June 12, 2005 Las Vegas, New Mexico
High School: Trinidad High School (Colorado) 1956
College: Adam St University (Co)
High School:
• 1951 Worked the winter at the local Trinidad Municipal Golf Course shoveling coal into furnaces to earn spending money. This led him into caddying during the summer and got him inspired to start playing golf. Some of the local golfers eventually gave him a few clubs to practice with and the rest is history. He fell in love with the game and would spend hours and hours trying to figure how to hit certain golf shots. This is what made him one of the best of using his imagination on recovery shots. o He was self-taught and never had a golf lesson from a PGA Professional.
• 1952 Started caddying at golf tournament in Trinidad, Colorado.
• 1952 Finished 36th out of 291 golfers at the National Jaycee Youth Tournament in Ann Arbor Michigan
• 1953 Won the Colorado Jaycee Youth Tournament in Denver, Colorado.
• 1954 Finished 7th in Colorado State High School Individual Golf Tournament
• 1953 Finished 66th at the National Jaycee Youth Tournament
• 1955 Won the Colorado Jaycee Golf Tournament.
• 1955 Finished 60th at the National Jaycee Youth Tournament, which was held at the University of New Mexico North Golf Course in Albuquerque, New Mexico.
• 1955 Set the new golf record, shooting 16 under par for 52 holes at the Trinidad Invitational Golf Tournament.
• 1955 Finished 10th National Jaycee Youth Tournament tied with Jack Nicholas, who would become a legend in golf.
• 1956 Won the Trinidad Invitational
• 1956 Colorado State High School Individual Golf Champion – There was only one classification for the state in Golf, meaning that he was officially the top high school golfer in the state.
• 1956 Club Champion at the Trinidad and Alamosa Golf Course tournaments.
College:
• Had a small scholarship to play golf at Adams State but, could not afford the Tuition and only enrolled one Semester.
Professional Gene is one of the greatest pro golfers from New Mexico. During his extensive career, Gene won 80 plus Professional Golf Tournaments around the Southwest United States. In 1957, after one semester in college, Gene decided to serve our country in the Navy on board the USS Shangri-La-CVA 38 ship. For the next four years. He was the golf pro at the New Mexico Highlands University's Golf Course for 43 years. He was a professor of Physical Education for 43 years. During his tenure he would donate his own money for the college golf team to travel to college golf tournaments. Gene challenged his college players ever year that if they could beat him in a round of golf that they could call him "Gene" otherwise they had to call him "Coach". Gene never lost to any of his players during his coaching career.
• 1962 March 16th began teaching at NMHU
• 1962 Became the Golf Pro at the New Mexico Highlands' Golf Course
• 1965 & 1967 Rocky Mountain Golf Tournament Champion
• Won five New Mexico Open Golf Tournaments, which four of them were in consecutive years, 1968,1969, 1970, 1971, plus again in 1984
• 1967 Named Head Coach of the New Mexico Highlands' first golf team . He never was able to give a full ride scholarship during his twenty years.
• 1970 February 2nd became a "Class A" member of the Professional Golf Association of America.
• 1971 Set a new record for 11 under par he won the Conrad Hilton Open Tournament in Socorro New Mexico.
• 1971 After winning the K-2 Buick Tournament in Casper, Wyoming, he got exemptions to play the 1971 PGA Club Professional Tournament at Pinehurst, North Carolina, and in 1972 the Tucson Open, the Phoenix Open, and the National PGA Tournaments.
• 1971 Gen won The National Pro-Am Golf Tournament at the Famed Pinehurst #1 golf course in Pinehurst North Carolina by shooting a course record 62 in the final round. for his win he won a brand new 1972 Lincoln Continental.
• 1972 Lee Trevino after winning The British Open and The US Open beat Gene by one shot to stop his reign of The New Mexico Open.
• 1972 Won the Colorado Open
• 1972 Won the Juarez, Mexico Open. He was the first American to win that tournament.
• 1973 Played in the United States Open at Oakmont Country Club Golf Course in Pittsburgh, Pennsylvania. Gene first had to qualify for the U.S. Open by winning the Regional qualifying tournament in Denver, Colorado. It is believed that Gene is the first New Mexican to win an U.S. Open regional qualifying tournament.
• 1973 Placed fourth in the Southwest Sectional PGA Tournament.
• 4 Conrad Hilton Open Golf Tournaments. 6 Sun Country PGA Section Championships. 4 San Juan Open Golf Tournaments,
• 1987 Golf was eliminated at NMHU for financial reasons. During the 20 years, his teams has accumulated a 50 percent winning record. Gene coached two Rocky Mountain Conference Champions – Russell Moore and Bob Taylor.
• 1988 Started playing in the Senior Pro Golf circuit.
• 2005 March 25 the New Mexico Highlands' Golf Course was named after Gene … New Mexico Highlands' Gene Torres Golf Course.
• He considered his biggest accomplishment coaching college golf was beating 12th ranked D1 University of Colorado by one stroke at a college tournament.
• Professional Golf Tournament Wins:
• Sun Country PGA Senior Championship – 1989 and 1997
• Wyoming Open Seniors Champion – 1986 and 1988
• Wyoming Open Super Seniors Champion – 2000 and 2002
• Pro-President in El Paso, Texas – 1976, 1977, 1979, 1985
• McDonald's Sun Country Sectional Match Play – 1978, 1979, 1980, 1981, 1985 • New
Mexico Open – 1968, 1969, 1970, 1971, 1984
• DOS Lagos Invitational – 1980, 1981, 1982, 1983
• Sun Country PGA Sectional Medal Play Champion – 1970, 1971, 1974, 1978, 1982,
1983
• Conrad Hilton Open – 1968, 1971, 1977, 1981 • Dolly Brunson Team Match Play Championship – 1981
• Pro-pro Championship Four Hills Country Club –1981
• Riverton, Wyoming PGA Championship – 1978, 1979 (set a new course record, 62)
• The PGA Club Professional Championship – 1971
• Pinehurst Golf Course #1 – 1972 (World's Largest Pro Am 250 Teams, set a new course record,
62)
• Triple Crown in Albuquerque – 1979
• Gallup Invitational – 1979
• Navajo Trail Open – 1972, 1975, 1977
• San Juan Open – 1969, 1973, 1976
• New Mexico Maestros Invitational – 1976
• Clovis Colonial Invitational – 1975
• Juarez Open – 1974
• Dale Robertson-Jimmy Durante Invitational – 1974
• Wyoming Open – 1974
• Low Sectional Champion for U.S. Open, Denver Country Club – 1974 … a U.S. Open
Regional Qualifying Tournament.
• Jal Invitational – 1973
• Buster Quist Invitational – 1972, 1973
• Colorado Open, Hiwan Country Club – 1972
• New Mexico Open Invitational – 1969, 1970, 1971
• New Mexico Open PGA – 1970, 1971 • Southwest Section PGA – 1971
• PGA Home Club Championship, Phoenix, Arizona – 1971
• PGA Rocky Mountain Open, Grand Junction, Colorado – 1965-1967
• Low Qualifier for the National Home Club Championship – 6 times
• Sun Country Senior Match Play Champion – 1994
• Hilton Open Senior Medal Champion – 1995
• Hilton Open Super Senior – 2000 • New Mexico Senior Open Champion – 1994
• Hobbs Senior Champion – 1992 • Medalist for Senior Tour Qualifier Lompoc Qualifier –
1997
• Las Cruces Invitational Champion – 1969
Honors:
• 2004 Inducted to the New Mexico Highlands University Hall of Honor
• 2004 December Achieved the highest honor you can receive from the Professional Golfers Association of America, The Lifetime Achievement Award.
• Honored by the Las Vegas _ San Miguel Chamber of Commerce for his outstanding contribution to the Las Vegas area.
Family:
• Wife, Mary Delores "Dodie" … were married November 26, 1961 for 43 years when Gene passed away. Dodie was a well-known golfer in the women's circuit.
• Sons: Gene Jr . Head pro at Santa Fe Country Club Golf Course.
• Daughters: Michelle Lynn Torres, Jannen Marie Torres-Baca, Trisha Leigh Torres.
• 14 grandchildren and 4 great grandchildren