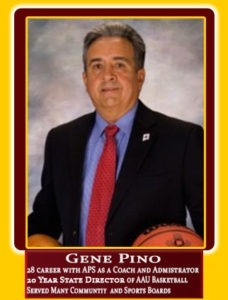 Eugene "Gene" Mark Pino
Born: February 3, 1955 in Belen, New Mexico
High School: Belen High School (NM) 1973
College: University of New Mexico – Bachelor's Degree in Physical Education (1977) and Master's Degree in Sports (1984) and Master's in School Administration (1993)
High School:
• 2- year letterman in football, basketball and track.
• 1972 December – Led the Belen Eagles basketball team as their point guard to the Stu Clark Tournament Championship and making the All-Tournament Team
• Played several positions on the football team – quarterback, wide receiver, safety , cornerback and on special teams.
• 1973 All District Honorable Mention Football
• 1973 All District First Team Basketball
• Ran the 2 -mile, 880-yard dash, long jump and ran on the mile relay team.
• 1973 4th Place AAA State Track 880 Run
• 1973 Belen High Athlete of Year.
• His high school coaches were instrumental and had a big influence in Gene wanting to become a coach and teacher – Evisalio Padilla, Beltran Sedillo, Jim Danner, Jim Burke, Ron Hodges and Rudy Zamora.
• Member of the National Honor Society
Professional:
• Teacher – Taught elementary Physical Education, high school Physical Education, weight training, alternative program, and in school suspension.
o Barcelona Elementary 1977-1978
o Kirtland Elementary 1977-1981
o Del Norte High School 1981-1990
o Madison Middle School 1991-1992
o La Cueva High School 1992-1995
• Coach
o 1976 Belen High School – Assistant Basketball Coach
o 1977 St. Pius X High School – Assistant Basketball Coach
o 1977-82 Del Norte High School – Basketball & Football Coach
 1978 Assistant Basketball coach under Hugh Dickson
 1977 Assistant Football Coach under Howard Anderson
 1982 Hired in May as the third head basketball coach since the school opened in 1964.
 1986-1988 three straight years of appearing in the state tournament losing each time in the first round.
 1987 District 1AAAA Coach of the Year
 1988 District 1AAAA Coach of the Year
 1991 Coached nine seasons with an overall record 100 wins and 115 losses
o 1991 Albuquerque Academy – Assistant Football Coach under Kevin Carrol
o La Cueva High School – Assistant Varsity Basketball Coach under Frank Castillo
 1991-1995
 1994 La Cueva Bears Class AAAA State Basketball Champions
 1994 New Mexico High School Coaches Association Assistant Coach Year
 Other Coaching Assignments
 1981 Assistant Coach for the North Football All-Stars
 1983 Coached a Metro All-Star basketball game
 1984 Assistant Coach for the North Basketball All-Stars
 1988 Head Coach for the North Basketball All-Stars winning 127-125 in overtime.
 1991 Albuquerque Boys Club High School Basketball Summer League Organizer
 His coaching mentors were former coaches, Bill Duffey, St .Pius X Head Basketball Coach; Henry Sanchez, Head Track & Field Coach of Highland High School; the other Henry Sanchez, Head Basketball Coach at Bernalillo and Las Vegas Robertson plus New Mexico Highlands University; Hugh Dickson, Del Norte High School Head Basketball Coach; Howard Anderson, Head Football Coach; Bobby Gibbs, New Mexico Coaches Association and Albuquerque Boy's Club Executive Director; Jim Hulsman, Head Basketball Coach of Albuquerque High School and Frank Castillo, current La Cueva High School Head Basketball Coach.
 Gene has impacted many of his players and friends to be successful in coaching like his son, Timmy, Marty Saiz in AAU; Frank Griego, Steve Ortega, Luis Rico, AJ Bramlett, Chris Gonzales and Nelson Smith.
 Administration
 1995- 2000 – Albuquerque Public Schools Athletic Coordinator
 1995 Instrumental in reviving middle school athletics to 27 APS Middle Schools after 20 years hiatus.
 1600+ boys and girls were participating basketball.
 In 1997 the brought back track and field to the middle schools.
 The focus was on sportsmanship and Character Counts. They would not post the scores or records of any of the teams.
 2000 – 2002 Assistant Principal at Cibola High School
 2000 – 2010 NMAA District 1AAAA Chairperson
 2002 – 2005 Executive Director of the Albuquerque Public Schools Foundation, raising money for underfunded school programs and scholarships.
 2003 Finalist for the Executive Director job at the NMAA
 2005 – 2016 Assistant Director at New Mexico Activities Association assists with the NMAA statewide. "Pursuing Victory with Honor" character counts for sports initiative in all NM schools.
Honors:
• 2011 New Mexico Sports Hall of Fame's prestigious "Award of Distinction" for his countless hours to the athletics especially the youth of New Mexico over the last 37 years
• 2016 Inducted into the New Mexico Activities Association Hall of Honor
• 2018 Governor of New Mexico selected Gene as one of the "New Mexico True Heroes" of New Mexico. He was honored at the New Mexico Bowl for his volunteer non-profit work with (AAU, AYBL, NMAA Foundation, NM Sports Hall of Fame and NM ALS Association by the New Mexico Tourism Department, New Mexico Bowl, and the Governor.
Community Involvement:
• 1986-1996 Softball Field Supervisor, Los Altos Park, City of Albuquerque, Slow and Fast pitch Adult and Youth weekend tournaments.
• 1990 -2010 State Director for AAU Basketball in New Mexico
• 1995-2000 Middle School Sports Foundation Board Member
• 1998 -2003 Coached our youth in AAU and AYBL
• 2000-2010 – District 1AAAAA Athletic Chairperson for the NMAA
• Albuquerque Youth Basketball League
o 2000-2005 Board Member
o Secretary
o 2005 After President Jim Patterson retired after eleven successful years of service to AYBL. Marty Saiz was selected to be the new President. However, he felt an Executive Director was needed to handle the daily tasks of AYBL. He persuaded the Board to select Gene because of his organizational skills to be the first ever Executive Director only of AYBL.
o 2005-2011 Executive Director of the Albuquerque Youth Basketball League.
o Instrumental in building the league from 65 teams in 2005 to 156 teams in 2011
o Duties of Executive Director Duties include oversight of all AYBL registrations (coach, player, referee), rules and regulations, sportsmanship and pursuing victory with honor issues, budget-finance, rule changes, and overall smooth operation of AYBL. Another main responsibility is scheduling of games and tournaments and securing enough gym space from APS and RRPS for 1200+ games and over 1400+ kids to participate in AYBL.
o 2011-2014 Remained on the AYBL Board to advise new Director Frank Castillo
• 2004-2008 Albuquerque Sports Fund Board member
• 2008-2019 New Mexico Activities Foundation Board Member
• 2010-2019 Board Member of the New Mexico Sports Hall of Fame
• 2011 to Present – New Mexico ALS-Lou Gehrig's Disease chapter
o 2011 Pino was diagnosed with ALS, a progressive disease that has robbed him of his physical abilities and impaired his speech.
o Active member of the New Mexico ALS chapter
o Offers his leadership and positive attitude to raise funds for ALS educational and outreach programs. Team Gene Pino has been one of the top fundraising teams for the Walkto Defeat
Family:
• Sadie, wife 33 years …. retired APS Bilingual Kindergarten teacher of 30+ years … married on October 18, 1986
• Natalee , daughter, worked in resorts in Guam and Key West, Florida. She returned home to help her mom take care of her grandmother and Gene with his ALS.
• Tim, son is currently assistant basketball coach at Del Norte High School