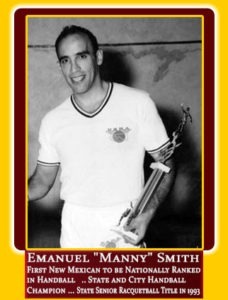 Emanuel "Manny" Smith
Born: October 30, 1929 East Harlem, New York
Died: August 28, 1995 Albuquerque, New Mexico
High School: Stuyvesant High School 1947
College: Oswego State College (NY) Degree in Education 1950
University of New Mexico Master's Degree in Education 1960
In the 1950s and 60s, handball was king among Albuquerque's elite athletic circles.  And Emanuel "Manny" Smith was the king of Albuquerque handball courts. Smith was the dean of Duke City handball, having won 11 consecutive Albuquerque city titles (1957-67) and nine straight New Mexico state crowns (1958-66) both still records to this day. His battles with the late Cordy Garcia were legendary, with Smith winning 11 of their 13 matches. Twice, Smith was feature in Sports Illustrated's "Faces in the Crowd" during his reign, and became the Duke City's first nationally-ranked handball player having won tournaments from across the country. But the man the late George Maloof Sr., said was "The best athlete I ever met," Manny was so much more than an Albuquerque sports legend. He was a highly-honored teacher, principal and actor and was a stellar influence to so many Albuquerque students, athletes and would-be actors. When Smith died at age 65 in 1995, the Del Norte High School Theater of Performing Arts was standing room only for "The Final Act – The Manny Smith Memorial," an event that was televised locally.
Manny was born to non-English speaking immigrant parents (Russia/Latvia) and spent much of his childhood in Brooklyn. His family lived in poverty. Manny supported his family as a teenager after his father went blind.
After graduating from Oswego State in three years, in 1949-1951 he joined the United States Army, where he worked as a medic while stationed in Germany during the Korean War. He later played for U.S. Army touring basketball team and named All-Army.
After the Korean War, a college classmate convinced him to visit New Mexico. Smith moved to Albuquerque in 1952 and never left. He became a teacher with Albuquerque Public Schools in the early 1950's. At one time, New Mexico Sports Hall of Fame coaches, Bill Gentry and Jim Hulsman, plus Manny all taught together at Zia Elementary. Gentry still talks about Manny's athleticism as a handball player and "an unbelievable tetherball player."
The late Albuquerque businessman and former Houston Rockets owner, a handball partner with many at the old YMCA, said, "Manny was the best athlete I have ever met." Manny was the dean of New Mexico handball. Manny did everything he could "for the kids," and never chose to put his name on anything. He didn't want any glory. He truly did things for kids — and everyone he was in contact with.
Manny has a distinguished acting career, appearing in more than two dozen motion pictures including "Adios Amigo" with Richard Pryor, "Timerider" and "The City" with Anthony Quinn. He also acted in countless local plays at the ACLOA, the Albuquerque Little Theater and other theater companies.
High School
• Tested into New York's prestigious Stuyvesant High and graduated with honors in three years
• Playing on the varsity basketball team the last two and being named honorable-mention all-Brooklyn.
College
• Earned academic and athletic scholarships graduating in three years
• Two-year starter for the basketball team
Athletically
• 1957-1967 Won eleven consecutive Albuquerque city handball championships
• 1958-1966 Won nine consecutive New Mexico state handball championships .
• First New Mexican to be nationally ranked in handball
• 1993 Despite having cancer, he won the New Mexico State Senior Racquetball title, qualifying for the national championships in New Orleans. He was unable to attend because of his illness.
• Two-time senior racquetball champion
• Continued to compete after two surgeries and remained one of the state's top senior racquetball players. He played his last tournament less than a month before his death.
Professionally
• Spent 35 years with the Albuquerque Public Schools as a teacher, principal and master teacher (teaching techniques and overseeing younger teachers). He worked at Zia Elementary, Mark Twain Elementary, Chaparral Elementary, Pajarito Elementary, Lowell Elementary, Zuni Elementary, Sierra Vista Elementary and Cleveland Middle School.
• 1993 Retired from APS after learning that he had colon cancer.
• Officiated softball, basketball, volleyball and umpired baseball at the high school, junior high and youth team level.
Honors
• Honored with a Distinguished Teacher Award
• Portrait of Manny hung over the entrance of the handball/racquetball courts at Tom Young's Athletic Club.
• Listed in Who's Who of American Teachers
• 1986 Honored as Boys and Girls Club Coach of the Year
Community Involvement
• In the early 1960's, Manny created a baseball league, funding it out of his own teacher's salary, for underprivileged youth on the Albuquerque's southeast side.
• Coached Little League baseball and youth basketball
• Co-Founder of the New Mexico chapter of the Screen Actors Guild
• President of the Handball Club at the Downtown YMCA
• Board member of three theater companies
• Both Del Norte High School and Cleveland Middle School have presented scholarships in Manny's name