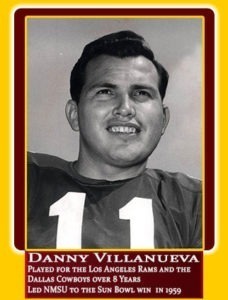 Daniel "Danny"" Dario Villanueva
Born: November 5, 1937 in Tucumcari, New Mexico
Died: June 18, 2015 in Ventura, California (age of 77)
High School – Calexico Union High School – Calexico, California (1956)
College – Reedley Junior College (1958)
New Mexico A & M/New Mexico State University English Degree (1960) NMSU changed its name in 1960.
High School:
• 3-year letterman in football, basketball and baseball
• 1954 Football Destined to follow his brother Primo who was an All-American at UCLA led the national championship 1954 UCLA Bruins football team in total offense.
• 1955 Led his basketball team to the second round of the Southern California Interscholastic Federation southern section playoffs
• 1956 All-Desert Inyo League First Team center
• High school's newspaper's sportswriter
• Won a writing contest by the newspaper, Los Angeles Examiner, He would work for the newspaper as a copy boy and a correspondent for two years. This is where is love for sports writing began for Danny.
College
• Reedley Junior College (known as Kings River at that time)
o Quarterback at Ready from Reedley College
o All-Conference Quarterback
• New Mexico A & M … change the school's name in 1960 to New Mexico St
o Coach Warren Woodson had recruited Danny's brother, Primo when he was an assistant coach at the University of Arizona. Coach told Danny, an eighth grader " I will come back for you in four years". Danny went to Reedley Junior College, where the Dean of Students was close friend of Coach Woodson.
o Beat out 40 other players in Coach Warren Woodson's kicking contest and in the final round beat out future College Hall of Famer Pervis Atkins to be the team's placekicker. Danny had never taken placekicking seriously before this contest. He was recruited to be a quarterback.
o 1958 October 25th hit the winning field goal to beat Texas Western to help the Aggies win their first Border Conference game since 1953.
o 1958 November 8th The game against McMurray was tied 7-7 with seven seconds to go in the game and Danny kicked the winning field for his first field goal made ever.
o 1959 Kicked two winning field goals and 41 points scored for the season.
o Played of the teams that won back to back Sun Bowlgames in 1959 and 1960, which the team was undefeated
o Played back-up quarterback to 2008 NMSHOF, and Denver Broncos, Charlie Johnson,
o As a senior, he made 7 out of 8 field goal attempts, including a long one of 47 yards. He scored 41 points for the season, which ranked 2nd in the nation for kickers
o Named All-American Kicker
o Held the Border Conference's record for the longest field goal kicked of 47 yards against Texas Western. LOGO
o Editor and Sportswriter for the school's newspaper the Round Up.
Professionally:
• Football Player
o Los Angeles Rams scout Chuck Benedict had seen a New Mexico State game to watch one of Villanueva's teammates, Pervis Atkins, and saw Villanueva kick a 49-yard field goal. Chuck told Ram's Head Coach Bobby Waterfield, a former kicker himself about Danny's kicking ability as punter and placekicker. The Rams invited Danny to Los Angeles for a try-out. Danny needed four more credit hours to get his bachelor's degree in Literature.
o Signed as an undrafted free agentby the Los Angeles Rams after the 1960 NFL Draft, the team signed him to a $5,500-a-year contract. Mr. Villanueva was savvy enough to request a signing bonus. "They gave me $200," he told The Los Angeles Times in 1985. "They took it out of my last check." Mr. Villanueva looked back with amusement on his four-figure N.F.L. salary. After he signed with the Rams, he told ESPN.com in 2008, the team informed him that the size of his paycheck was not to be made public. "I'm glad," Mr. Villanueva said he replied. "Because I'm as ashamed of it as you are."
o Aggie teammate and 2009 NMSHOF Famer, Pervis Atkins was drafted by the Ram in 1960 as the 30th pick in the draft. They played together for three years.
o Played 110 games in eight seasons in the NFL
o He was the team punter and placekicker, which is rare in the NFL
o One of the earliest players of Mexican descent in the NFL
o One of the last straight-away style placekickers. Villanueva was both a placekicker and a punter, so he kept two different pairs of shoes on game day.
o Los Angeles Rams (1960-1964)
 1960 November 21st kicked four field goals against the Green Bay Packers including the winning field goal with 22 seconds left in the game. The loss knocked the Packers from the National Football Conference playoffs.
 1962 Broke the Rams record for longest field goal with a 51 yarder against the Dallas Cowboys
 1962 – Led the league in punting yardagewith 3,960,
 1963, he ranked third in the NFL in punting with a 45.4-yard average
 During his time with the Rams he was nicknamed "El Kickador" and "El Toe-reador", with bullfighting music being played whenever he walked onto the field at the Los Angeles Memorial Coliseum.
 Setting the team's record for single season punting average (45.5 yards per punt in 1962) and career gross punting average (44.3 yards per punt). Both stood for 45 years.
 He left as the Rams career gross average punting leader with 44.3 yards, a record that was broken by Donnie Jones in 2009.
o Dallas Cowboys (1965-1967)
 Traded by the Los Angeles Rams to the Dallas Cowboys for NFL and 1980 NMSHOF Hall of Famer, Tommy McDonald
 Played in two NFL Championship games with the Cowboys
 In 1965, he had an instant impact improving the special teamsunit, eventually setting the franchise record with 100 consecutive extra point conversions (1965–1967). The record lasted 41 years before being broken.
 1066 Booted the winning field goal against Washington that helped put the Cowboys in their first playoffs.
 1966 Nov 24 hit four field goals against the Cleveland Browns to break the Cowboys record for field goals made in a game.
 1966 – Ranked second in the league in scoring, with a career-high 107 points, which was a Cowboy record for points.
 Setting the Cowboys record for most extra points made without a miss in a season with 56.
 Took part in the NFL championship game of 1967, known ever after as the Ice Bowl, at which the temperature at Lambeau Field, with the wind chill, was about 48 below zero. Dallas lost to the Green Bay Packers, 21-17. This would be the last game Danny would play in the NFL.
 Finished with a 42.8 career punting average without a block and 491 career points. At the time of his retirement, there were only 9 players in the NFL with more points in a career.
 Held a 97.9 percent accuracy rate on PATs (236 of 241)
 1968 July 19th Officially retired for the NFL to pursue his career in broadcasting full time.
o Sports Broadcaster
 In 1962, to supplement his football income, Mr. Villanueva went to work as a sports announcer for KMEX, then an obscure Spanish-language television station in Los Angeles. He had to relearn Spanish, from which he had turned away in response to pressure to assimilate.
 1965 was named Sports Director for KMEX. He had a 30-minute weekly show. Kept working there, when possible, after being traded to the Dallas Cowboys in 1965. The trade boosted his salary to $15,000. "I thought I'd died and gone to heaven," he told the San Antonio Express-News in 2007.
 1968 — the weather at the Ice Bowl drove him from the sport, he often said — Mr. Villanueva became the news director of KMEX. He was later the station's president and a co-owner. On weekends he moonlighted as a sportscaster for KNBC-TV, the network's Los Angeles affiliate, where his colleagues included a young Tom Brokaw.
 Under Mr. Villanueva's stewardship, KMEX became the flagship station of the Spanish International Network. It also became a lodestar for the region's diverse Spanish-speaking population. The station became the springboard of his eventual media empire.
 1972 General Manager of another TV station in Hanford, California – KFTV
o Business Owner
 Mid 1960s partners with fellow LA Rams teammate, Jon Arnett on land and building developments including shopping centers.
 In the 1970s he became pioneer and part-owner of the Spanish International Network, a Spanish-language television network based in the United States with stations located in cities across the US with significant Spanish language populations
 Villanueva went on to become an owner and a senior vice president of the network's parent company, the Spanish International Communications Corporation
 1987, the corporation's television stations were sold to Hallmark for more than $260 million and renamed Univision. He remained with Univision until 1990.
 In 1986, the network was sold and renamed to Univision.
 Served as president of the L.A. Aztecs of the North American Soccer League (NASL)
 Villanueva co-founded the investment firm Bastion Capital in 1992 and later co-founded Rustic Canyon/Fontis Partners, an investment firm aimed at helping family businesses. Partner in Bastion Capital, a Los Angeles private equity firm. Bastion was a partner in the Telemundo television network, as well as other portfolio companies in the United States and Mexico.
 Until his passing, served as an independent director for Southwest Airlines, Trust Company of the West and Banamex USA
Honors:
• 1970 Inducted into the New Mexico State University Athletics Hall of Fame.
• 1972 KMEX TV station was honored with the Peabody Award.
• 1988 Inducted as one of the first selections into the National Hispanic Hall of Fame
• 1992 Inducted as one of the first selections into the Reedley Junior College Tiger Athletic Hall of Fame
• 1999 Awarded an Honorary Doctorate by New Mexico State
• 2003 One of the first selections the National Academy of Television Arts and Sciences inducted him into the Broadcast Management Hall of Fame
• 2007 Inducted as one of the first selections into the Hispanic Sports Foundation for Education Inc.'s National Hispanic Hall of Fame
• 2015 Inducted into the Hall of Fame of the National Association of Investment Companies
Community Involvement:
A noted philanthropist, he contributed millions to New Mexico State and many other institutions. Providing food, clothing, and toys for needy children in the Hispanic community was one of his favorite causes.
• 1964-1973 Director of the Ford Motor Dealers of Southern California Youth Program in Los Angeles. He conducted kicking clinics, motivation talks to the youth
• 1965 – 1967 Served on the California State Recreation Commission and the Los Angeles District Attorney's Advisory Council
• Served as commissioner of the California State Parks and Recreation Commission under governors Pat Brown and Ronald Reagan.
• 1971 – Launched the annual "Navidad en el Barrio" telethon to raise money for toys and food for needy Hispanic families in Southern California during the Christmas season, which was televised annually in December from 1971 to the early 1990s on KMEX-TV.
• 1983-1984 Served Villanueva served as the Commissioner of Boxing for the 1984 Los Angeles Olympic Organizing Committee
• 1990 – Launched the annual Fiesta BroadwayCinco de Mayo celebration which takes place in downtown Los Angeles.
• 1991 – He established the Danny Villanueva Scholarship Endowment to recognize NM State students who excel in leadership and community involvement
he returns to his alma mater during Homecoming each fall to help raise money for scholarships for Hispanic students who demonstrate leadership at NMSU. Each time, he writes a check to match the proceeds of an annual breakfast benefit.
• 2002, Villanueva presented a major gift of $250000 toward the university's stadium annex project. It serves academic as well as athletic purposes, and Villanueva's gift funded the Danny Villanueva Victory Club dining facility.
• 2005 Committed $2.5 million to the university's "Doing What Counts" fundraising campaign, with $1 million of the gift designated for the NMSU Children's Village.
Family:
• Married to Myrna Villanueva (Schmidt) for 58 years. They met while attending Reedley College while working at a peach packing house.
• two sons Daniel L. and Jim
• His brother, Primo Villanueva, was one of the first Hispanic surnamed players in the Canadian Football League(CFL)
• Five grandchildren (including Joseph Daniel Villanueva of Las Cruces); and nine great-grandchildren (four of whom are in Las Cruces.)