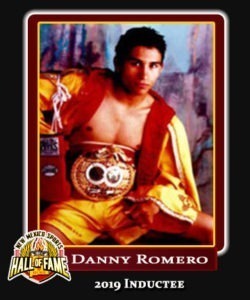 Danny Gregorio Romero Jr.
Born: July 12, 1974 Albuquerque, New Mexico

Amateur:
• Romero won nine national amateur titles including five Silver Gloves national titles.
• Lost in the quarterfinals of the 1992 Olympic Trials at 119 pounds to Sandtanner Lewis.
• 146-5 in the amateur boxing.
Professionally – Danny Romero nicknamed "Kid Dynamite" was a world boxing champion, who was known for his explosiveness inside the ring. Romero provided boxing fans with a lot of good memories in the mid 1990's. He grew up in the tough North Valley and was introduced to boxing by his father Danny Sr., who ran a local gym when his son was five years old. His grandfather boxed professionally. "I had loving parents," Romero told RingTV.com. "I know now my parents were struggling to keep the lights on. I remember we used to eat beans, rice and tortillas but I learned that was more than some people had.
His father/trainer Danny Sr. guided his son through a 13-year amateur career. After failing to make the 1992 U.S. Olympic boxing team, Romero would turn pro in September 1992. "Kid Dynamite" moved quickly, winning the NABF title at 112 and 115 pounds, over the first three years of his career. He had 45 career wins, 5 losses and 2 draws as a fighter. Thirty eight of his 45 wins were by knockout.
• 1992 September 4th – First fight as a professional was when he knocked out Raul Hernandez in the first round in Phoenix, Arizona.
• 1993-1994 – His first eight bouts all took place in the Phoenix area, and he won all, seven by knockout. His first fight outside Phoenix was on April 13, 1993, when he knocked out Alberto Cantu in three rounds at Bay St. Louis, Mississippi. On May 22 of that year, he had his first professional fight in his hometown, Albuquerque New Mexico USA, knocking out Silverio Porras in two rounds. Romero won five more bouts in a row, including a victory over former Alex Sanchezworld title challenger Orlando Malone, before having his first chance to fight for a belt: On May 5, 1994, he knocked out Brian Lonon in two rounds to win the NABF regional Flyweight title. He retained the title four times, and added three non-title victories, before challenging for a world championship for the first time.
• 1995 Ended America's 60-year wait for a flyweight world champion in 1995. Would go 23-0 with 20 knockouts before facing IBF flyweight champion Francisco Tejador in April 22, 1995 at the MGM Grand Arena in Las Vegas, Nevada. Romero shined well, taking a unanimous decision and winning his first world title. They were part of the fighting card featuring George Foreman-Axel Schultz heavyweight title fight. After a slow start, Romero's greater size told the tale and he won a unanimous decision. Midget Wolgast was the last American to hold a flyweight title, losing it to Small Montana in July of 1935. Since then, seven Americans had unsuccessfully tried and failed before Romero prevailed.
• 1995 Defended the title once, then faced the unheralded Willy Salazar in a non-title bout, on September 8. Romero suffered a 7th round TKO loss to Salazar, in what Ring Magazineheralded as the "upset of the year" for 1995. In that fight he was ahead on all score cards before having the fight stopped due to an eye injury. He bounced back with a first round knockout victory over former WBO world Flyweight champion Jose Quirino.
• 1996 Romero then decided to move up in weight division, to the Super Flyweight division. After one win in that division, he was given a chance at his second world championship. On August 24, 1996, Romero knocked out ColombianHarold Grey in two rounds to conquer his second world title in his hometown of Albuquerque, New Mexico.. Even as he had lost to Salazar previously, interest in a fight between Romero and Johnny Tapia began to increase.
• Voted as 1996's Comeback Boxer of the Year by Ring Magazine.
• 1997 After winning two more fights, both times Romero retaining his world title by
• 1997 By this time a hometown rivalry was brewing between Romero and Johnny Tapia. It was one of the most anticipated fights of 1997 and the event was so hot that it had to be moved from Albuquerque to Las Vegas. Romero and Tapia met to unify the IBF and WBO world Super Flyweight championships. Before they met on 7/18/97, the boxing world was in serious jeopardy due to Mike Tyson's ear-biting of Evander Holyfield and Henry Akinwande's DQ loss to Lennox Lewis due to excessive holding. Boxing appeared to be on life support, and it was hoping that Tapia vs Romero would rescue the sport. The fight itself wasn't the all action slugfest that many fans were expecting; however, it did have drama. After losing the early rounds, Romero adapted well in the middle part of the fight and turned boxer, landing many good counter right hands; however, Tapia would gain the edge in the later stages of the fight and would win a unanimous, but close decision which temporarily saved boxing.
• Although Romero was disappointed and thought he won, he shook the loss off well and moved up to Jr. Featherweight and after winning his next 3 fights, he was back in line for another title shot. This time he faced long time Super Bantamweight champion Vuyani Bungu on 10/31/98. The fight would be the co-feature for "Prince" Naseem Hamed vs Wayne McCullough, and the winner was hoping to land a fight with "Naz". Romero fought beautifully, boxing well and appeared to get the better of Bungu in many exchanges. When the final bell sounded, Romero appeared to be the clear winner, even winning the fight convincingly on HBO's unofficial scorecard; however, the judges would decide otherwise awarding Bungu a Majority Decision.
• 2002 – Romero would go on to win ten of his next twelve bouts, including a first round knockout over former world champion Rodolfo Blancoand a sixth round knockout over the respected Famosito Gomez. On September 27, 2002, Danny fought Cruz Carbajal but the fight was stopped by Romero's trainer, former world champion Eddie Mustafa Muhammad after round four due to and injury suffered in the first round.
• 2003 May 23rd in front of his hometown crowd following a twelve round unanimous decision win over Trinidad Mendoza gave him his third world title in three different weight classes, winning the IBA's Super-Bantamweight title.
• 2003-2006 Would fight three more times from 2003-2006 before retiring from the ring.
• Retired from his boxing career to take care of father, who was ill. Romero Jr.'s father was stricken with a rare liver disorder, a form of cirrhosis that would kill him without a transplant. Inspired by his father's battle, Romero Jr. returned to the ring and, fighting for the first time in two years, was held to a majority draw by Alex Ali Baba (21-7-1) in an eight-round junior featherweight fight.
• 2003 Took over the Hideout Boxing Gym when "Pops" became ill. Today the gym gives back to the community by allowing children and teens to attend the gym for free with the realization of the Danny Romero Foundation and Danny Romero's Hideout Ink. It provides a safe and fun environment for children and teens to learn the art of boxing and discipline through proven techniques. The Hideout Boxing Gym has currently created and designed a program that uses the 6 pillars of character counts because it is something that the youth are familiar with and encounter in there every day school lives. The program is based around this philosophy because we want to offer a program that goes beyond boxing. The staff at Hideout Boxing Gym knows the pressure that today's youth encounter daily and the importance of being involved in a character-based program like the one at Hideout Boxing Gym. It is imperative to teach students from the beginning of their training that character is just as important to boxing as physical training. Each student is brought in individually and mentored by Danny Romero and the staff at the Hideout Boxing Gym
• Romero does occasional televisionjobs, specifically for the Showtime boxing network as well as commercials and movies.
• Developed his own promotional company called "Danny Romero Productions." The company promotes shows of any kind and currently has professional fighters signed to the company. A private boxing gym was purchased to provide his fighters with elite training. The gym prepares Danny as well as his pro fighters for possible upcoming events.
Honors:
• 1994 NABF Flyweight Regional Champion
• 1995-1996 IBF World Flyweight Champion
• 1996-1997 IBF World Super flyweight Champion
• 2003 IBA World Super-Bantamweight Champion