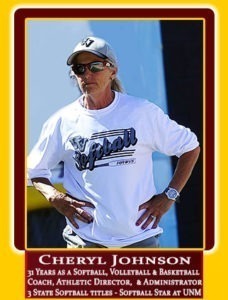 Cheryl Shaw Johnson
Born: September 14, 1958 Huntington Beach, California
High School: Manzano High School 1976
College: New Mexico St University
University of New Mexico 1979
High School Accomplishments
• 1973-1976 Cheryl was a star athlete – volleyball, basketball and softball at Manzano High School
• 1975 Helped the Monarchs capture the state volleyball title.
• 1976, Instrumental as a pitcher and hitter in leading the Monarchs to the 4A state championship in softball.
College Accomplishments
• 1976 Attend New Mexico State on a softball scholarship but end up playing volleyball.
• 1977 Transferred at the end of the first semester to the University of New Mexico.
• 1978 She was one of the top players on the first softball team at UNM.
• 1979, Helped UNM reach the nationals after only the team's second season ever. She was a golden glover at second base rarely have any errors.
• Finished her career as one of the best hitters ever. She still ranks fourth all-time in triples for a career and fifth for a season in triples.
Professional- Cheryl is best known as one of the legendary high school softball coach in New Mexico. For 31 years, she has worked in education as a PE teacher and volleyball, basketball and softball coach as well as an assistant principal, principal and athletic director. While winning championships speaks to her talent as a coach, her greatest contributions were as a leader and role model. She always paid far more attention to doing what was right and taking care of her players than stats. Cheryl has demonstrated her ability as a coach by winning at different schools, with different teams. She has always represented the sport and her profession with the highest standards. Her players not only learn the game but life lessons and always loved playing for her. She promotes women's athletics and is a great role model. Her softball teams won three state titles and were in the state tournament every year – 14 times. Cheryl had three district titles and two Albuquerque Public School Metro titles.
• 1981 Began her coaching career at the West Mesa High School's girls' basketball coach.
• 1981-1984 Coached basketball for four years, plus junior varsity coach in volleyball and softball.
• 1990, Named the head softball coach leading the Mustangs over the next four years to four state appearances – fourth in 1990, third in 1991 and runner-up in 1992 and 1993. Her overall record at West Mesa was 82-17 with four district titles
• 1991 Became the first women to be an athletic director at an Albuquerque Public High School.
• 1993 Left coaching to embark to be administrator in Albuquerque Public School system. She was an
• 1993-1996 Assistant principal at Cibola High School
• 1996-1997 Albuquerque High School
• 1997-2000 Highland High School-summer program and Rio Grande
• 2000-2001 Principal at Del Norte High School
• 2001-2002 Returned to teaching and coaching volleyball at Valley High School
• 2003, she took over the softball program at La Cueva High School.
• 2005 Led the Bears in four years to the state softball title. The 2005 State Championship team was the first state softball title by an Albuquerque Public School's high school team since 1989.
• In 2007, she would become the first athletic director and softball coach at Volcano Vista High School.
• 2008, The first year the Hawks played in the Junior Varsity level only with no senior class. Her JV team came in second at the JV city tournament.
• 2009, the Hawks would qualify for state losing to the eventual 4A State Championship, Piedra Vista.
• 2010, the Hawks would lose to Piedra Vista in the 4A State Championship game.
• 2011, the Hawks moved up to 5A and captured the school's first state championship with a 27-2 record.
• 2012, the Hawks would win its second state title with a 32-0 record, which is the single greatest season in New Mexico Softball History.
• 2011 to 2012 Her Hawks teams put together a state record 52 straight victories.
• 2014 the last year coach ended with a third-place finish in state and 24-6 record. Her Hawk teams won 5 district championships.
• 1982 – 1992 Softball Played shortstop. Her teams won a few city tournaments and a State title once.
• 1985 – 2013 Played competitive racquetball. Has been a racquetball champion.
o 1996 4th in Nationals
o 2003 State Senior Champion
o 2010 Singles State title
o 2010,2013 and 2018 State Doubles Champion
o 2013 State Mixed Doubles title
Honors
• Inducted into the Albuquerque Baseball/Softball Hall of Fame.
• 1993 APS Female "Sports" Coach of the Year
• 2017 Recognized as the Fuddruckers Softball State Championship 'Legend of the Diamond".
Community Involvement
• Contributed to the Kids First Foundation. It is a foundation that Susan Craig runs for APS students in need of sports equipment
• Contribute money to Joy Junction annually
• Board Member and Secretary of the New Mexico Sports Hall of Fame
Family
• Curt Johnson, husband
• Daughters are Laura Holt and Katie Nicolas
• Four grandchildren