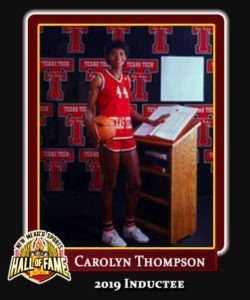 Carolyn Thompson
Born: 1962 in Hobbs, New Mexico
High School: Hobbs High School, Hobbs, NM 1980
College: Texas Tech University 1984
High School:
• 1979-1980 leading scoring for Hobbs Lady Eagles (averaged 18.3 as a junior and 20.8 as a senior)
• Team MVP for 1978-1979 and 1979-1980 seasons
• 4A State champion in the high jump
• 1979-1980 Leading rebounder
• 1980 had a 39 points game against Valley High School
• 1980 had 29-point, 18 rebound game against Farmington in NM State Tournament. Had a 29-point, 21 rebounds against Artesia, and a 35-point, 15 rebounds, 10 assists against Carlsbad.
• One of the most sought-after athletes for college that ever graduated from a NM school
• Originally recruited to Texas Tech to play Volleyball
College:
• Continues to be Tech's all-time leading scorer with 2655 points, men or women, nearly 35 years after she finished playing. She has 500 more points than any other Lady Raider basketball players.
• Ranks 28th all-time scorer in Division 1 women's basketball. When she graduated in 1984, she was the 4th all-time scorer in Division 1 women's basketball
• Ranks 20th all-time with 2000+ points and 1000+ rebounds in Division 1 women's basketball with 2655 points and 1247 rebounds.
• Carolyn did not start her first game at Tech, but then started the next 120 games in a row
• 692 career free throws
• 15 steals in one game vs. West Texas State
• 27 rebounds vs. Rice University
• 57% from the field her senior year (30 games)
• During her tenure, she set 18 school records, including field goals made (1,013), field goal attempts (1,944), and rebounds (1,247).
• Second in points per game with 21.9 average
• Scored at least 600 points in each season. Her best scoring season was during her senior year when she recorded 707 points.
• 1984 Led team to 23-7 record and first-ever NCAA Tournament appearance
• Member of the 40-Point Club — 41 points vs. Oklahoma 1982; and 40 points vs. Arizona State in 1983
• Three-time NCAA D1 All-American
Professionally:
• Coach – Hired to be the Girl's Head Coach at Lubbock Estacado High School (Texas) at the age of 22. She would coach until 1993.
• Occupation –School Administrator Carolyn's philosophy as an educator is this: "Every day I come through the door I say to myself that I am going to do something for somebody and it's going to change their life for the better."
o 1993-1997 Assistant Principal/Principal at Alderson Junior HS
o 1998-2000 Associate Principal at Allen HS.
o 2000-2001 Administrative Assistant to the Superintendent in Lubbock, Texas.
o 2001-2003 Principal at Estacado HS.
o 2003-2009 Assistant to the Superintendent in Lubbock, Texas.
o 2010 – present Principal at Mathews Alternative HS in Lubbock
Honors:
• 1980 Dr Pepper Academic/Athlete Student of the Year
• 1980-1984 Texas Tech Women's Most Valuable Player (four consecutive years). First female athlete to be MVP four times at Texas Tech.
• 1981-1983 Southwest Conference All-Conference player (three consecutive years)
• 1982 and 1984 Southwest Conference Most Valuable Player
• 1984 Played on the USA Women's Basketball Team, Cuba
• 1984 Won the Cheryl Green Fighting Heart Award
• 1985 Texas Tech University retired her jersey #44. First female athlete basketball player to have her jersey retired at Texas Tech.
• 1992 Named Southwest Conference Player of the Decade
• 1996 Named Southwest Conference All-Time Player
• 1997 Inducted into the Texas Tech Hall of Honor
• 2014 Inducted into the Southwest Conference Hall of Fame
• 2019 Inducted into the Texas Tech Lady Raiders Ring of Honor as the seven-member charter class at the enshrinement ceremony on March 4, 2019 . The women's honorees are former Lady Raiders coach Marsha Sharp, Sheryl Swoopes and Thompson. The men's class consists of former players Jim Reed, Dub Malaise, Rick Bullock and Andre Emmett. Ring of Honor members' names will be etched into the concrete facing of suites inside United Supermarkets Arena. There is room for names of about 12 to 14 men's players and 12 to 14 women's players.
Community Involvement:
• Plains Capitol Bank Board Member
• Lubbock Food Bank Board Member
• Lubbock City Health Council Board Member
• City Bus Transportation Board Member
• Children Protected Service Board Member
• YWCA Board Member