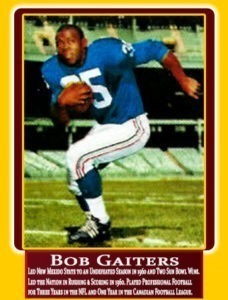 Bob Gaiters
Born: February 26, 1938 Zanesville, Ohio
High School: Zanesville High School 1956
College: Santa Ana Junior College1959
New Mexico State University 1961
High School
• 3-year letterman in football and 2-year letterman in basketball
• Played sophomore and junior years as an offensive lineman
• Moved to fullback his senior year and rushed for nearly 1,000 yards and 11 touchdowns
• Led the team to an 8-1 record and a Central Ohio League championship
College
• 1957 & 1958 2-time All-American at Santa Ana (California) Junior College
• 1959 Transferred to New Mexico State University
• 1960 Led the Aggies to an 11-0 undefeated season, which the best season ever.
• 1960 Led the Aggies to a 28-8 win in the Sun Bowl. He rushed 122 yards on 23 carries including 44-yard touchdown.
• 1960 All-American
• 1960 Led the country in rushing with 1338 rushing yards on 197 carries (6.8 yards per carry)
• 1860 Led the nation is scoring with 23 rushing touchdowns and a NMSU record that still stands. He also has 145 points and average of 14.5 points per game, which was the tops on the NCAA Division 1.
• 1961 Scored a 32-yard touchdown in the Sun Bowl victory of 20-13 win over Utah State.
• Career scoring average of 11.9 points per game was the NCAA record until broken by San Diego State's, Marshall Faulk in 1992 with 12.2 points per game.
• 1960-1961 Ran the sprints and hurdles for the track team
Professional
He was drafted by the Denver Broncos in the 1961 American Football League Draft and by the New York Giants in the 1961 NFL Draft. He played 31 game in the NFL and rushed for 848 yards with 8 touchdowns.
• 1961-1962 Played for the New York Giants
• 1962 San Francisco 49ers.
• 1963 Spent the season with the Broncos of the AFL.
• 1964 Played for the Hamilton Tiger-Cats of the Canadian Football League
• Finished his career in the Continental Football League, where he played of the Newark Bears in 1965, the Hartford Charter Oaks in 1966 and the Orange County Ramblers in 1967.
• After retiring in 1969, he became acquainted with Bill Medley of the Righteous Brothers, who helped Bob start a career in the record production business, starting out at MGM Records.
Honors
• 1976 Inducted into the New Mexico State Athletics Hall of Fame
• 2009 Zanesville High School Hall of Fame