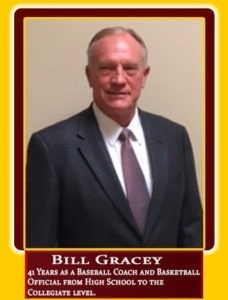 William "Bill" Gracey
Born: May 8, 1953 Denver, Colorado
High School: West Mesa High School 1971
College: University of New Mexico Bachelor of Science in Physical Education 1976
High School
• Lettered in football 2 years and baseball 3 years
• 1971 West Mesa High School's Outstanding Athlete of the Year
• 1971 All-District and All-City in both baseball (centerfielder) and All-City – football (defensive safety)
Professional: Bill has been involved in athletics in New Mexico for over 40 years as a baseball and softball coach and a basketball official at the high school and collegiate level. He started in officiating as a fluke. While calling an intramural game as part of a class assignment at UNM. A nun approached him and asked him to take a job officiating fifth and sixth grade girls. He moved to the high school ranks officiating after graduating from UNM.
• 1974 – 1975 Assistant coach the women's Albuquerque Jokers
• 1974 Began officiating basketball at the high school level.
• 1975 – 1976 Began as an assistant baseball freshman coach at his alma mater, West Mesa High School.
• 1975 Part-time Recreational Director at the Paradise Hills Country Club
• 1976 -1978 Teacher at Adams Elementary School & Became an assistant coach in football and baseball at Mitchell High School in Colorado Springs, Colorado.
• 1979 Landed his first head coaching job as the baseball coach at Cibola High School.
• 1982 – 2014 Officiated at the NCAA Division One level in the following conferences: Big Twelve Conference, Western Athletic Conference, Southwest Conference, Sunbelt Conference, Big Eight Conference. Conference USAA, Big Sky Conference, Southland Conference, Big West Conference and Mountain West Conference
• 1983 Won the school's first and still the only state title in a major sport at Cibola High School. They beat Albuquerque High School 13-1 in the championship game.
• 1985 – 2000 Camp Director for the Bobby Dibler's Basketball Officials Camp.
• 1987 Most memorable college game officiating was when he was called to substitute to call the UNM vs. Wyoming game. The game went down to the last second where the Lobos ended up winning the game,
• 1987 Officiated the NCAA Division 2 Men's Championship game.
• 1991 Named head coach of the North team in the North-South All-Star game
• 1992 Lost in the State Championship game 8-2 to Eldorado High School led by NMSHOF inductee, Jimmy Johns
• 1993 – 1996 Served at the Cibola high School Athletic Director
• 1994 – 1996 Dean of the Freshmen Class.
• 1996 Won the Albuquerque Public Schools City Championship
• 1996-2016 Coached competitive Club baseball where he won 3 state championships and several regional tournament championships
• 1998 Coached the La Cueva High School Bears to a district championship.
• His teams qualified for the state baseball tournament 10 times.
• 1998 Became an assistant coach for the University of New Mexico softball team
• During the 5 year at UNMS, the Lobos has a record of 127-84-1 record.
• 2010 Returned to high school baseball at an assistant coach for the La Cueva High School Bears. The Bears won state titles in 2010, 2011 and 2014.
• Officiated fourteen NCAA Division 1 Conference Championships
• 2013-2015 Game Grader for the PAC 12 Conference, which reviewed and evaluated performance of game officials.
• 2015 to Present Associate Supervisor for Officials for the West Coast Consortium, which includes the PAC 12, Mountain West, Western Athletic, Big West and West Coast Conferences. He helps recruit, hire and evaluates NCAA Officials for these conferences.
• The Cibola Baseball team's most valuable player receives the "Bill Gracey – MVP Baseball Player" award.
Honors
• 1995 Inducted into the Cibola High School's Faculty Hall of Fame
• 2014 Inducted into the Cibola High School's Athletic Hall of Fame
Community Involvement
• 1980 – 2012 Member of the National Association of Sports Officials
• 1980 -1998 Member of the New Mexico High School Coaches Association
• Member of the New Mexico High School Baseball Coaches Association
• 1980 – 1990 Powder Puff football fundraisers to the Northwest Optimist Club for the need families during Thanksgiving
• 2000 – 2015 Coach for the American Amateur Baseball Congress, United States Specialty Sports Association and American Legion
• Conducted many baseball and softball clinics over the last 30 years.
• 2011 To Present – Involved with Project Share in feeding the homeless and the Kids First Program to go to sports camp.
Family
• Kristine, wife and have been married since 1984.
• Scott, son played basketball and baseball at La Cueva High School. He was drafted by Toronto Blue Jays in 2008 in minor league system for 8 years reaching the AAA level.
• Lauren, daughter, played volleyball at La Cueva High School.
• Lincoln is his only grandchild