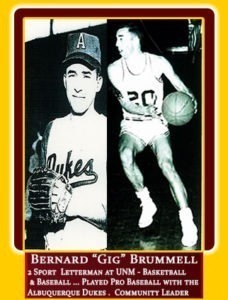 Bernard E. "Gig" Brummell
Born: April 23, 1939 Santa Fe, New Mexico
High School: Boonville Catholic High School – Boonville, Missouri (1957)
College: University of New Mexico Bachelor of Business Administration (1962) Graduate work in economics at UNM and completed the Securities Industry Institute at the Wharton School of Business at the University of Pennsylvania.
On Gig's mother's side our grandparents were first generation Italians who settled in Santa Fe. Vincente di Lorenzo, my grandfather, was a mason and painter and assisted in the reconstruction of the Cathedral in Santa Fe along with other Italian artisans in the late 1800's. The Cathedral has a plaque in the vestibule of the Church honoring the Italians who helped with the construction –his name and others are displayed prominently. Carmela Campanole, our grandmother moved to Santa Fe from Italy where she and Vincente were married. Vincente and Carmela had 7 children, all natives of New Mexico and permanent residents.
My grandfather's family was originally from the Midwest but moved to New Mexico working for the Santa Fe Railroad in a variety of positions. They retired back in Boonville, Missouri for family reasons. After my mother passed away my father moved to Missouri. At the age of five, Gig and his brothers moved to Boonville, Missouri as a result of their mother passing away. Gig and his three older brothers lived with grandparents until our father was able to rejoin us in Missouri. Gig attended a small Catholic school in Boonville with approximately 150 students enrolled. Every summer he would return to Santa Fe living with cousins and then return to Missouri for the school year. My work experience began at the age of 14 as an intern in a pharmacy and soda fountain business. My family returned to Albuquerque in 1956. During high school, Gig was recruited by several Division 1 schools and honored to accept a basketball scholarship from the University of New Mexico. Gig was an outstanding athlete with years of active support for the University of New Mexico, the UNM Athletic Department and the Albuquerque community.
High School:
Three sport lettermen in basketball, baseball and track.
• 1956-1957—Led the team in scoring his junior and senior year. His senior year he averaged 23 points a game and scored 44 points twice in games in his senior year.
• Team Captain in his junior and senior years.
• 1955-1961 – Played baseball during the summer in the Collegiate Ban Johnson League throughout Missouri and Kansas
o Recorded first no-hit 10 inning game in history of the local organization
o Named Mid-Missouri All-Star Pitcher twice
o Led league in strikeouts and wins
• All-Conference and All-District in his junior and senior years in both basketball and baseball
• All-State in his junior and senior years in both basketball and baseball
• 1957-Honorable All-American in Basketball his senior year.
• 1957 -Senior year – Conference Champion –100-yard dash
• 1957- Conference 2nd place –high jump
• 1957 – Conference 440-yard relay Champions
• Salutatorian in is class.
• Junior and Senior Class President
• Member of the School Choir
• Member of the Student Council
• Senior year – The Outstanding Athlete Award
College—University of New Mexico
• 1957-1961 Two sport letterman in basketball and baseball for four year
• Basketball
o Three-year starter for Lobo basketball (Freshmen not eligible for varsity basketball or baseball-major sports)
o 1958 – 1959 Basketball team's leading scorer
o 1959, 1960,1961 –Team Captain
o All-Tournament Team–Detroit Motor City Tournament 1959
o Second Team All-Tournament Detroit Motor City Tournament 1959
o All Skyline Conference , Honorable Mention
o All Rocky Mountain District Dell Basketball Magazine 1960
o NCAA Ranked Eighth Nationally Free Throw Percentage 1959
• Baseball
o 1957-1961 starting pitcher for UNM Lobos
o 1961 Named All-Skyline Conference Pitcher and Skyline Conference Pitcher of the Year with a 9-1 record and 1.80 ERA, which was the best in the Conference.
o 1960–1961 Led the Lobos in total wins and strikeouts—75 K's in 67 innings-1961
o 1961 April 29th Struck out a record 16 New Mexico State Aggies in a 7 innings game.
o All-District Seven First Team Pitcher 1961
• 1961 UNM Daily Lobo Newspaper Athlete of the Year.
• 1960 King of Hearts
• Active in student government Sophomore Class President
• President of the UNM Student Lettermen's Club 1960
• 1961 Who's Who Among Students in American Universities and Colleges
• Sigma Alpha Epsilon Fraternity
• 1962—US Army National Guard—MOS-Intelligence and Operations
Professional:
• Albuquerque Dukes Professional Baseball Team 1961-1963
o 1961 June Signed contract with the Kansas City Athletics affiliate, the Albuquerque Dukes, a minor league team of the Kansas City Athletics (later Oakland Athletics) and had other contract offers from Chicago White Sox and the St. Louis Cardinals
o 1961- Helped the Dukes to the first half championship.
o 1962 – Played with the Athletics affiliate Northern League-Minot, ND and was the Western Division All-Star pitcher
o 1963 – Promoted to Daytona Beach, Fl., Burlington, Iowa, Midwest League, Lewiston, Id., Northwest League-all Athletics affiliated teams.
o 1963 April -Tied the Midwest League strikeout record with 17K's versus Washington's affiliate which was highlighted in the national publication—THE SPORTING NEWS.
o 1963 April – Named THE SPORTING NEWS Minor League Pitcher of the week –
o 1963 A chronic arm injury ended the pro baseball career.
o Competed with and against future major league players: Bert Campaneris, Gene Michael, Dick Green, Jose Cardinal, All-Pros-Willy Horton, Jim Northrup, Mickey Stanley, also Daryl Knowles, Paul Lindblad, and Tony LaRussa to name a few.
• Investment Brokerage Firm and Branch Leadership
o 1964 – Appointed as a Licensed Registered Representative for Goodbody & Co, a nationwide brokerage firm
o 1974 – Merged to Dean Witter, (eventually Morgan Stanley Dean Witter). As Branch Manager, Brummell opened and managed eight offices in New Mexico and El Paso. Among the 400 branches nationwide, the Albuquerque parent branch ranked in the top 10 in a variety of firm's categories.
o His offices were recognized as one of the top six Morgan Stanley Dean Witter branch office complex in over 300 offices in the U.S., as well as the No. 1 branch in the Southwest for nine consecutive years.
o 1977—1979 President of the New Mexico Securities Dealers Association
o 1980 – Promoted to Senior Vice President, Dean Witter and CO.
o 1981–Securities Industry Association National Legislative Committee
o 1984-1990 Named to the National Branch Managers Advisory Council for Dean Witter and Co.
o 1984—1987 Named to the three-year National Securities Institute in collaboration with the Wharton School of Management at the University of Pennsylvania.
o 1985-1997 NASD Arbitration Board Panelist
o 1987—1990 Named to the National Association Securities Dealers Business Conduct Committee District 3—Denver, Western States
o 1988—1998 AAA and NYSE Arbitration Panelist
o 1981–Securities Industry Association National Legislative Committee
• Other Athletic Participation
o 1970 Playing for the Albuquerque Stromberg's fast pitch softball team, he was named to the All-Tournament Team in the Pikes Peak Invitational Softball Tournament. Competed with the Toyota City fast pitch team for 10 years.
o 1971 Played for the softball team that beat the famed four-man Eddie Feigner's famed four-man traveling softball team, The King and the Court.
o For over 20 years competed with Albuquerque Boys and Girls Club City League Basketball–Division Champions 3 years—teammates-Vern Curtis, Bobby Gibbs, Chuck Roberts, Lanny Rominger, Keith Griffith, Charlie Gibbs, Lanny Winters, Dick Strong, Mike Danoff, Bruce Seligman, Richard Reidy, Ed Meadows, others
o Participated in the Duke City Marathon events 10 years -Half Marathons & 10K's
o Currently competing in NTRP tennis leagues at 4.0 level (late in life introduced to competitive tennis in by UNM All-American tennis player and instructor, retired dentist, Dr. Jack Kennedy.
o Competed at the highest level of fast pitch softball for 20 years traveling throughout New Mexico, El Paso, West Texas, Nevada, and Arizona—Fast Pitch was a very popular sport during those years with many ex-D-1 College and high school former players participating.
Honors
• 1999 Inducted into the University of New Mexico Alumni Lettermen Athletic Hall of Honor
• 1985 Inducted into the UNM Business School's Anderson Hall of Fame
• 2013- Recipient of the prestigious "Zia Award" by the University of New Mexico Alumni office. The Zia Award is presented to New Mexico residents with a UNM degree who have distinguished themselves in any one or more of the following categories: philanthropic endeavors, public office, and service to the University, community and volunteer activities, and/or business professional fields, or educational fields.
Community Involvement: Gig has applied his financial skills and management experience to numerous boards and in service and church organizations.
• 1966 Stan Musial Baseball League Board Member
• 1971 President of the New Mexico Securities Dealers Association
• UNM Alumni Lettermen's Association
o Past President in 1971
o Search Committee member for the UNM Alumni Lettermen Hall of
Honor:
• 1973-1974 Bernalillo County Parks and Recreation Advisory Board
• 1992-2019 Archdiocese of Santa Fe Finance Council
• 2000 – Present – Sandia Foundation Board of Directors – The Foundation is a very large private foundation whose distributions benefit the following beneficiaries- UNM, Dickson College, Albuquerque Community
o Vice Chairman of the Board – 2018 to Present
o Past Chairman of Investment Committee -current member
o Member of the Communication Committee
o Executive Committee
• 2006 Member of the Selection Committee to name the a UNM Athletic Director
• 2007 Member of the Selection Committee to name a new UNM Head Lobo Basketball coach.
• 2009 to Present -UNM Athletic Council member, subcommittee of the UNM Faculty Senate
• 2012 Member of the Selection Committee to name a new UNM President.
• Member of the UNM Anderson School of Business Dean's Council
• Former member of the Presbyterian Foundation Board
• Governor's Council of Economic Advisory Board (Governor Jerry Apodaca)
• Member of the St. Pius Foundation –Vice Chairman and Founding Board Member
• Member Rotary Club of Albuquerque Del Norte–Paul Harris Fellow
• Member of the Albuquerque Sports Hall of Fame Board of Directors
• Member of the UNM President Advisory Committee for Presidents William Gordon and Robert Frank,
• Archdiocese Catholic Foundation Board Member
• Former Archdiocese of Santa Fe Foundation Investment Committee Chair
• Tennis Club of Albuquerque Board Member
• Village of Los Ranchos Mayor's Financial Advisory Committee
• 2016—present UNM Popejoy Society member
• Presidential Scholarship Donor
• Selection Committee of the Albuquerque Professional Baseball Hall of Fame, which honors players, managers, teams, executives, and media members who have made a significant contribution to the development and success of the Nation's Pastime in the city of Albuquerque
Family:
• Wife – Jeanne McGillan, a resident of New Mexico for 72 years and I have been married since 1963. Jeanne is a former educator, employee of the PNM Human Resources Department, and a Career Guidance Counselor at UNM. She has been an avid tournament tennis player, and is now an experienced fly fisher woman, and golfer.
• Daughter – Linley Daly, her husband, Mike Daly, and their three children, Lauren, a graduate from Marquette competed in crew, Ryan, a graduate of Bosque School competed in basketball and soccer and is now at UNM, Maya, a freshman in high school is an outstanding student and multi-talented.. All live in Albuquerque except for Lauren who lives and works in NYC. Son-in-law, Mike is a graduate from U. of Connecticut where he played varsity baseball. Mike also has graduate work in finance from the University of Arizona and is a First Vice President with Morgan Stanley in Albuquerque. Linley was an outstanding athlete, all-state basketball and track record holder at St. Pius and is a graduate of the University of Arizona where she competed as a member of the University of Arizona Pac-12 basketball program and received several academic recognitions.
Son – Craig and spouse, Marta, are both graduates of Notre Dame and have four children–Ellie, a freshman at St. Louis University, Madrid, Ben, Senior at Culver Academy, was part of the four-man crew team from Culver recently winning a National Championship. Leo is a freshman at Culver Academy and is competing at a very high level in soccer and basketball. Moira is an eighth grader and enjoys and excels in dance and gymnastics. Craig was an outstanding athlete at St. Pius competing in basketball as a member of the Sartans undefeated state champion team in 1985. He also excelled in soccer and as All-State baseball player. Craig and Marta and family live in Denver, recently moved there from South Bend, Indiana. Craig is a business consultant and Marta competed in soccer for the Notre Dame Irish soccer team, earned a master's degree from the University of Michigan and now has a professional private practice in life and career counseling.