Rocky Long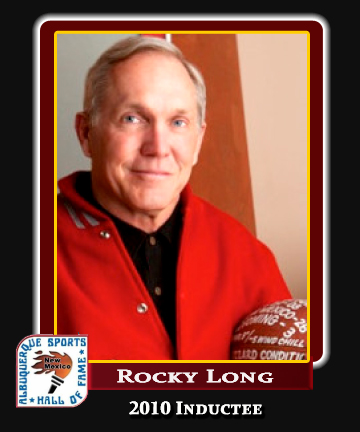 2010

Sports Hall of Fame Inductee
Rocky Long came to the University of New Mexico in 1968 as an unheralded recruit and went on to become one of the best-known names in Lobo football history. His accomplishments as a Lobo player are many. Most notably is that he was the only three-time MVP in lobo football history and a two-time team co-captain. Rocky finished his career as the all-time leading rusher at UNM, a three-time conference all-academic selection and was named the WAC Offensive Player of tile Year in 1971. Upon graduation, Rocky played five seasons in the CFL with British Columbia and one season with Detroit in the now defunct WFL.
After a brief time as a UNM graduate assistant and two seasons as an assistant coach at Eldorado High School, Rocky became a full-time assistant at UNM in 1978. Prior to his return to UNM in 1997 to become the Lobos' 28th head football coach, he had other collegiate stops at University of Wyoming, TCU, Oregon State and UCLA that established his reputation as an outstanding defensive coach and coordinator.
In his l l-year (1997-2008) tenure as the head coach at UNM, Rocky became the career leader in wins by a head coach and compiled seven straight seasons of six wins or more and lead the Lobos to bowl games in 2002 and 2003 (Las Vegas Bowl), 2004 (Emerald Bowl) and the New Mexico Bowl (2006). For the past two seasons (2009-10) Rocky has served as the defensive coordinator at San Diego State University, and was just named Head Coach at San Diego State University in January of 2011.